Since COVID-19 hit, gyms, fitness instructors, and events like fundraising runs throughout the South Sound have adapted in order to try to stay in business, and also provide people with ways to keep their bodies moving and minds healthy during this stressful time.
Some instructors moved classes outside, like Kim Thornton, who teaches Zumba in the South Sound. When it got rainy, she live-streamed courses straight to homes, and offered in-person socially distanced classes when allowed.
Vie Athletics, a popular gym throughout the South Sound for women, also adjusted creatively to make sure its members kept moving. When classes and coaching were allowed, occupancy was limited, and high-fives were put on hold. It also offered Vie Home when members couldn't meet in person. The situation is evolving, so check with your favorite fitness places directly to see what they are offering when you are ready to conquer your fitness goals. You got this!
Just Dance
SYNCOPATION FOUNDATION
With dance venues in Tacoma, Redmond, and Seattle, the Syncopation Foundation is a dedicated team of staff and volunteers who build community through swing dancing. Having to put social dances and lessons on hold, Syncopation Foundation instructors have been recording and streaming dance lessons on YouTube.
TACOMA DANCE STUDIOS
Tacoma Dance Studios is a center for belly dancing, hip-hop, Zumba, heels, fusion, ballet, American tribal style, and more. Since COVID-19 restrictions went into effect, Tacoma Dance Studios began offering online classes. Drop-in classes are $15.
OLYWAVES & 5RHYTHMS
This Olympia community-centric organization led by Ronny Temple offers world-class 5Rhythms classes and workshops. It is offering its Inner Wave and Sweat Your Prayers classes online during its normal times on Sundays.
OLYMPIA NIA
Join a blend of dance, martial arts, and healing arts on Saturdays with instructor Andrea Mikita via Zoom. Classes are on a sliding scale of $1 to $12. Class cards also are available for purchase. Learn more here.
Stretch and Breathe with Yoga
YOGA WILD
It is offering live classes on Patreon, as well as weekly classes on YouTube and digital workshops. Classes are offered on a sliding-fee scale. Yoga Wild also offers free meditation courses.
---
Also check out these yoga studios offering online courses:
South Sound's Tacoma's Tuladhara Yoga
Tacoma's Expand Yoga
Lacey's Firefly Yoga
Lakewood's Revive Yoga Co.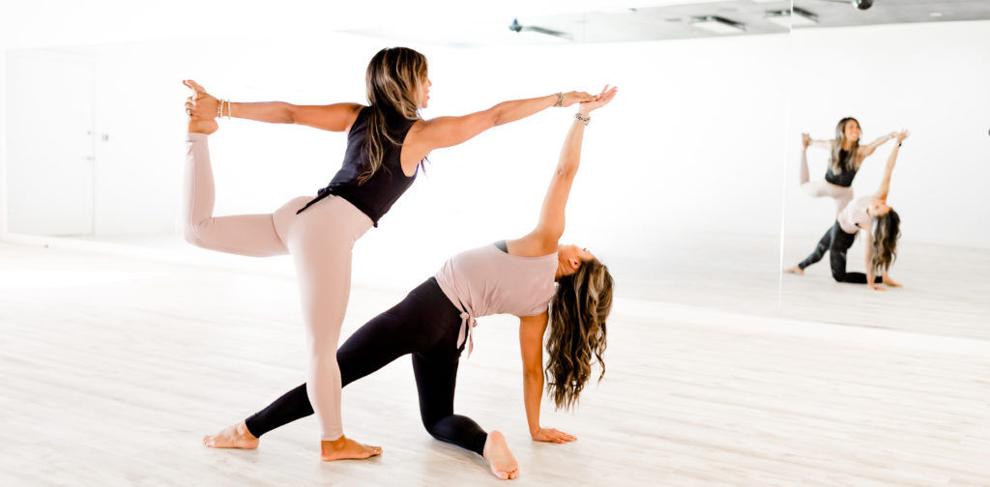 The Gym in Your Living Room
With locations throughout the region, Planet Fitness launched its free online classes shortly after the COVID-19 shutdowns in March. Tune in on Facebook or YouTube Monday through Friday to work out with Planet Fitness trainers for a 20-minute session.
Gold's Gym is offering pre-recorded videos for members to access online. Learn more here.
Orangetheory Fitness is offering free 30-minute workout videos. If you download the app, you will have more access to classes, videos, and more.
For the Family
YMCA 360
The newer program offers more than 60 free on-demand video classes, including barre, bootcamp, boxing, weight-lifting, and tai chi, as well as yoga classes designed for children and adults.
OLYMPIA'S FITNESS FOR MOMS
Moms can get in shape and meet virtually for playgroups and more in Olympia.
There's an App for That
NO PELOTON, NO PROBLEM
You don't have to have a Peloton bike to take advantage of the app's workouts. For $12 per month, the Peloton app features live studio broadcasts with trainers that guide you through exercises in running, cycling, strength training, and other outdoor exercises.
NIKE TRAINING CLUB
Featuring individual and multiweek programs designed by trainers, the Nike Training Club app is a free resource to keep in shape during quarantine. Classes include strength, endurance, yoga, and mobility.
FITON
Join celebrity trainers for guided workouts in barre, yoga, cardio, and strength training with FitOn. The app also features prenatal and postnatal classes for pregnant women and new mothers to stay fit.
HEADSPACE
Not all health and wellness apps require physical exercise. In this stressful time, mental health is more important than ever. Since the beginning of the pandemic, Headspace has been offering free meditation as well as other stress-relief resources for people.