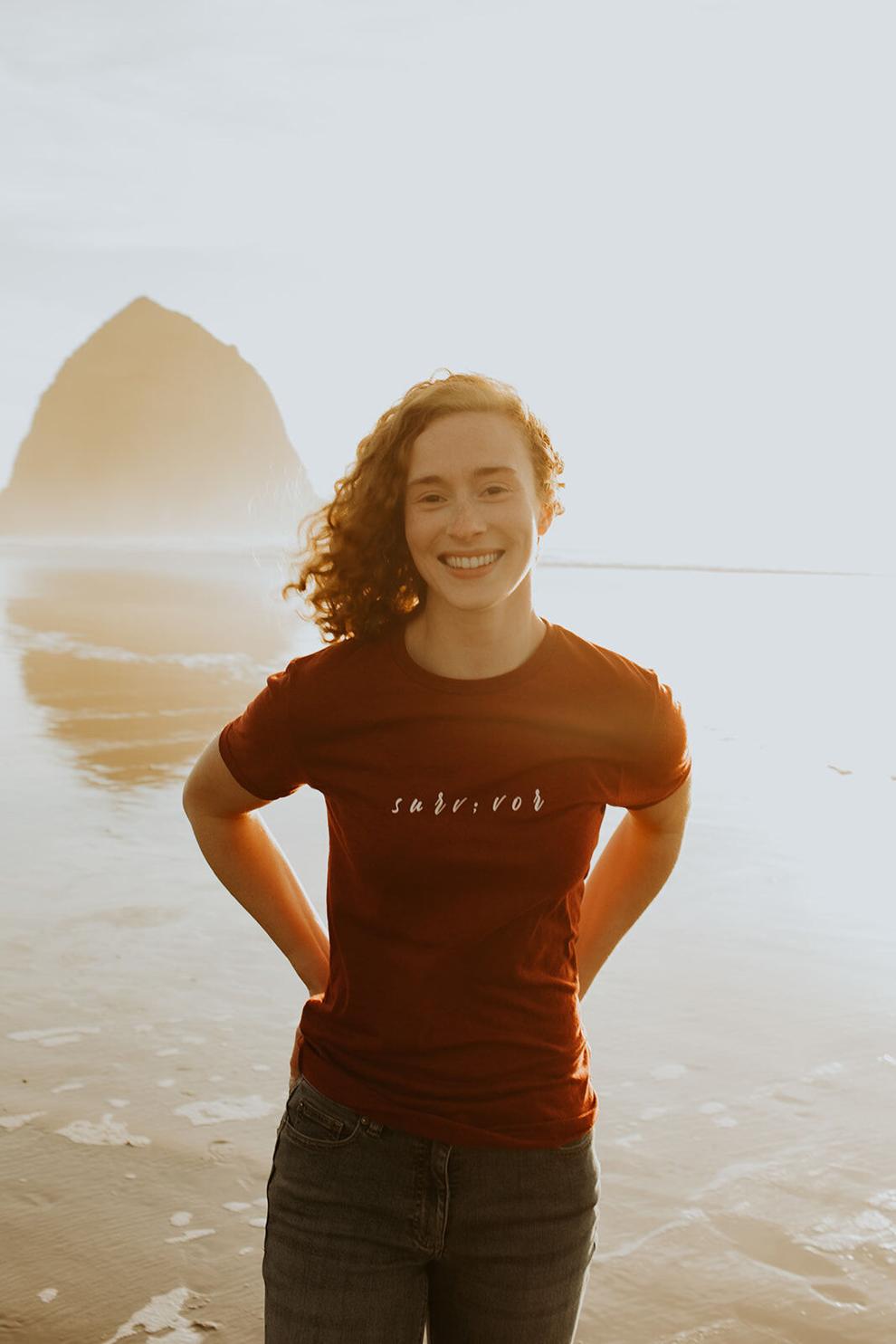 T-shirts with mental health awareness words or phrases aren't new, but these T-shirts actually give back. Jessi Beyer, a Marysville resident, recently launched How To Heal Co. — a mental health awareness apparel company that offers two free therapy sessions with the first purchase.
When Beyer was in high school, she struggled with depression, anxiety, self-harm, disordered eating, and the trauma from her then-boyfriend's suicide attempt. As she started to heal, she knew she needed help. "I thought it was talk therapy or bust," she said, noting that she didn't know at the time that there were different forms of therapy.
She embarked on her healing journey alone. In college, she studied psychology — something that opened her eyes even wider.
"I learned about all these different types of healing methods, things like nature-based therapies, eco-therapy, equine assisted therapy, things like that. And I was like, 'Oh, my gosh, if I would have had this information when I was trying to heal, my journey could have been so different.' It could have been so much smoother; there could have been fewer ups and downs," she said.
Beyer was inspired to share her knowledge with others, which resulted in her book, How to Heal: A Practical Guide To Nine Natural Therapies You Can Use To Release Your Trauma. The book, published in May 2020, prompted conferences and speaking engagements, but Beyer still wanted to find a way to reach people and raise awareness about mental health. This mission eventually evolved into her apparel line, How to Heal Co., which officially launched May 2022.
In addition to amplifying mental health awareness, How to Heal Co. partners with BetterHelp — an online counseling and therapy service — to offer two free sessions with a customer's first purchase. Sustainability also is a part of the company's mission. All products are made from sustainably sourced materials, and the company uses carbon-neutral shipping.
Tell us what inspired you to develop How to Heal Co.
Since my book came out, I've had the pleasure of speaking at dozens of different college campuses and conferences across the U.S., Canada, and even farther internationally, about mental health and how to be a support system, and what healing from trauma looks like, and different things like that. So, college students are kind of my primary audience. At the end of fall 2021, I was like, "I want to do something more with this." I've kind of had the idea in the back of my head of making cool shirts; I was like, "I think this could be something important. I think it could be a really cool intersection between mental health awareness but also sustainability. … I think this could turn into something that can be really meaningful for people."
What's the inspiration behind the designs?
We have five different designs: We have four T-shirts, and one sweatshirt. The first of our T-shirts is called the Survivor Tee, and it has the word "Survivor" across the chest, but the eye is actually a semicolon instead of the letter "i." The meaning behind that is that the semicolon is actually a symbol of suicide awareness since about 2013. The message of that is that there is more to life after mental illness, just like there is more to a sentence after a semicolon. It's not a full hard stop like a period. It's just a pause and then a continuation of that inspiration behind that first design.
The second design is our Scars Tee, which has the quote, "The Earth has scars, too, but that makes it no less beautiful." That actually came from a World Mental Health Day event that I coordinated with Westfield Southcenter. That quote was one of the most popular quotes from that day, and I really loved the meaning behind that: talking about the fact that despite your scars, or maybe even because of your scars and the stories behind them, your body is still absolutely worthy of love and acceptance, and it doesn't make it any less than to have these scars.
Our third design says, "True love doesn't hurt," and that is raising awareness of domestic violence, sexual assault, and the idea that if someone truly loves you like the truest form of love, they're not going to try to belittle you, or gaslight you or hurt you.
Our fourth design says, "Nature heals." It kind of has this natural design of like mountains, sun, river, things like that, and that was definitely Pacific Northwest-inspired. Our final design is the sweatshirt that says, "Be gentle with yourself. Healing isn't a perfect process." That is actually a quote from my book. As it obviously implies, healing is not a perfect process; there are going to be ups and downs, like I talked about with my own healing journey, and so giving yourself grace along that process is going to make it a lot more successful and also less horrible along the way.
Tell us about the partnership with BetterHelp.
I'm so excited we're also able to provide people with a way to try out therapy and see if it's the right fit for them. We kind of joke around that it's a little bit less intimidating than going straight to a therapist yourself because you bought this shirt, and it just happened to come with free therapy, so might as well give it a shot. It's a little bit more approachable as a way to try out therapy than taking the initiative and going and finding someone yourself.
How else does How to Heal Co. help people?
We have two different charitable avenues within the business. The first is a straight financial donation. We donate 20 percent of our profits to our six nonprofit partners. These are charities that are actively working in the mental health space from multiple different sectors. One of our partners is the Cupcake Girls — they work with survivors of sex trafficking and workers in the sex industry. K9s for Warriors — they provide service dogs for veterans that are suffering from PTSD.
We also run the Make a Therapist's Day Fund, in which we will every quarter select a mental health professional — anyone who's working in the mental health space — and we pull together some of our dollars, and we help fulfill one of their lifelong dreams. So, that could be redecorating their office; it could be sending their family to Disneyland. But this project is a way for us to give back to the mental health workers that are doing so much for us. I mean, they're working overtime during the pandemic to really provide for our mental health needs and support us as we're struggling. We wanted to do something that gave back to them.