GenCare Lifestyle is one of the first assisted residential and senior retirement communities in the nation to offer cutting edge rapid testing for both COVID-19 and influenza. GenCare Lifestyle operates six facilities in the area including the new home at Tacoma's Point Ruston.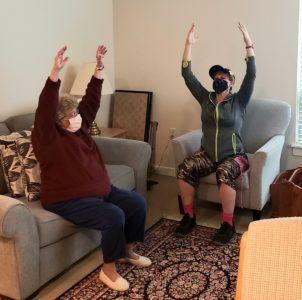 The CAIPHI tests are produced with emergency authorization from the FDA by San Diego maker Quidel and have a 96.6 percent accuracy rating. The tests are administered by professional mobile crews at all six GenCare locations. Results are produced within a matter of minutes.
"The pathway to reopening our communities to visitors and family members is through rapid testing and the vaccine," said Leon Grundstein, founder and CEO of GenCare Lifestyle. "Having these tests available onsite at each of our communities is critical until our state and nation reaches (the) necessary vaccination rates needed for herd immunity — as much as 78 percent of the broader population."
GenCare officials say this testing safety measure will continue to be critical when government restrictions lessen into Phase Four of Washington's plan, allowing family members to visit their loved ones again.
"Having rapid tests is extremely important for us to protect the health of our residents and staff," said GenCare Lifestyle's clinical leader, Danielle Parker, in a recent press release. "The only way to know if a vaccine is working is to test people. Our rapid testing program gives us this clarity."
GenCare has set aside specific apartments within each complex where the tests are administered.
Here are some other ways GenCare is helping their residents, staff, and people considering the community to move in to:
GenCare has offered a Staycation program since December where a two-week COVID quarantine feels more like a tailor-made mini vacation so residents can get acclimated to their community, but safely.
GenCare Lifestyle at Point Ruston offers a separate area called the "West Wing" for the sole purpose of private tours for prospective residents. Here, they can view different floor plans, and layouts of the beautifully furnished accommodations, both safely and privately.
Virtual tours also are available for Point Ruston, Tacoma; Scriber Gardens, Lynnwood; and The Lodge at Eagle Ridge, Renton.
Learn more here.