Guests at Point Defiance Zoo & Aquarium (PDZA) got an extra-special treat if they passed the zoo's Rocky Shores exhibit this morning between 11 a.m. and noon, when the staff there introduced a new resident to the seal and sea lion exhibit.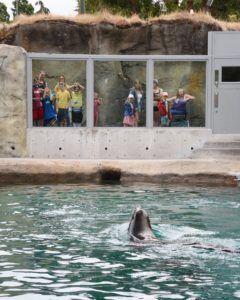 While he doesn't make his official public debut until this weekend, the (estimated) 10-year-old, 400-pound male sea lion known as Björn (pronounced bee-yorn) took the morning to get used to his new habitat.
Björn came to Point Defiance via the Marine Mammal Care Center (MMCC), a rehabilitation center in Los Angeles following his December 2019 rescue. When he arrived at the center, the sea lion had a scar on his side from a suspected shark bite, and bullets lodged in his head which had caused him to lose his sight.
As zoogoers settled into the concrete bleachers abutting the exhibit to watch Björn make his way to his new home, they witnessed the zoo's assistant curator of marine animals, Sheriden Ploof, use a wooden board and a target stick — which looked like a giant Q-Tip — to make tapping noises.
This was a technique devised by the staff at the MMCC during his year-plus recovery that the staff at the zoo was able to replicate with great success. Different tapping sounds are paired with verbal cues like, "on deck;" "follow;" "down;" and, of course, "fish" when he's being proffered a snack.
"Bjorn has a second chance, thanks to the dedication and hard work of so many people," Dr. Karen Wolf, the zoo's head veterinarian said in a statement. "We are grateful for the care he received and are ready to continue that exceptional care at Point Defiance where he will live out the rest of his life in comfort."
For most of the summer, keepers intend to keep Bjorn separated from the other sea lions on exhibit, but they said they anticipate him getting along well with the three other non-releasable sea lions, two of which are female, and one is a younger male.
Marine Mammal Care Center President Amber Becerra noted that Björn bonded with many of the center's rescued pups, acting as a sort of surrogate mother, during his rehabilitation.
"He's a very special animal to us and we're thrilled that Point Defiance is able to provide a home for animals, like Björn, that cannot be released back into the wild," Becerra said.
Björn will make his public debut on July 3 and 4 at Point Defiance. For more information about Björn and the other marine mammals in the exhibit, visit the zoo online.