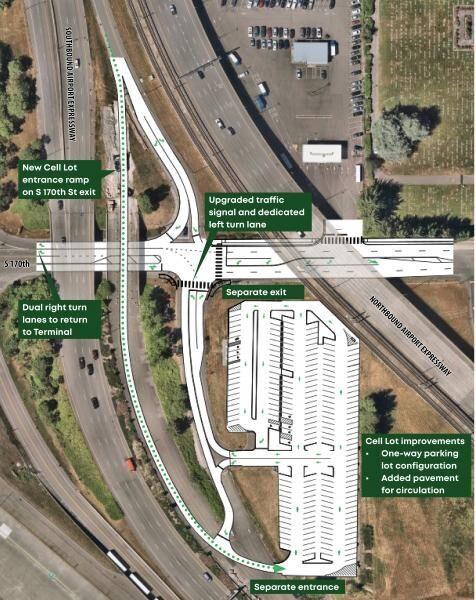 A new overpass and south entrance are opening this week to reduce wait time exiting the cell phone lot at the Seattle-Tacoma International Airport (SEA).
A recent press release said the new access will affect all users exiting the Airport Expressway. Users are encouraged to share their experience with the construction with the airport. 
The overpass and entrance are accessed via a slight turn off the same exit of the Airport Expressway. According to the release, the change will eliminate traffic departing the cell phone lot and reduce travel time West on S. 170th Street and to the main terminal.
Additional construction will continue to build sidewalks, bus shelters, and traffic signals along Air Cargo Road and S. 170th Street.
For more information and visuals graphics of the construction, see the Cell Phone Lot project page.
Alternate routes not requiring a car include the newest Link Light Rail stations to Northgate, bus, bike, rideshare, shuttles and taxis. Pre-booked parking also available.