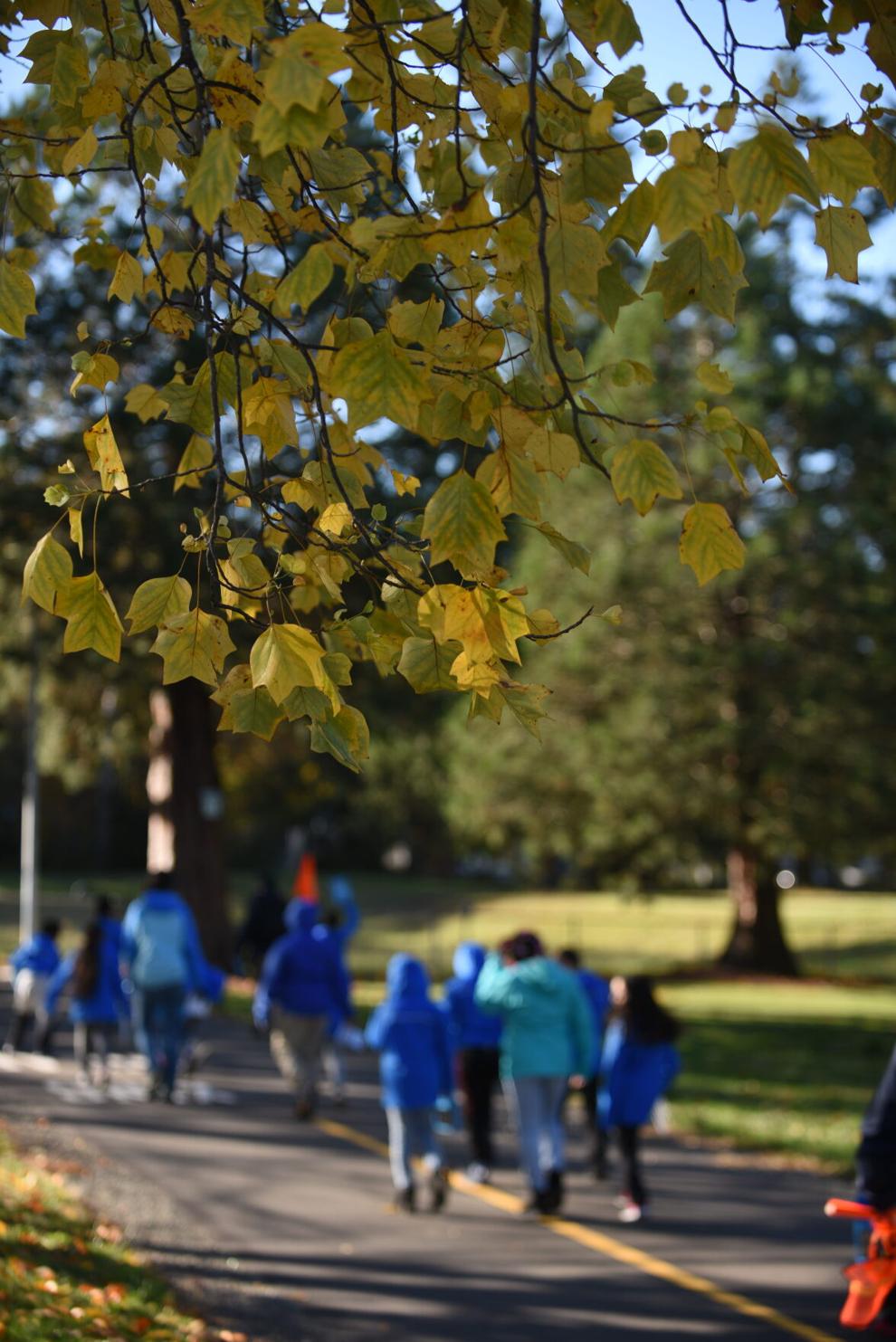 After donning bright blue jackets and dividing into groups of two last autumn, the students are tasked with identifying plants and wildlife teeming in the neighboring Oak Tree Park.
The students are part of the Wildlife Champions Program, a partnership between Arlington Elementary and Metro Parks that aims to foster in children a greater understanding of the natural world. Led by their classroom teacher and educational staff from Point Defiance Zoo, the fourth-graders are eager to put their data-gathering skills to the test. The students have spent the week learning about biodiversity and community science in their classroom and the school yard. Now they scour the park in pairs, identifying plants and animals with a citizen science app called iNaturalist.
Wildlife Champions is a three-year partnership that brings Metro Parks' resources and expertise straight to Arlington Elementary's K-5 science classrooms. Powered by an $800,000 grant from an anonymous donor, the program was co-developed by staff from Metro Parks and Arlington Elementary. Through Wildlife Champions, educators from both organizations help students build a connection with the outdoors, using their backyard as a springboard for exploration.
According to Craig Standridge, Point Defiance Zoo & Aquarium's project engagement coordinator and a Wildlife Champions project lead, the initiative is an outgrowth of years of community outreach efforts on behalf of Metro Parks. Metro Parks' work with the Graduate Tacoma movement — a collaborative, communitywide effort between schools and service providers aiming to boost Tacoma's graduation rates — emphasized the need for the organization to engage with areas of the community whose residents can't easily access facilities like the Point Defiance Zoo. After Metro Parks administered a community engagement survey to assess its impact across the city, the results indicated a high need for quality environmental education in South Tacoma.
Once Metro Parks narrowed in on the southern part of Tacoma, it quickly became clear that Arlington Elementary could be a good fit, Standridge said. The Title 1 school is situated in South Tacoma, home to a diverse student population, and its brand-new building sits right across from a 25-acre Metro Parks facility — Oak Tree Park.
"It was the perfect time, perfect location, perfect partner," Standridge said of Arlington Elementary. "The basic goal of (Wildlife Champions) is to connect kids to nature, develop their stewardship for the natural spaces around them, and develop empathy for wildlife and wild spaces. And stewardship happens to be an essential and core value for the school, so applying that in the natural world is a great fit."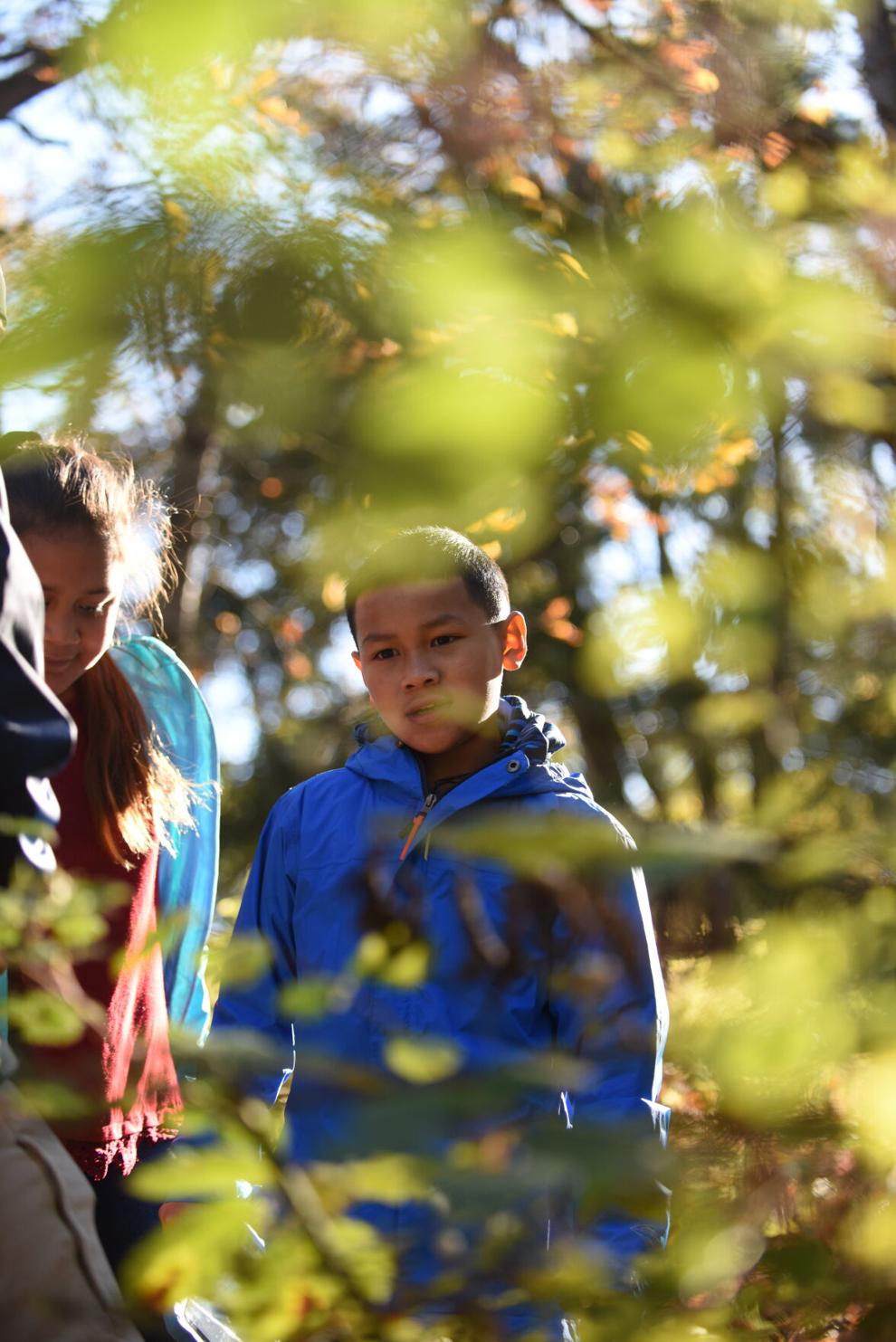 When Metro Parks pitched the program to Arlington Elementary in 2017, they also were tapping into a new model for community engagement. "We wanted to do something a little bit differently than we have done, and many (environmental) organizations … have done in the past," Standridge said. "Usually what had been done is that we would develop programming kind of in a vacuum. We'd do it for a partner, versus with them."
Rather than coming to the school with a preset curriculum, which can burden staff and prove difficult to sustain when a funding cycle ends, explained Standridge, "Metro Parks was able to come to Arlington and say, 'Let's build a program together.'" 
Arlington Elementary fourth-grade teacher Sean Sullivan said the timing couldn't have been better. "When we landed this opportunity, Tacoma was transitioning into a new science curriculum," he said. Funds from the grant purchased tablets for students to use in the classroom; all-weather gear to help them comfortably access the outdoors; and allowed for the creation of a brand-new science curriculum, co-developed by Metro Parks and Arlington teaching staff. 
The new curriculum promotes empathy for wildlife and encourages Arlington's students to consider their role as stewards of the natural world. It also includes plenty of hands-on excursions. "It's the perfect marriage between content they get inside the classroom and practice," Sullivan said of the program. Each elementary school class receives weekly instruction from Metro Parks educators, as well as the chance to apply what they're learning during frequent trips to Oak Tree Park. Students also make yearly field trips to the Point Defiance Zoo and Northwest Trek and get access to a free summer camp, where they continue to thread together science and stewardship.
Despite its proximity to Arlington, most students had never spent time in Oak Tree Park prior to starting Wildlife Champions. Now, the program has transformed the 25-acre expanse into a learning laboratory full of interactive lessons about wildlife, native ecosystems, and the city's history. Since Wildlife Champions launched in the fall of 2018, science has taken on a new buzz among Arlington's students.
Back at Oak Tree Park, students explore some of the last of the Garry oak tree habitat that once dominated Tacoma's landscape. As the young naturalists crunch around, they are excited to share their findings with Metro Parks educator Megan Soland, whom they've nicknamed "Ms. Science," from roots and leaves to squirrel habitat nestled beneath a tree thicket. As they snap photos of leaves and animals and catalogue their findings through the app, they are quick to make connections between what they've learned in the classroom and on previous excursions to the park. 
As Sullivan sees it, "That's the beauty of this program. When you can leave the four walls of the classroom, it just amplifies the learning."