Summer in Washington just wouldn't be the same without our favorite trail adventures, be they long treks or simple walks. Thankfully, despite COVID-19 closures, most trailheads are open. Here's what we're looking forward to most as we get out to enjoy all the natural beauty our state has to offer.
With Kids and Dogs
Less than an hour's drive from Bellevue, Greenwater Lakes Trail meanders through a forest of cedar, hemlock, and Douglas fir along the banks of the Greenwater River, where water cascades over moss-covered boulders and swirls in deep blue-green pools.
This easy, family- and dog-friendly hike has a little bit of everything: a roaring river, fishable lakes, and even a secret waterfall. With very little elevation gain, it is the perfect trip for first-time hikers as well as experienced trekkers looking for their first overnight backpack experience.
The well-maintained path traverses the river over several well-constructed bridges. About ¼ mile in, a small trail cuts off to the right and leads to a secret waterfall. Soon after this, the trail enters an old-growth forest. Depending on the time of year, wildflowers, berries, or mushrooms grace the forest floor, scattered among the ferns.
Farther along, you may see deer, elk, or black bears, as well as feisty chipmunks and raucous gray jays. There is parking at the trailhead for horse trailers and clearly marked fords for crossing the rivers on horseback.
After your hike, you can stop at Wapiti Woolies in the town of Greenwater for coffee, hot chocolate, or huckleberry ice cream, or go across the road to the Naches Tavern for a burger.
For a Top-Notch View
Some of the most stunning views of Mount Rainier aren't found in the national park that bears its name. The Noble Knob Trail, which can be accessed from two different trailheads, provides 360-degree views of the Cascade Mountains and, on a clear day, the Olympics.
Since this trail is not in a national park, leashed dogs are welcome to join you on the hike, where they can stop and smell the wildflowers in summer and early autumn, too.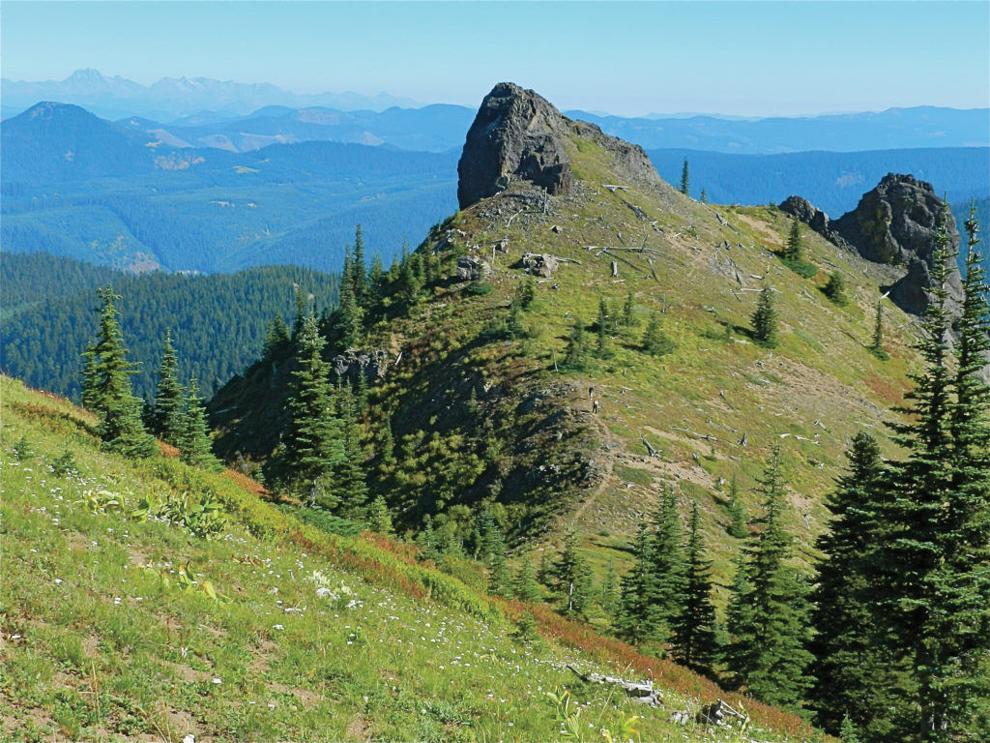 The trail to Noble Knob, which is the site of a former fire lookout tower, provides an amazing view, with only about 500 feet of elevation gain. This makes the trail accessible to those who may have shied away from other lookout tower hikes on much steeper and more difficult trails.
There are two ways to get to this trail. The more popular route, beginning at Corral Pass, has a more improved and easier-to-find trailhead, but the rocky dirt road requires a high-clearance vehicle and is prone to washouts and closures. The Twentyeight Mile Road route is less rugged and has several paved sections, but the trailhead is more difficult to find, and there are no facilities.
The panoramic views of the Cascade Mountains and Mount Rainier from this noblest of knobs provide an awe-inspiring perspective that isn't found anywhere else.
On a Rainy Day
The only thing better than a hike to a Pacific Northwest waterfall is seeing a waterfall in the rain, when it is at its most powerful.
Less than 45 minutes from Bellevue, Twin Falls provides a journey through primordial forest along an ancient river, ending at a stunning destination, suitable for the whole family.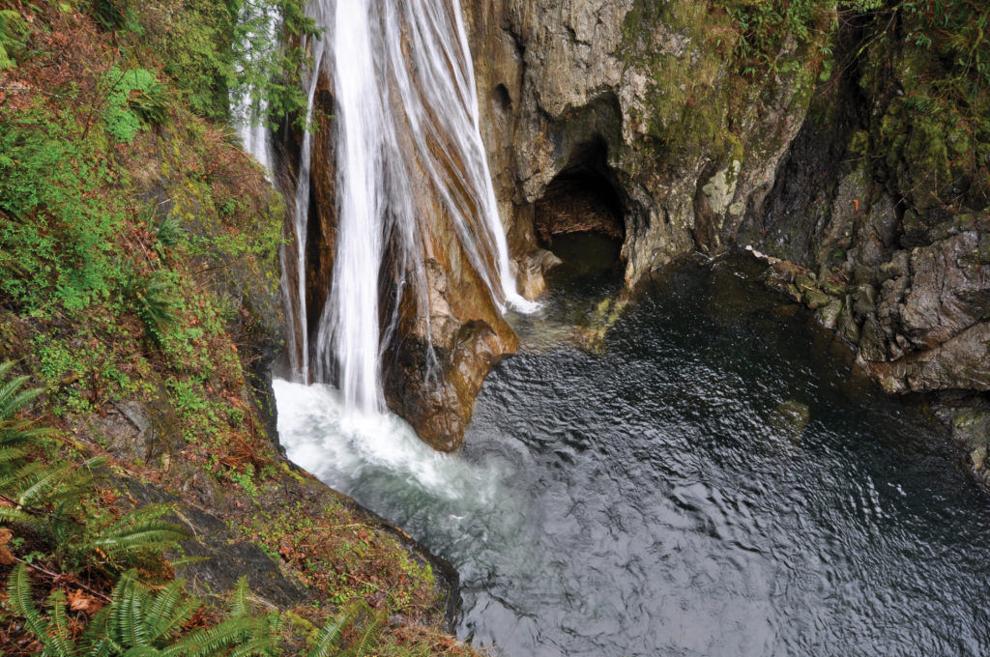 ---
Take a Hike (Safely)
If you are planning on going for a hike, the Washington Department of Natural Resources wants you to be safe and prepared.
Check what's open – Some places might be closed or have reduced hours.
Hike close to home – Don't go far for recreation. If your destination is crowded, have a Plan B.
Be prepared – Restrooms might be closed or limited. Bring soap, water, sanitizer, and toilet paper.
Feeling sick? Please stay home.
Practice social distancing – Keep your hands clean, avoid touching things, and wear a mask that covers your nose and mouth in areas where you might come into close contact (like passing on a narrow trail).
Pack it up – Make sure to leave no trace, including masks and gloves.