A brisk walk to enjoy the last of the fall colors, with leaves crunching under your boots, is a great way to brighten up a November afternoon with fresh air, exercise, and lovely scenery. But a hike that leads to a hidden waterfall is even better.
About an hour from Bellevue on the Mountain Loop Highway, Explorer Falls is a hidden gem, which provides just enough adventure to make you proud of your accomplishment in getting there, without the steep elevation gain or long miles required to get to some other waterfalls. At just a little over 2 miles round-trip with only 250 feet of elevation gain, this is a great hike for the entire family and will leave plenty of time in your day for other activities.
Part of the fun and adventure this trail provides is finding your route. You will have to pass around gates and look for side trails that bypass fallen logs and mounds of dirt. Bring waterproof boots with good traction and some dry shoes to change into, because you'll also be crossing creeks.
The trail begins at the end of Monroe Camp Road, where you will have to walk around a bright yellow gate. Follow the tree-lined road approximately ¾ of a mile, and look for signs in the trees that direct you to the left to Explorer Falls: there is a tiny trail that will lead you past some fallen trees. The trail will soon curve slightly to the right. Keep looking to your left, and you'll and see a big pile of logs atop a mound of dirt. There is a small trail that leads through the logs, over the mound, and then across a creek. Carefully cross the creek either by wading or walking across logs or rocks, and head back up the trail. You will come to another gate; take the path around the right-hand side of the gate, where the trail continues.
After you pass the second gate, walk a bit over ¼ mile up a gentle grade and keep an eye out to your right. You will see a narrow trail that leads to the creek; this is not the trail to the falls. Walk about another 100 yards or so, just before what looks like a fork in the road, and you'll hear the falls and see the trail. You will cross the creek again here to get to the right side of the falls. To get a closer look at the falls, work your way up the creek bank by climbing over rocks and tree roots. Don't forget your camera, not only for photos of the falls, but to document your adventure in getting there.
Once you're done with your hike, you can visit historic downtown Snohomish to enjoy food, drinks, and art galleries and get a head start on your holiday shopping! Bundle up, grab a Thermos of hot cocoa and some snacks, and enjoy a chilly adventure.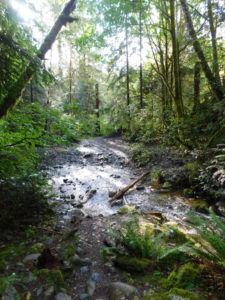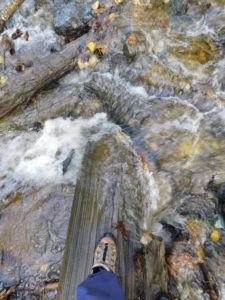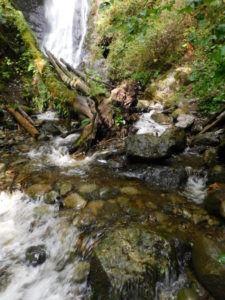 GOOD TO KNOW:
How to get there: Take the Snohomish-Wenatchee exit off I-5 onto Highway 2 in Everett. At milepost 10 turn, left onto 100th Street Southeast (Westwick Road). Just past the French Creek Grange, the road bears sharply to the left (north) and becomes 171st Avenue. Continue on 171st Avenue Southeast to a four-way stop; turn right onto Dubuque Road (36th Southeast). Go east on Dubuque Road for approximately 6 miles; turn left onto South Lake Roesiger Road; bear right at the Y to continue on South Lake Roesiger. Drive 2.3 miles take a right onto Monroe Camp Road. Drive 1.3 miles and then bear left at the Camp Edward sign and follow the road to end. Do not go up the logging road on the left; stay on the pavement. There is a yellow gate at the end of the road and an area to park on the left.
Pass: A Discover Pass is required to park at the trailhead.
Map: USGS Map Lake Chaplain 71/2"