Cats and feminism is a perfect marriage. It's a punny relationship everyone is familiar with and the newest five-piece nail polish collection released by Pepper Pot Polish, created by Tacoman Mackenzie Putscher.
The Cats and Feminism polish line was inspired by a desire to create sparkly polishes and is the first thematic collection Putscher has released aside from some other seasonal lines. Several of the polishes, like "Cats and Feminism 4Ever" and "Gilded Razor" are layered with multiple pigments and shimmery sparkles that create a shifting tone depending on the light.
Putscher, 38, mastered the creamy polishes and wanted to expand her repertoire with a sparkly line. It was outside her comfort zone and challenges sprung from working with the new materials. Making sure the polish wasn't too chunky and thick was a difficulty she ironed out during the testing period.
Since releasing the feisty series Feb. 1, Putscher has received an outpouring of support and praise for the dynamic collection and has restocked it three times.
Pepper Pot Polish was incepted from a life-long predilection for nail polish and interest in creating it herself.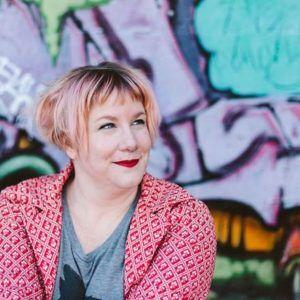 "I went through phases," she said during an interview at Bluebeard Coffee Roasters in Tacoma. Her fingernails were bare, a detail she pointed out. Funny, she said, because she's not as voracious about nail polish as her customers are, and she works with her hands a lot so her nails often are plain. "I liked it a lot when I was in high school and would spend any sort of allowance or money I got from a job on nail polish. I would paint my nails in class. I vowed my senior year — it was a silly thing, and I probably used a bigger word, or what I thought was a bigger word — that I would have the largest collection in the whole wide world."
While she probably doesn't have the largest collection, she has bottled thousands of richly-pigmented nail polishes for personal use, friends and for sale since starting the small business.
The name was born from her experience as a part-time bartender being pestered by customers who want to know her name so they can get her attention faster — she told them it was Pepper because she thought it was funny. And a pepperpot is slang for someone who's saucy and sarcastic.
The newest series hearkens back to the foundation of the brand, which is feminist at heart, she said.
"The idea behind my brand is that everybody has a place at the table in the beauty realm," she said. "I get a lot of female customers that are older, in their 50's, and they really like something but they're like, 'This is too sparkly, I'm too old for this.' And my idea behind this is that's ridiculous and you can wear this if you like it."
Putscher plans to release another Cats and Feminism series because there were so many colors and names she couldn't use for the current collection. The plan is to release a new collection every few months — whether it's thematic or seasonal.
The polishes and her other beauty products — lip gloss, bath and body oils, and eyeshadows — can be purchased on her Etsy page. Brick and mortar stores — Compass Rose, Evolve Home, The Purple Peacock, Embellish Multispace Salon, and Jewelephant Boutique Salon — also carry her polish.