PopUp Kids consignment shop in University Place has a new take on the traditional brick-and-mortar style storefront. Rather than opening daily, the shop literally 'pops up' for a few days each month, offering its reasonably-priced, high-end, pre-owned children's clothing sales events.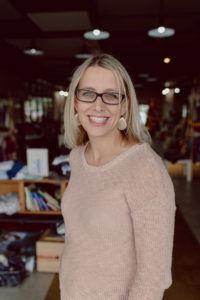 What began about 10 years ago as a hobby for the daughter of entrepreneurial parents, owner and PopUp Kids creator Michelle Nicholson started selling gently used baby items online after the birth of her first child. This quickly transformed into a budding market.
Fast-forward and Nicholson, now a mother of six, had accumulated more and more children's items. "I continued to sell items out of my home for about five years, until it grew so much in the sense that it was no longer just a hobby, and more of a business," she said.
After gaining quite a following, she moved forward with PopUp Kids, setting up not only at home, but at different area locations. Wherever she went, the shoppers followed. She eventually added in the consignment aspect, which really grew the business.
Although never planning to have a traditional storefront with regular hours, it was 2020 just before the pandemic hit when Nicholson opened her first permanent location with the intention of opening once a month, for several days at a time.
"At the point when everything was closed down, I had to pivot quickly and went back to an all-online format, posting tons of stuff for sale, and lining packages up outside of the shop, with curbside pick-up," Nicholson said.
Today, the store is popping up as originally planned per state guidance and limits on shoppers within the warehouse-like space. With extended hours she has been able to spread the number of customers out over the three-day sales event period.
"One of my main goals has always been to build and support the local community," said Michelle, "I want to see moms, and connect with them."
Michelle handpicks items that are only in the most excellent condition to resell in her shop, and added, "I always consider trends, and what people are wanting, depending on the season, carrying a lot of popular NW branded styles."
A quarter of the items also are listed for presale a few weeks prior to the opening of each monthly pop-up event, either for pick-up at the store, or available shipping options.
To participate in the consignment program, guests are asked to bring in 50 of their best items during open times, usually occurring a couple days a week for this purpose. Updates are posted on Facebook. Unlike typical consignment, they are either given a 40 percent automatic store credit for immediate or later use, or paid a 25 percent cash-out at the end of the month.
PopUp Kids next selling event is coming up on Jan. 21-23, with extended hours from 9 a.m. to 6 p.m.; web sales launched on Jan. 6.
Check here for future sales events.