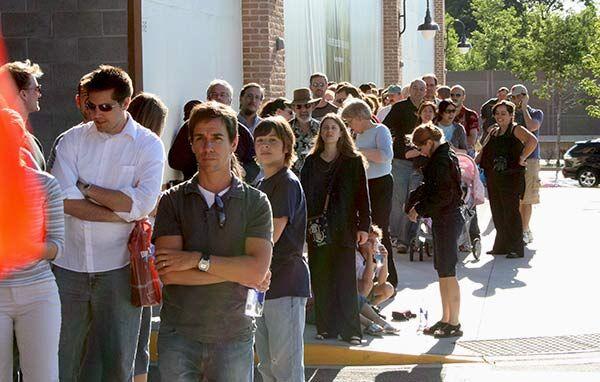 Black Friday is one of the biggest shopping days of the year. While you can save big on the day after Thanksgiving you might also run into long lines and aggressive shoppers. The best way to shop on Black Friday is to plan it out. Here is our guide to the biggest sales in the South Sound.
Cabela's
Every outdoorsman's favorite store, Cabela's is hosting a Black Friday Parking Lot Party, Friday Nov. 28 from 1am to 5am. The late night or early morning campfire offers free food, fun games and movies until the store opens to sales.
20% of TrailGear merchandise
Discounts on GARMIN products
$30 off Boss All-Terrain Sound Systen
 Tacoma Mall
Opens 6am -10pm on Black Friday
NORDSTROM
Extra 20% of Clearance
Look for customer emails Nov. 25, 27 & 28 for specific details
Centralia Outlets
The Centralia Outlets are hosting Moonlight Madness. Wear your pj's and shop holiday deals after your Thanksgiving feast. For sales info and free coffee stop by the information center at 1301 Lum road by UnderArmor. The event kicks off at 10pm for 5 hours of shopping fun. Stores will reopen at 7am on Black Friday.
HELLY HANSEN
$20 off every $200 you spend
GYMBOREE OUTLET
All regular price items 50% off
All denim $12
Polar fleece $10
Select tees $7
South Hill Mall
Wake up bright and early on Black Friday for a chance to win an extra $250 for your holiday shopping. At 6am, meet at the South Hill Mall's center court and participate in the Balloon Drop Extravangza.
TARGET
40% of all Apparel
Razor Folding Scooters for $19
Element 40″ LED HDTV for $119
Beats by Dre Solo HD Drenched for $97
Xbox One 500GB Console Bundle w/Assassins Creed Unity and Black Flag w/$50 Target Gift Card for $329.99
Apple iPad Air 2 16GB (Silver) w/ $140 Gift Card for $499
Westinghouse 48-inch 1080p LED HDTV for $235
Playstation 4 500GB Console Bundle for $399
GoPro HERO3+ w/ $50 Gift Card for $249.99
OLD NAVY
Thursday & Friday only
The Outlet Collection- Seattle
Formally known as the Super Mall, Auburn's Outlet Collection is offering up some holiday deals this Black Friday.
WILSONS LEATHER
November 27 & 28
Up to 70% Off the Entire Store + 40% Off Your Entire Purchase (excluding clearance)
OSHKOSH B'GOSH
B'gosh Believe: Up to 60% off!
Plus, extra 20% off clearance!
H&M
20% entire purchase in-store and online
CARTER'S CHILDRENSWEAR
60% off holiday dress up!
$5 slogan bodysuit doorbuster
AMERICAN EAGLE OUTFITTERS
25-60% off the entire store
AEO Jeans $19.9 *Select Styles Only*