When the contractor was wrapping up this Kirkland remodel, the homeowner's 5-year-old son started hiding his tools so he couldn't leave. This remodel was a happy family affair from the start. The homeowners had a vision of what they wanted to achieve, and they also had a budget and wanted to be part of the process. They hired a team of people who were willing to let them pitch in — even the kiddos contributed.
When the Kirkland family of four decided to upgrade its cramped kitchen into a haven for cooking, doing homework, entertaining, and playing games, it first turned to Miriam Larson, owner and principal architect of Story Architecture in Kirkland. Larson had worked for architecture firms in Seattle and L.A. before starting her own in 2013. She's been in the field for more than 20 years, and her experience in restaurant design has "lent itself well to kitchen renovations and expansions," she noted.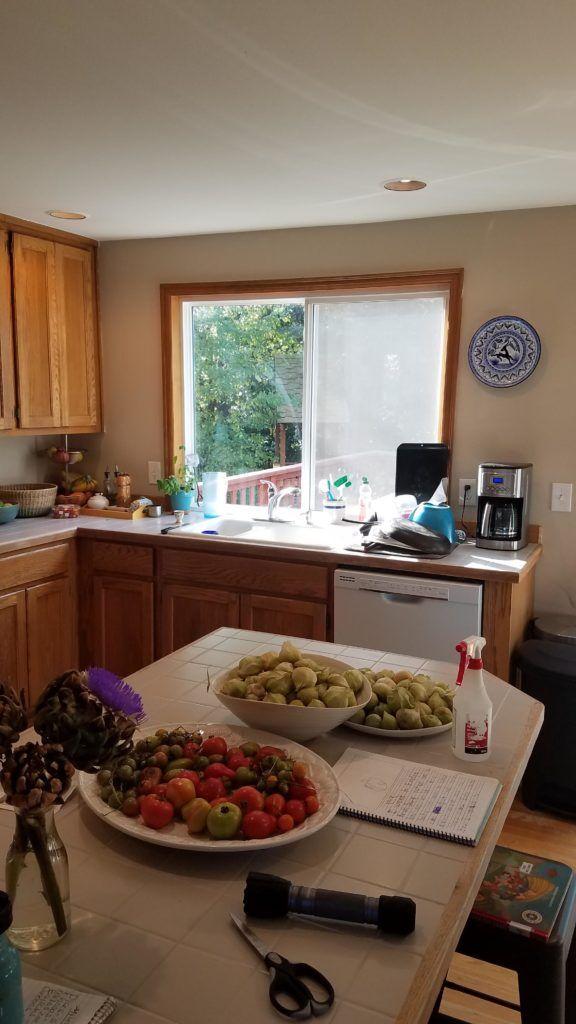 "The first discussion I have with most people is about whether it makes sense to invest in a renovation or sell and look for something that already has everything they want," Larson said. "Part of my service as an architect is to have transparent discussions about what makes sense for each family. For these clients, a dream kitchen was attainable in the house and neighborhood they already loved."
Larson created 3-D computer-generated renderings of the project to show the clients the vision before work began. "Photorealistic 3-D images are one of the best tools I have in my practice … It's an amazing process, since most clients aren't readily able to visualize space using floor plans. The images were very helpful to this family, and they referred to them frequently throughout construction." The end result is a perfectly balanced and warm kitchen that is functional and beautiful. Memories were made long before the first meal was prepared. "I also remember that at our first meeting, one of the children was very interested in what I was sketching and presenting. Because we had a contractor who was great with kids, and amenable to having some 'little helpers' throughout the process, the children in this family will always remember that they helped build their new kitchen."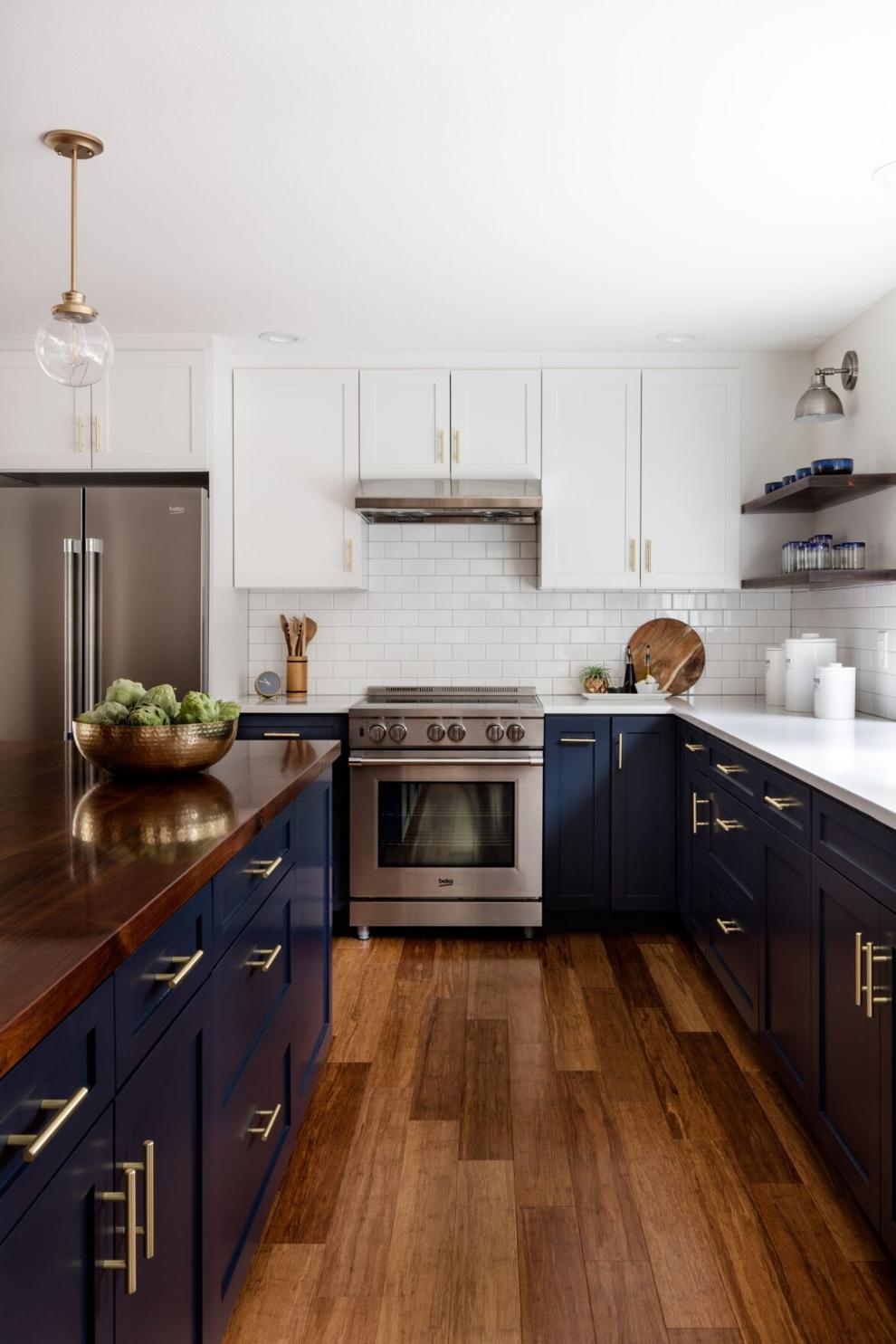 What Hue of Blue?
Hale Navy by Benjamin Moore
DO YOU THINK WE WILL SEE MORE COLOR IN THE KITCHENS?
Larson: I do. I have always believed that homes are extensions of the people who live in them. Psychologically speaking, they can be viewed as shelter and sanctuary for our bodies and consciousness. And there has been no other time in our collective memory in which people have been confined to their homes the way we all have. It absolutely makes sense that in a year of trauma, difficulty, and loss, people yearn for interest, beauty, calm, and delight in their living spaces. Color can provide this almost instantly, and it's an inexpensive move.
WHAT ADVICE DO YOU HAVE FOR OTHER PEOPLE STARING AT THEIR DRAB KITCHEN SPACES WHO ARE CONSIDERING SOMETHING NEW/REMODELED?
Larson: As far as the design elements, I would suggest thinking back on a time in your life that you felt safe, comforted, and fulfilled. Then try to think about the space you were experiencing those feelings in, and draw inspiration for your project from that place. It might sound silly, but I have seen people recapture joy in their homes by referencing memories and translating them into design. It could be the way light fell across a wall in a childhood room or, as in this case, a color that evokes delightful memories. I would also say that it's worth interviewing architects and designers before moving forward with a project. What the homeowners said: We all were able to contribute to create our new kitchen, which is the heart of our home … Being able to do the flooring, tiling, wood finish work, and other projects helped save some money but was also a meaningful way I could contribute and was a welcome respite from endless video conference calls. Finishing the 11-foot walnut island top was definitely a highlight.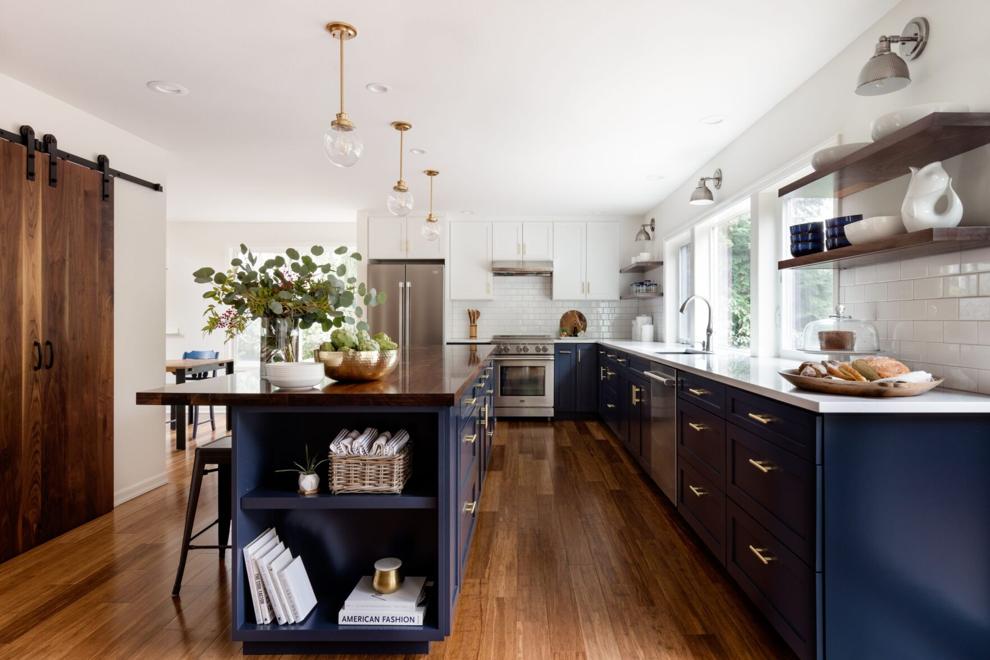 Meet the Rest of the Team
Black Dog Custom Builders (Lake Forest Park; blackdogcustombuilders@comcast.net)
Structural Engineer: Swenson Say Faget (Seattle, ssfengineers.com)
Miranda Estes Photography (Seattle, mirandaestes.com)
Stylist: Lacie Powell (Kirkland, laciepowell.com)