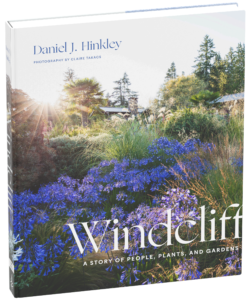 In the world of cuttings, growing from seed, plant collecting, and intense trial and error propagating, Puget Sound's horticultural rock star plant hunter, passionate gardener, lecturer, and accomplished writer Daniel Hinkley lends us plenty of growing enthusiasm with Windcliff.
Windcliff sits on 6 and a half acres in Indianola on a south-facing bluff overlooking Puget Sound.
Hinkley is the former owner and current executive director of Heronswood in Chimacum.
Windcliff is about the journey he has taken from his home in Michigan to his present home at Windcliff. Anyone who has gardened for long in the area knows Hinkley as one of Puget Sound's most respected horticulturists and a gifted writer. Catalogs from his original garden and nursery in Heronswood are still coveted for their delicious descriptions and clever prose. It's no wonder that his new book is easy to devour.
If you have followed his career, you might know a lot about his profession, but Windcliff reveals a lot about how he got there — through living and working at the Washington Park Arboretum; Bloedel Reserve; Heronswood; plant hunting worldwide; and building his Puget Sound oasis, Windcliff.
Even if you're not a gardener, Hinkley's writing makes than just a pleasure to read: It's re-readable. If you garden in Puget Sound, it's a necessity. It's a garden book like no other. Order it from timberpress.com ($35), or by e-book.