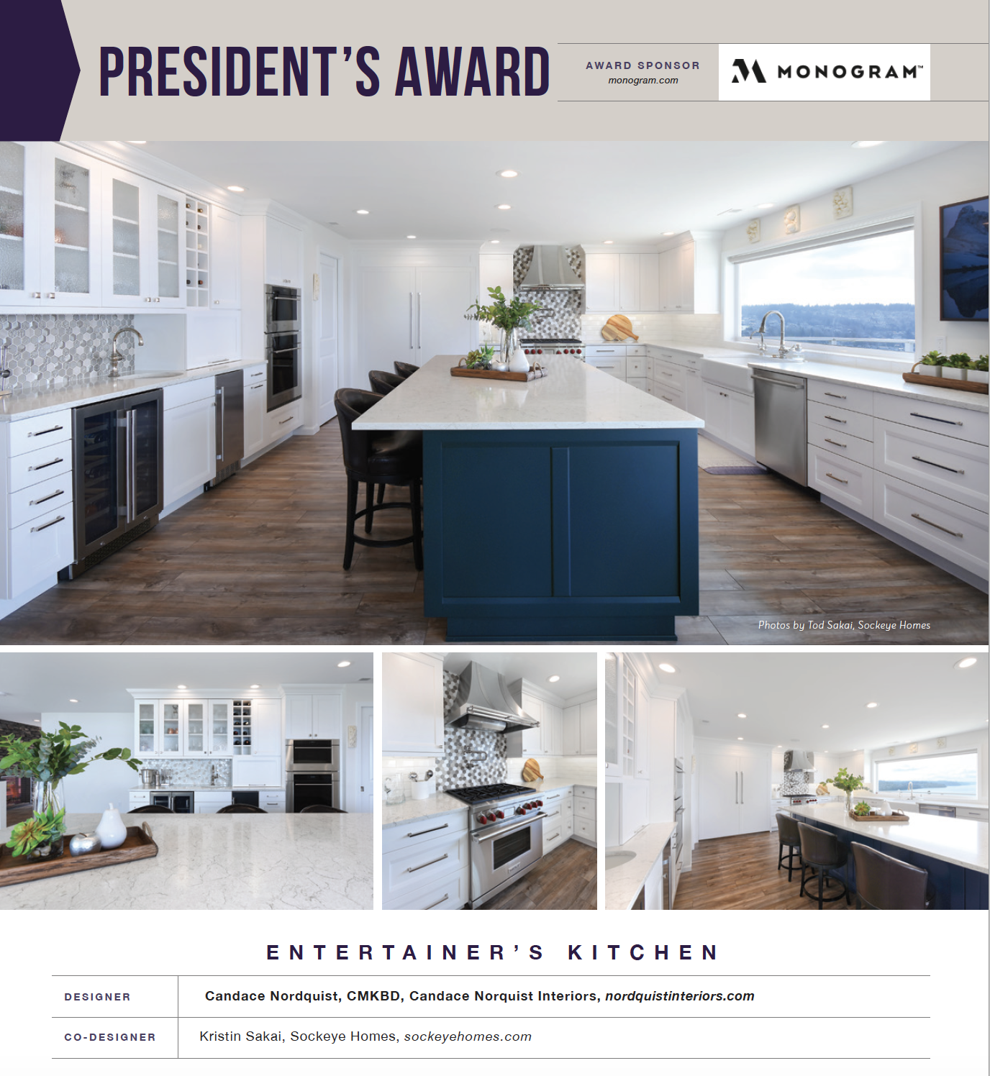 This home's existing design hid the kitchen between the dining room and living room, making a disjointed layout and blocking the amazing views. The homeowners wanted to maximize the 180-degree view and embrace an open layout concept. The kitchen is set up for large scale entertaining with its vast island space, separate bar area, and luxury appliances. Because the homeowners love cooking, this kitchen has all the bells and whistles: a 36-inch range and custom hood with a pot filler; a large apron sink for the clean-up area; and a great baking center. There also is a large pantry to house all the dry goods and small appliances. The color palette complements the water views in white and blue. The LVP flooring allows for ease of maintenance. Overall, this is a great space to entertain with ease.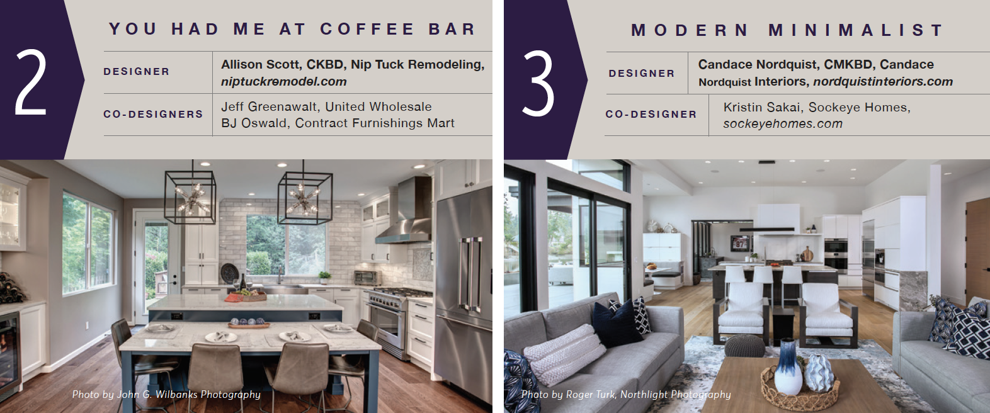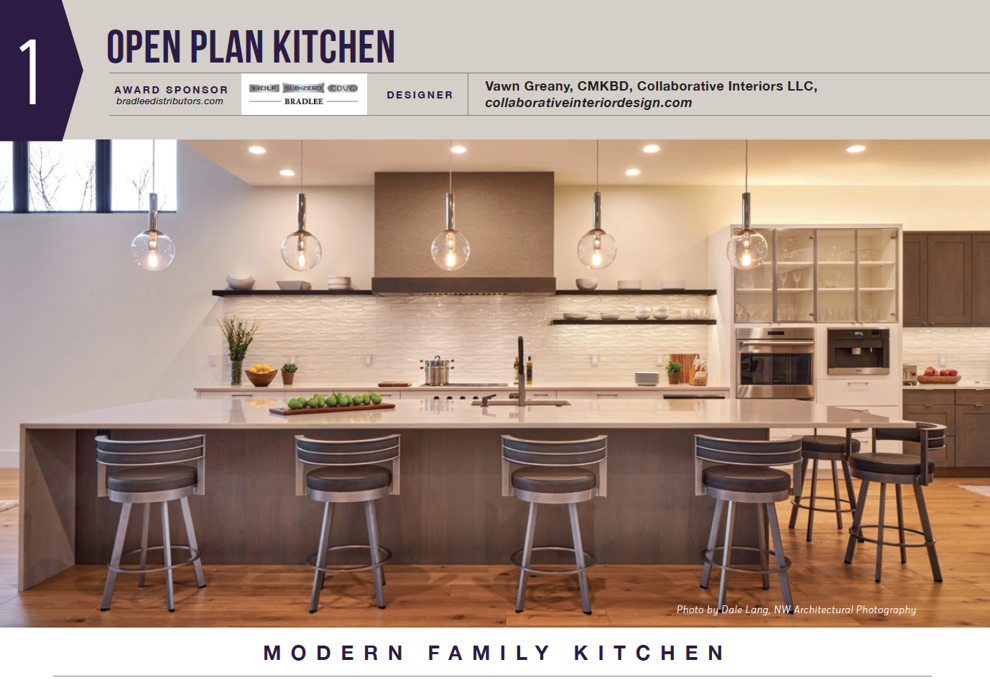 This expansive, open space was a clean slate — nothing had been established. Developing core and secondary prep zones to allow multiple tasks was key. The large island seats up to 10 people comfortably and allows everyone to visit with the cook. Strategically placed pendant lights visually ground everything while masking the fact that the sink is not centered. In the background the 72-inch hood embraces the functional and heavy-duty floating metal shelves that are used daily. All appliances are appropriately distanced for comfort with necessary items conveniently stored nearby. Whether preparing an intimate dinner or entertaining a large group, this kitchen can be depended on to suit your needs.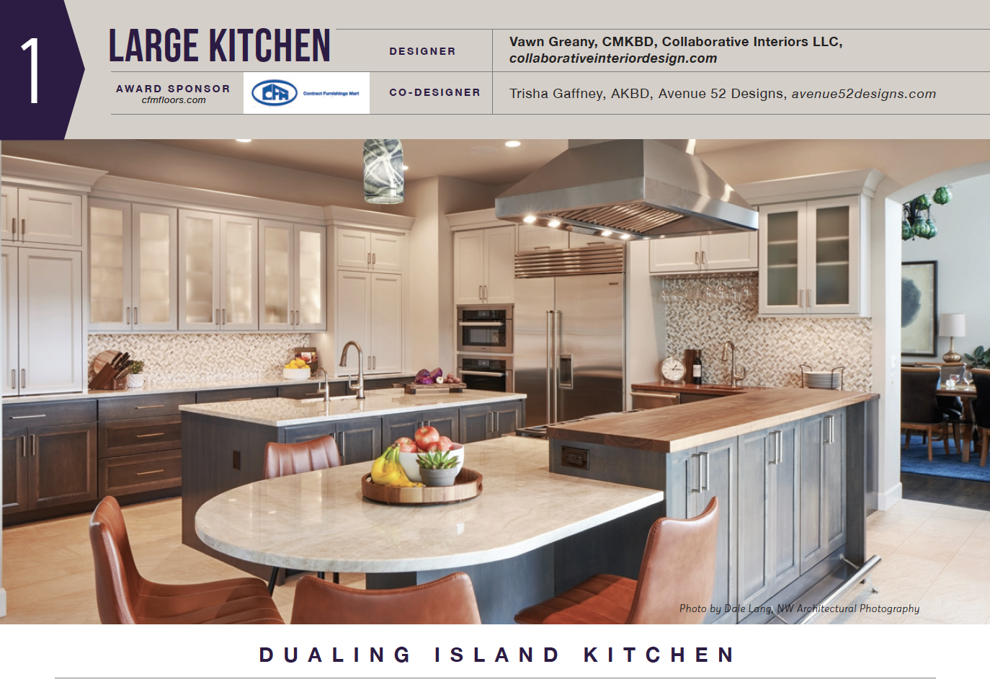 This kitchen has perfectly balanced furniture details and understated architectural elements. The two large islands are methodically located to allow full water views from both the main sink and cooktop. Comfortable appliance location and multiple walkways are a hit for the cook/cleanup crew, especially while entertaining. Low-maintenance solid walnut countertops flank both bars. These natural tops have a patented furniture finish that withstands water at the prep sink. Friends can casually hang out along the raised island back using the functional footrest while enjoying both indoor and outdoor spaces.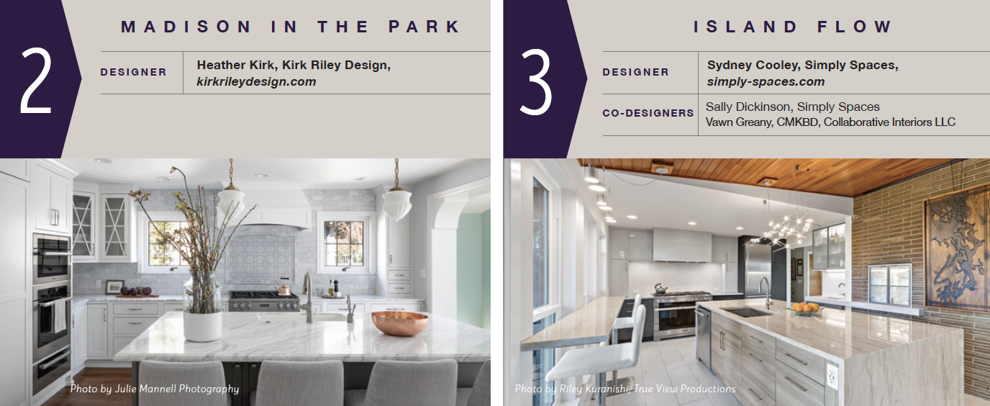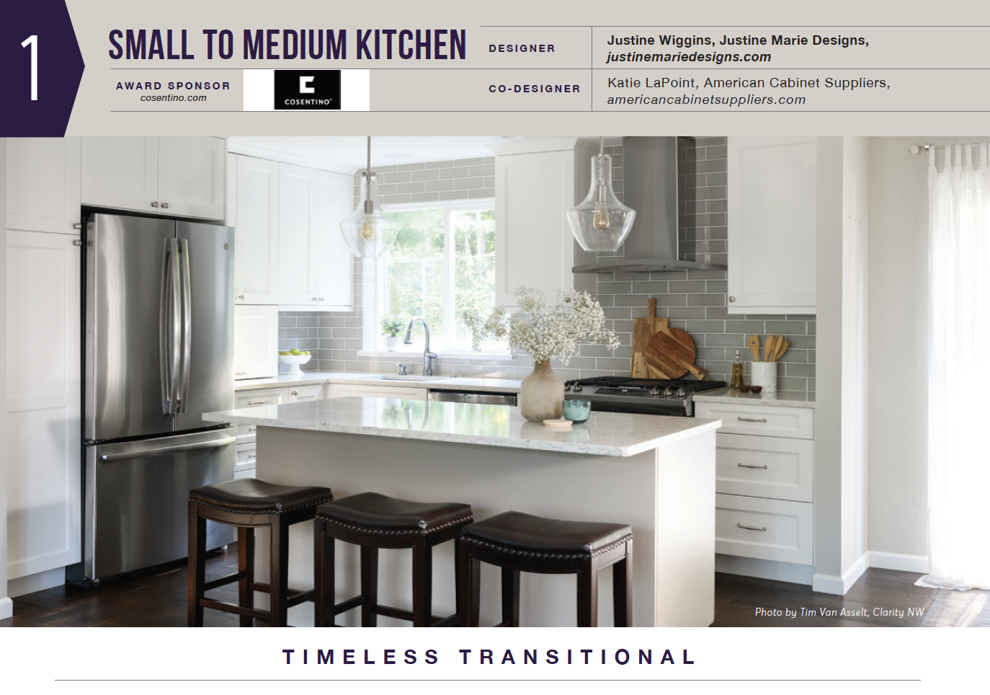 This '70s kitchen was almost all original and had to go. Opening the kitchen to the living and dining room was a no-brainer for entertaining and the day-to-day routine with children. Since this isn't a large kitchen, each cabinet had to be fully utilized; an appliance garage, pantry, garbage pull-out, knife and tray storage, and plenty of roll-outs are packed into this small space. Keeping future buyers in mind when making selections also was important to our client, as this was not their forever home. A neutral, but not boring color palette achieved that.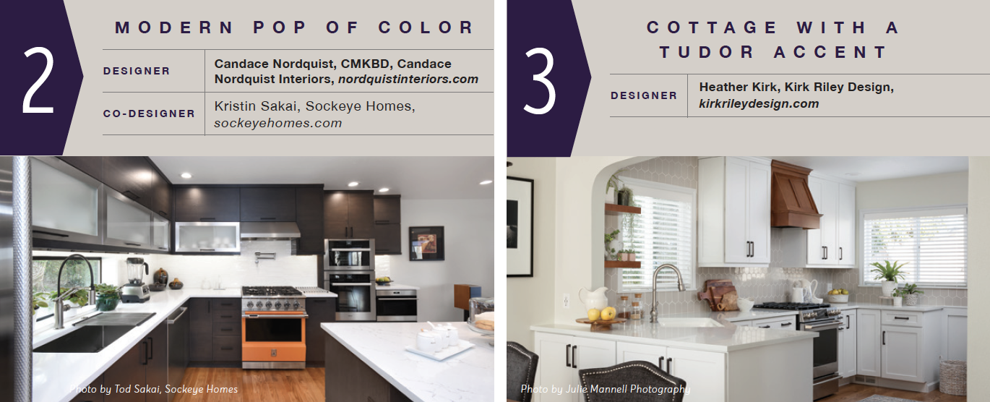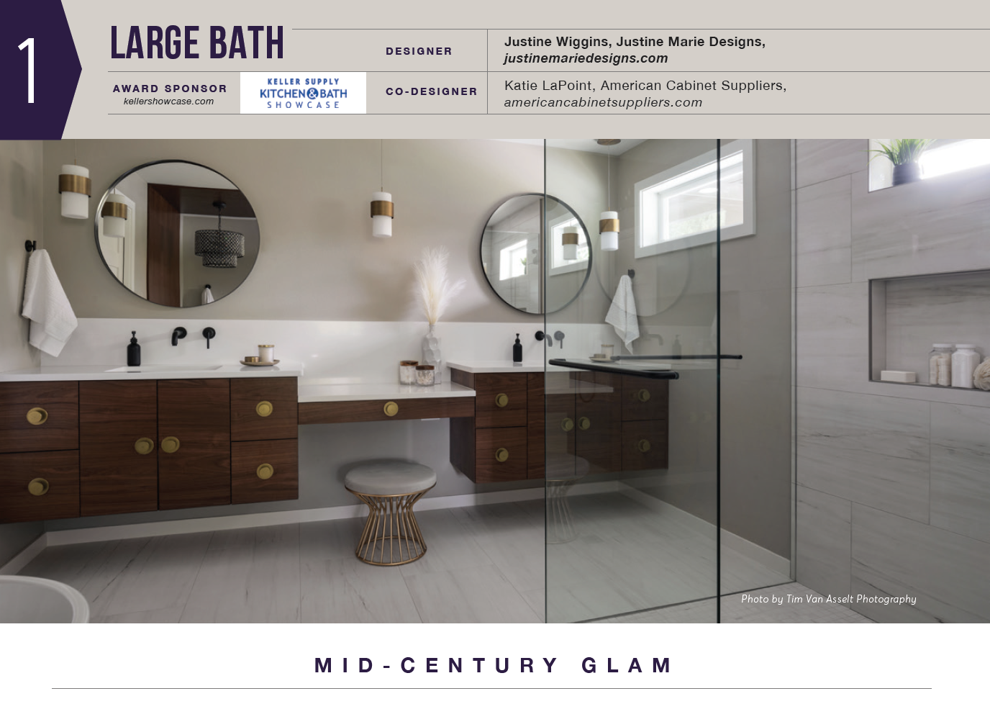 The clients wanted to respect the original mid-century architecture of their home while adding updated glamorous details to their bathroom. Large scale dolomite tiles, a backlit shower niche, and floor-to-ceiling paneling behind the tub gave these clients the drama they were looking for, while walnut wood tones and brass fixtures give a nod to the mid-century aesthetic these clients love. The high-end finishes on the floating vanity and wall mounted faucets create an open and fresh spa-like retreat that these clients will enjoy for many years to come.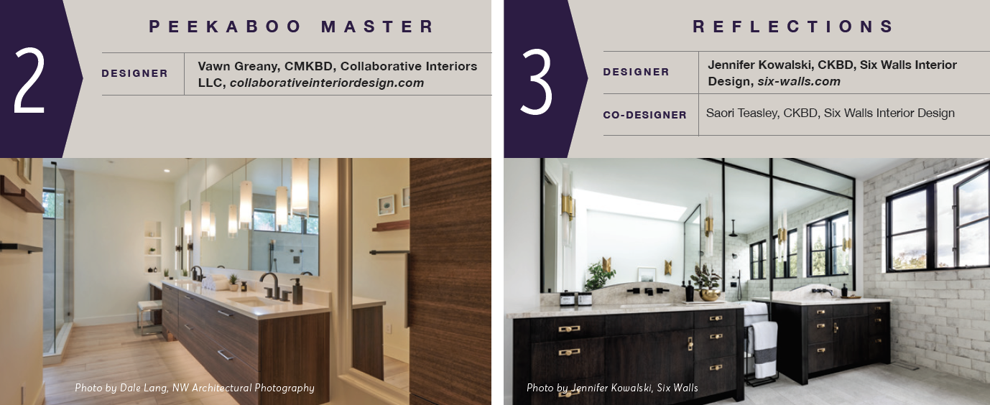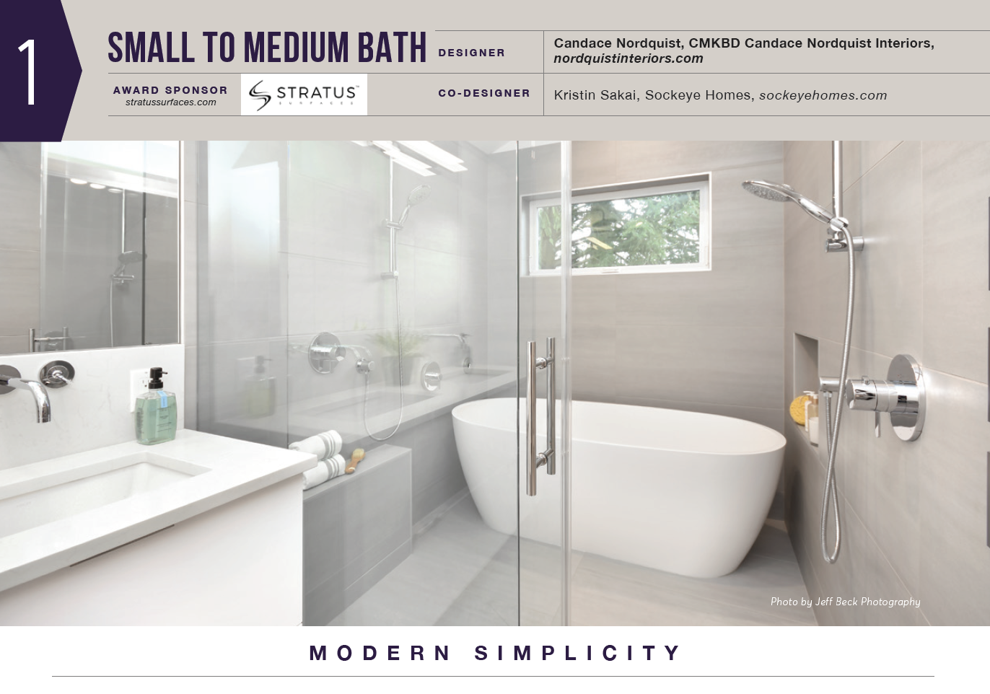 The homeowners wanted to transform their 1980s-style bath into a contemporary Japanese onsen. Of key importance in onsen design is a large wet room concept where there is space to clean off before entering the tub. By rearranging the existing bathroom space, a wet room area was created at one end of the bathroom. The wet room incorporates dual hand showers on slide bars. A wall mount tub-filler saves space and supports the minimalistic feel, while a recessed shower niche provides a place for bathroom products. Large scale tiles were used on the walls making it easy to clean and giving it a contemporary feel. A hydro-slide style shower door saves space by rolling one glass panel over the other and eliminates the need for a swinging shower door.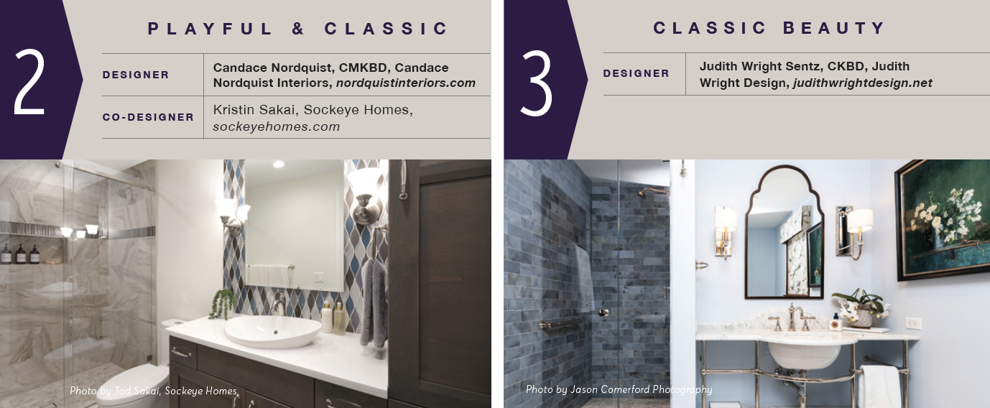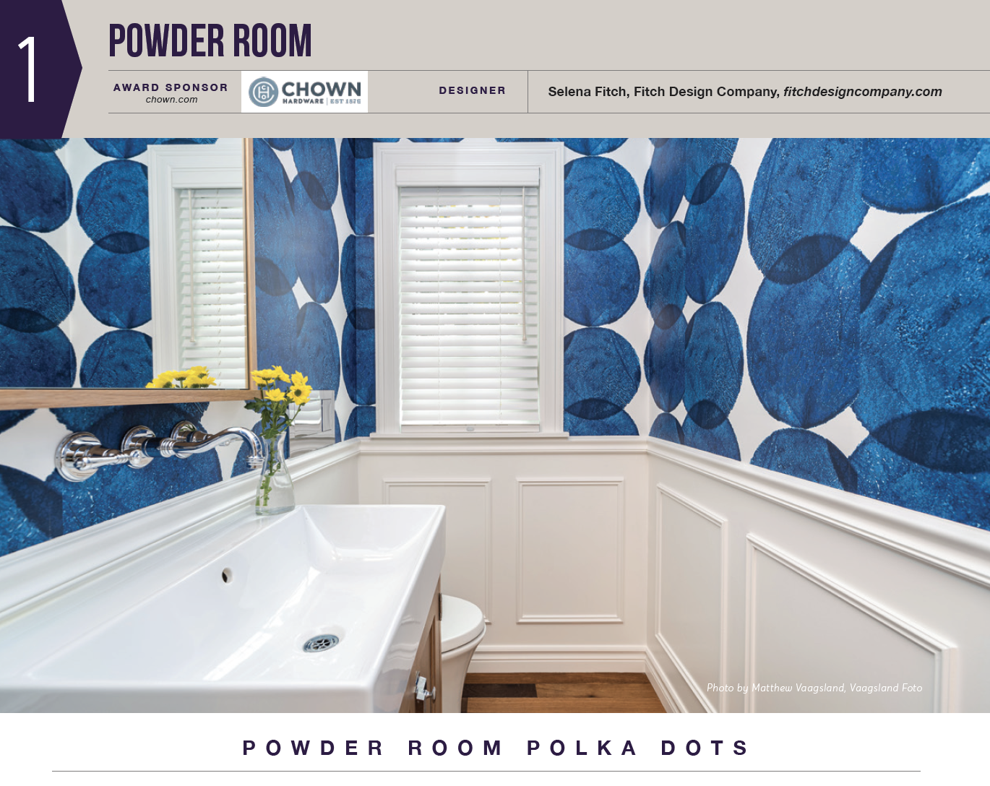 A recently purchased 80-year-old home was in dire need of some upgrades. The existing powder room was cramped with oversized fixtures and an outdated banjo top over the toilet that made the user claustrophobic. The new powder room is bright and spacious, and the vanity and toilet are unobtrusive and sleek. The pop of color on the walls from the polka dot wallpaper brings an element of joy to the space.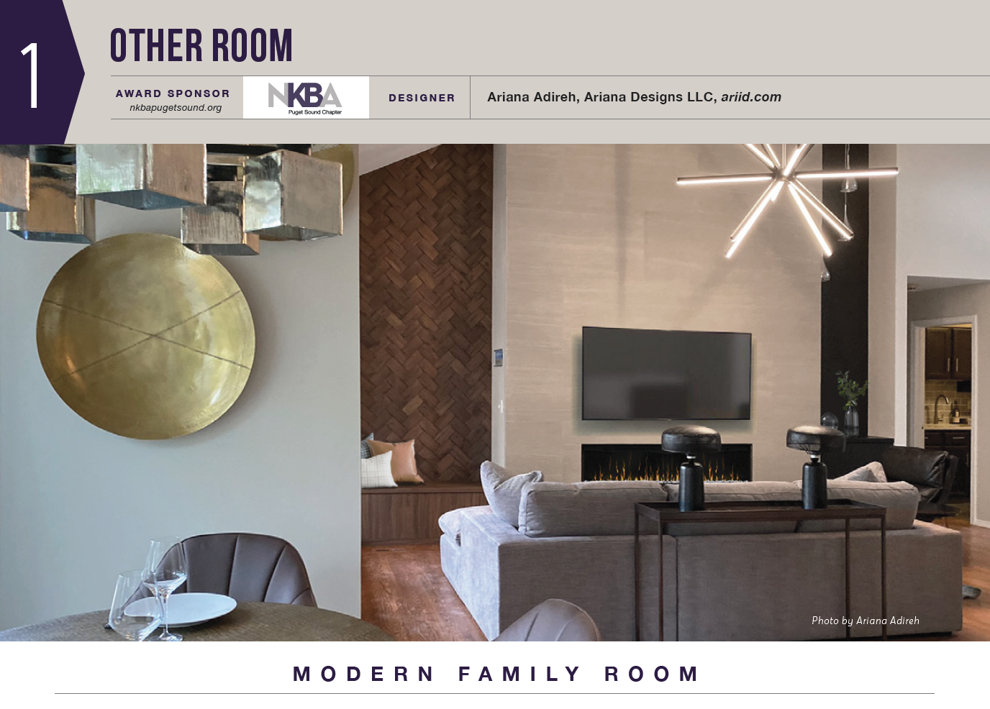 We took on this project and transformed an outdated living room to a luxurious space. Our client came to us asking for help with their home and we were faced with a few challenges. The living room was small with a bulky fireplace and a poor layout. Solutions included adding a beautiful accent wall with a new fireplace, efficient storage, and comfortable seating to help bring family and friends together for many years to come.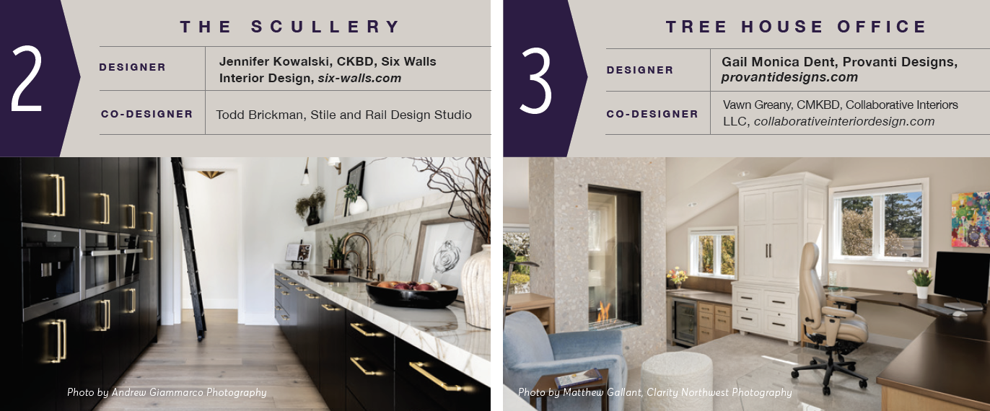 NKBA Puget Sound Chapter
is a growing nonprofit trade association with more than 36,000 members. We've led the kitchen and bath industry for more than 40 years by providing resources for consumers and industry professionals. Not only does NKBA host the world's largest trade show, the Kitchen and Bath Industry Show & Conference (KBIS), and offer educational programs, we also enhance the success of our members by promoting professionalism and ethical business practices. In order to benefit consumers, our association monitors national and state legislation to protect the industry, our members, and consumers.
NKBA Professional Development Courses raise the bar for kitchen and bath professionals. NKBA Kitchen and Bath Design Certifications are based on written examinations and extensive industry experience. NKBA Certifications let consumers know that their designer's professional skills have been independently evaluated and tested. These designers are committed to improving these skills through ongoing education and professional development.
Need more information about why NKBA members are the most skilled professionals in the industry?
With more than 65 chapters throughout the United States and Canada, the National Kitchen and Bath Association is the ultimate source for kitchen and bath resources and the primary means of uniting the industry!
---