The website movetotacoma.com looks like a digital billboard for the city. On the home page, sweeping views of the North End, Downtown, and Point Defiance play on a loop behind the words, "Find your place in the city of destiny." The site is something you might assume locals would be happy to get behind, except it carries one small but mighty word in its url: move.

"It's been a really humbling experience having this site and having people tell me it's horrible and ruining the city," said Marguerite Giguere, a realtor with Windermere Professional Partners.
Giguere started Move to Tacoma in 2015 to attract transplant clients. And she did. But initially, she got some backlash from some residents who were unpleased with the amount of people moving into the city and Pierce County. The housing market is hot, inventory is low, and rent is climbing.
Pierce County's population was 795,225 during the 2010 Census. The Economic Development Board for Tacoma-Pierce County estimates that the population climbed to 844,490 in 2016. That's a jump of about 50,000 people.
According to real estate website Zillow, in 2007 before the housing market crashed, the median home value in the county was about $284,000. In 2012, it dropped to $196,000. As of January, it's recovered to $287,000. Over the past year, home values went up 11.5 percent, and rent went up about 10 percent.

Michael Robinson, who owns Windermere Professional Partners in Tacoma, tracks the health of the market with sales ratios. He takes the number of pending sales in an area and divides it by the available inventory, for a percentage that ends up serving as a strong indicator of the local real estate climate. For example, 10 pending home sales in an area with 100 houses for sale would make a 10 percent sales ratio.
"Fifty-five percent is a balanced healthy market," he said. According to Robinson, a sales ratio in the mid-50s means buyers can look at a home more than once before making a decision and sellers can be confident there is a market for their house. Anything higher is in favor of sellers; anything lower is in favor of buyers.
"If you have a 100 percent sales ratio, it's sort of this extraordinary phenomenon, because you literally have more pendings than you do active inventories."
At press time, there was a 100 percent sales ratio in 10 out of the 16 areas that Robinson tracks in Pierce County, according to his formula.
Those areas include Fircrest/University Place, Parkland, Puyallup/South Hill, Hilltop, South Tacoma, Northeast Tacoma, Spanaway, and the North End. The Proctor District specifically is in high demand. The charming Craftsman homes with views of Commencement Bay and in walking distance to gourmet grocery stores and local boutiques attract buyers. But one of its most sought-out qualities is its proximity to the freeway.
The commuter-buyer is strong in Pierce County. The current surge in pricing is certainly correlated to Seattleites moving to Tacoma, where they can find more affordable housing. The median home price in Seattle is about double what it is in Tacoma.
"If you're a family making $100,000 a year, you can't afford a house in Seattle," said Giguere. "A lot of people want to live on Queen Anne or Capitol Hill; they want to be in communities where everything is really accessible, and Tacoma has that and it's half-price. You just have to figure out how you're going to get to work or move your job to Tacoma."
At the Horizons Economic Forecast hosted by the Tacoma-Pierce County Chamber of Commerce in January, Dr. Neal Johnson of Sound Resource Economics said the county could expect nearly 7,000 new jobs in 2017. However, it also can expect more commuting residents who will travel outside of the county for work, a problem the local community is currently wrestling with.
"Forty percent of the non-military workforce in Pierce County have a job outside of the county," said Robinson. "It's terrible. As a business owner, and fellow business owners, we should be up in arms with our civic leaders to create some jobs. One hundred and thirty-five thousand people that live in Pierce County have a job outside of the county. (It's) sad."
Seattleites relocating to Tacoma are not solely responsible for increasing Pierce County home prices. Californians have long retreated to the Northwest to get away from large crowds and a more expensive housing market.

The housing dilemma is tangled with the lack of inventory in the area. Dick Beeson, a principal managing broker at RE/MAX Professionals in Gig Harbor, said that inventory levels have consistently dropped over the last few years. At the beginning of January, there were approximately 1,700 single-family homes for sale in Pierce County. Last year that number was about 25 percent higher.
"On a monthly basis, comparing 2015 versus 2016, more new listings came on the market each month than the same month in the previous year. However, the number of pending sales (those that went under contract) grew equally as fast, thereby never allowing inventory levels to reach previous year's levels. Inventory levels in Pierce and Thurston counties in 2016 remained anywhere between 10-30 percent below the 2015 levels," he said.
Still, agents are expecting 2017 to be a good year. Robinson said that the difference between having a good year in 2017 and a great year would depend on inventory. The demand for South Sound homes looks steady.
"In 2017, we'll see continued appreciation. Probably another 10 percent. Many economists and forecasters are calling for slow appreciation, something more like 7 to 8 (percent). But I think it will be stronger in Pierce County," said Robinson.
There's no denying that people are moving to Tacoma and surrounding areas. But Giguere said she understands some of the harsh responses she received when she launched Move to Tacoma. Some people don't like change — or more people.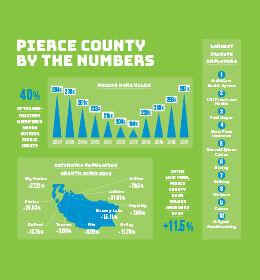 "You have the light-rail going to Hilltop now, and people who have lived there for generations can't afford to live there anymore," she said.
But she says that her site is more than just a marketing tool. She wants it to be an asset for locals. She also produces a podcast by the same name and talks to community leaders like Washington State Teacher of the Year Nate Bowling, and Development Director of the YWCA Jessica Gavre about Tacoma — even its more unglamorous qualities and its growing pains. She wants to help facilitate a healthy conversation about the city: where it's headed and how to make sure the locals, who have shaped it, aren't squeezed out.
"People are coming. But we have the power to impact policy in this city still," she said. "We're not in the situation Seattle is where the train has left the station and they're (screwed) trying to clean it up. We can still be proactive."
Some outsiders still associate Tacoma with a reputation of smelliness or violence, issues from decades ago that have clung to its name. Giguere stopped defending the city. Tacoma speaks for itself.
"Cool people don't have to tell people they're cool all the time," she said. "The defensiveness is from a different time. It's like an '80s movie with the nerdy girl and then she becomes really pretty. We're pretty now. We can take off our glasses and toss our hair and it's fine — we don't have to say anything else."