"It was a hobbit-hole, and that means comfort." – J.R.R. Tolkien
Walking through the Brothers Greenhouse, it's clear from the employee and customer rapport that there is a community of enthusiastic plant caretakers there.
But behind the greenhouse lies the unique feature that's made this place popular with more than just local horticulturists. A life-sized hobbit hole was built on the property back in 2014 and draws in tourists year-round.
Located southwest of Port Orchard, the Brothers Greenhouse is owned and run by Marilyn Davis and Cheryl Pelkey. The two originally worked at the greenhouse before buying it from the owner in 1996 and rebranding the business, naming it after the highest peak in the nearby Olympics.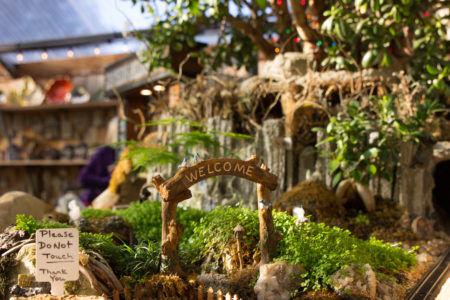 Wanting an attraction that would draw more than just their typical clientele, the duo embarked on a six-month group effort creating the otherworldly hobbit home out of a sturdy steel pipe and shrouded it in greenery to give the appearance of being built into a hillside — in true hobbit-hole fashion. Pushing through the circular door you'll find wood-paneled walls, a small table, lamp and chair underneath a porthole styled window, electrical outlets, and a fully functioning fireplace.
To complete the picture, Pelkey also created a mini Shire featuring Radagast the Brown and a train cart carrying gold protected by the one and only Smaug.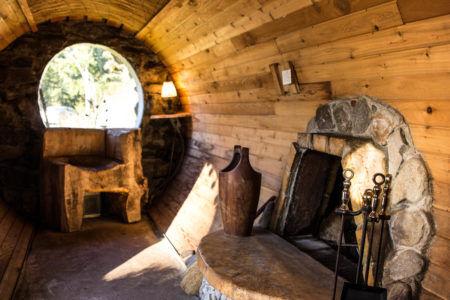 This display is one that J. R. R. Tolkien fans can delight in visiting, but the hobbit hole also serves as a quaint display garden, showcasing some of the plants available for purchase at the greenhouse. This gives visitors a chance to see how these plants flourish and adapt in a real-world exhibit, as well as the chance to see the some of the rogue natural species of the area that made their way onto the hill.
Visitors are welcome to sign a guestbook, and so far, they've filled three full volumes, with a fourth well underway. Flipping through the pages the impact this re-creation has on visitors is clear to see.
The actual set of Lord of the Rings is in Waikato, New Zealand — a bit farther than many Tolkein fans might be willing to visit. Cheryl Pelkey herself said she wasn't particularly inclined to travel all that way herself, but working at the greenhouse seven days a week, she wouldn't need to.
A local tourist attraction, the greenhouse makes sure to provide more than your average greenhouse. Seasonal workshops, an annual tomato tasting, and other noteworthy events are announced ahead of time on their Facebook page. When ripe they've also been known to sell their homegrown bananas, and who wouldn't want to try a Washington banana?
The greenhouse also features the art of local artists and encourages creativity — one of Pelkey's favorite parts of the job.
"Working seven days a week you want something that'll tweak the average routine," Pelkey said. "We had no idea it was going to bring this much joy."