High upon a hill in Tenino stands an out-of-this-world custom home built by the heiress to the De Beers diamond fortune. It can be yours for $11 million — the most expensive property for sale in Pierce, Thurston, or Mason counties, according to listing agent Michael Morrison of Morrison House Sotheby's International Realty.
And it's probably the most unusual, too — it even has a name, Merkaba. Merkaba is a three-dimensional, 8-point star made from two pyramids which is a symbol often associated with positive energy, harmony, and balance.
The owner, Rebecca Oppenheimer, built the "modern but feminine" 6,500-square-foot home on 80 acres and told the South African architect she worked with: "Think Guggenheim museum meets space ship," as they worked on the design.
The home features egg-shaped rooms, circular details, and a staircase that seems to lead into a round reflecting pond below (but really takes you to the driveway). Jessicarae and Rueben Nunez were the local designers and builders on the home.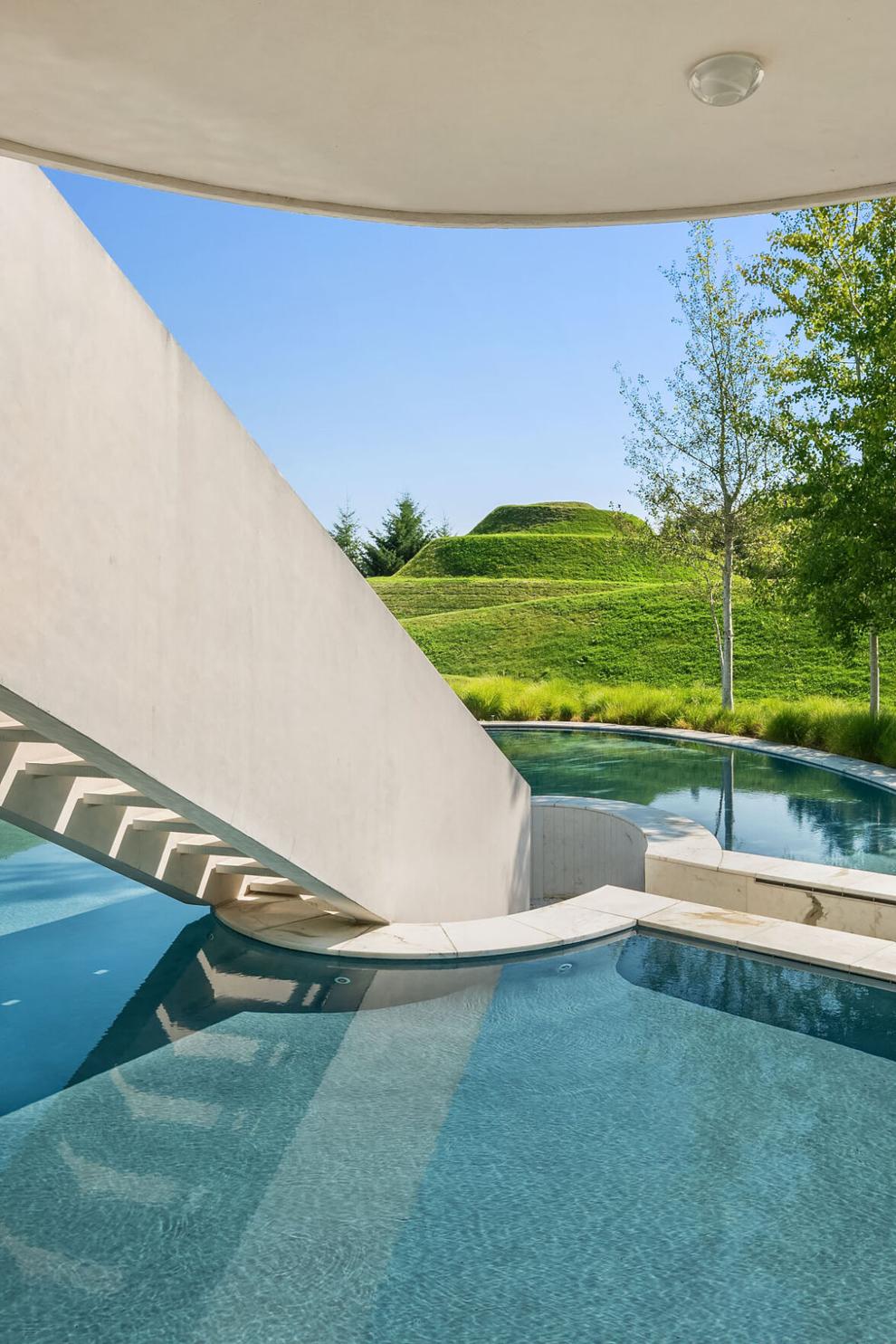 Throughout her life, Oppenheimer has lived in a series of large and stately mansions with formal rooms that rarely were touched. "I felt lost (in those spaces). I wanted a place to nest," she said. 
"Every room has a purpose," Oppenheimer added. "It is casual and unpretentious, but unusual. The curves and the lack of trim, in a way, is about simplicity."
There is even a gold coin in the foundation — for blessings of love and family, she said. "I was very mindful about its creation … the fireplace is exceptional. The house becomes so cozy, and the quartz door to the pantry has this unearthly luminescence at night."
The four-bedroom home also features a saltwater pool with doors that surround it to make it indoors or outdoors; kiwi, golden plum, pear, and other fruit trees; Chardonnay grapes; a rose garden; a greenhouse; and even a bee-keeper who has lived on the grounds for five or six years.
There is a chicken coop and a 3,000-square-foot barn with bedrooms for guests. The barn also is where the family lived while the main home was being built. "My children were born in that barn," Oppenheimer said.
The home is green and self-sustaining with generators powering the house, electricity from gel batteries, geo-thermal water heaters and a solar hot water boiler system. The entire house is digital — and there is even an old-style wood stove. Inspiration for the home and landscape was drawn from the famous "Garden of Cosmic Speculation," that highlights science and math in Scotland.
And if you think Tenino is too far to get to from Tacoma, Seattle, or Portland, there is a place to land a helicopter – if you have one. Being away from the hustle and bustle of city life is the property's best attribute, Oppenheimer said.
It's tough to put a price tag on a home that is so unique, Morrison said. "When I pulled up to the property, I was speechless. It took my breath away when I got to the second gate. It's hard to put a price on 80 acres with the structures and just the feeling you get when you are here. There's nothing to compare it to — the tranquility. You can't put a price tag on that."
Oppenheimer's feelings about the property will always hold a special place in her heart. She and her children enjoyed long hikes, and the kids liked splashing in the reflection pond. They saw a lot wildlife — once they witnessed a cougar take down a deer. Herds of elk would walk by. She'll miss how the earth moved and things grew easily when she had a shovel in her hand. Sometimes, when the clouds rolled in, "they would hang in the lower hills like the mist of Avalon." And that they felt so safe they never had to lock their doors.
"I envision the next owners to be a little quirky, or somebody who just loves the unusualness of it and likes quiet and the solitude of nature," Oppenheimer said. "Somebody who loves growing veggies and picking fruit from trees and has some taste for a contemporary lifestyle with a slightly feminine flaunt. Someone who thinks the house is fantastic.
"I'm not sure who that person is, but I imagine they are somewhere."