Betty Crocker may have published an iconic sugar cookie recipe back in the '50s, but I have perfected it by using real butter, farm-fresh eggs, and a healthy dose of real vanilla beans. Christmas cookies are sacred in our home for all they represent. I can remember spreading tin foil over our entire kitchen table growing up and baking quadruple batches. They would always have messy pastel cream cheese icing and needed an overnight open-air cure to make sure the cookies were cakey, not crisp, before being stored. No one wants a crispy sugary cookie. I feel like the simple sugar cookie is a gesture of goodwill and fun to make and share. This recipe will help you create cookies that will end 2018 on a sweet note.
Sugar Cookie Dough
1 cup soft butter
1½ cups powdered sugar
1 teaspoon vanilla
1 egg
1 vanilla bean, scraped
1 teaspoon salt
1 teaspoon almond extract
2½ cups all-purpose flour
1 teaspoon cream of tartar
Preheat oven to 350 degrees. In a large mixing bowl, cream butter and sugar until light and fluffy, about 3 minutes, and add the egg, vanilla, salt, almond extract and vanilla bean; mix well. Add the flour and cream of tartar, and mix by hand until it just comes together. Refrigerate dough for at least 30 minutes, but overnight is best. When you are ready to bake your cookies, line 2 cookie sheets with parchment paper. Roll the dough out into a ¼-inch-thick rough circle and, use your favorite cookie cutters to cut out shapes; place them on the baking sheet. Bake for 12 to 14 minutes until set. Continue this process until you've used up all the dough. Cool cookies on sheets of foil, and frost once completely cool. These cookies are fine to eat right away, but I think they get their signature touch once left out frosted overnight. We don't put them away until the next morning.
Cream Cheese Frosting
8 ounces soft cream cheese
1 cup soft butter
Pinch of salt
4 to 6 cups powdered sugar
1 teaspoon almond extract
To make the frosting, simply cream the butter, almond extract, salt, and cream cheese until light and fluffy, and slowly add the powdered sugar. I like mine less sweet, so we do 4 cups of powdered sugar, but you can use up to 6 cups if desired. Feel free to color small bowls of the frosting and decorate the cookies with sprinkles or tiny candies.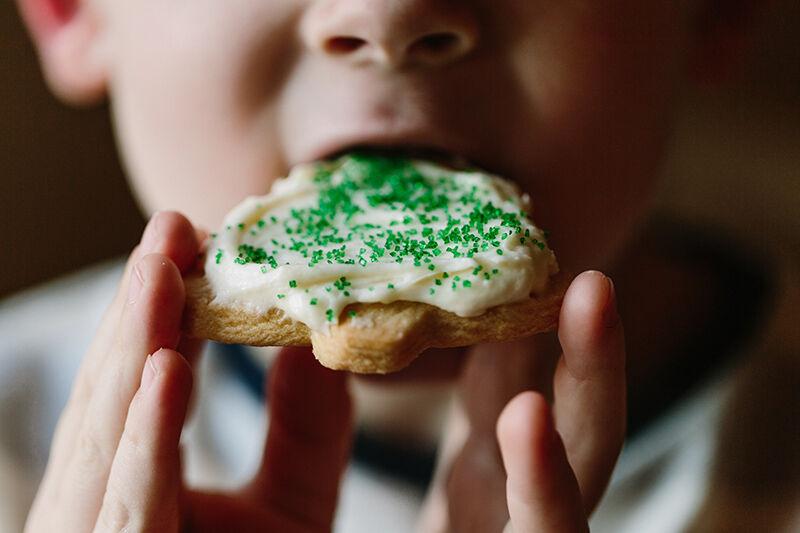 Sugar Cookie Pro Tips:
Double or even triple the batch of dough, and freeze it in discs to pull out all season.
Keep a little well of flour to rest cookie cutters in before and after cutting to ensure a clean cutout of the dough.
Bake cookies only on the top two racks of the oven to prevent overcooked bottoms.
Skip the frosting, and mix in dried fruit, chocolate, coconut, or nuts for a fun variation of this recipe!