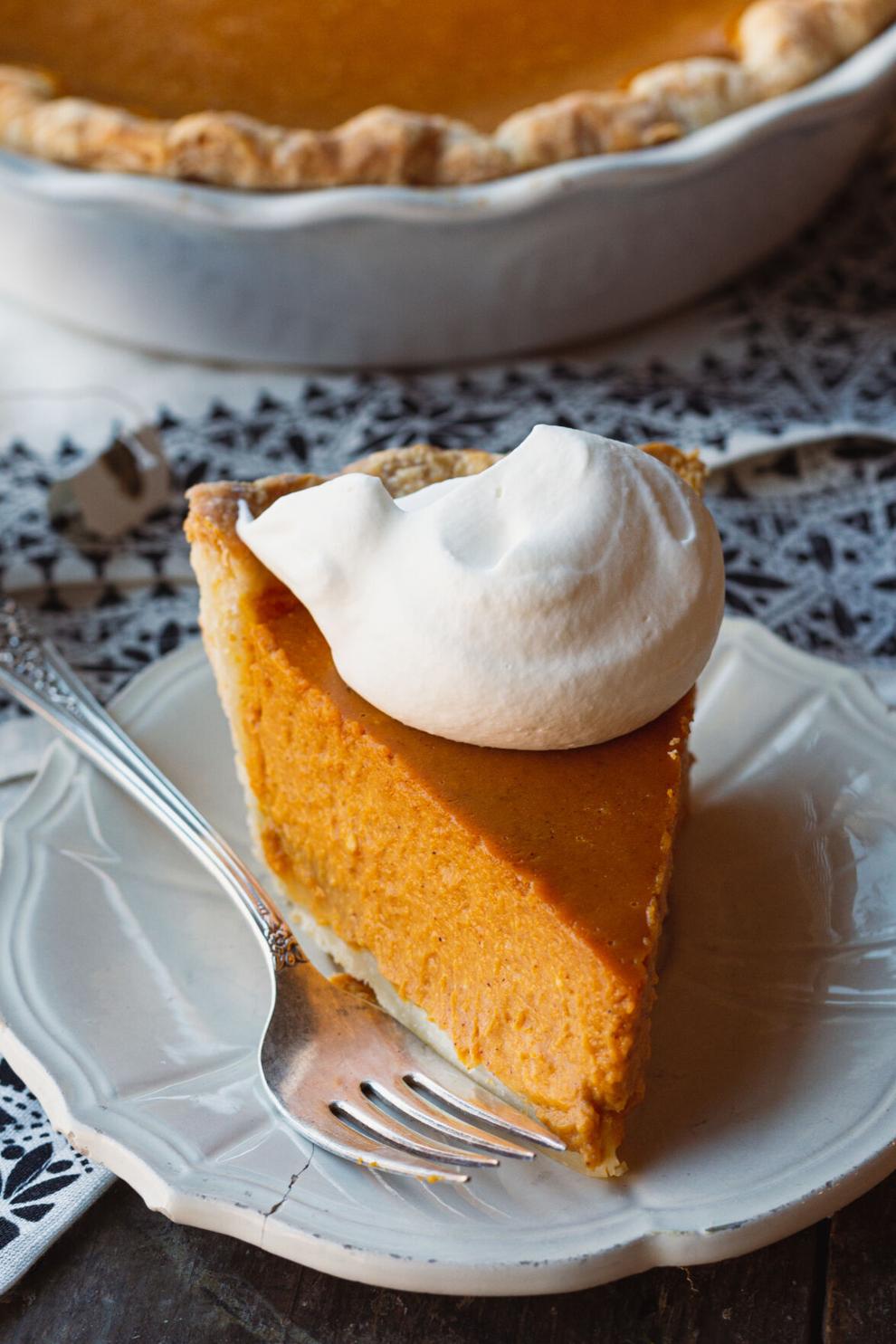 Don't think "cheesecake" when you see this recipe. Instead, think "impossibly smooth, creamy, traditional pumpkin pie." In a blind taste test, you almost wouldn't know there even is cream cheese in it. I've been after a "best ever" pumpkin pie recipe for years. This year, I thought I'd try my hand at a salted caramel pumpkin … but it was too sweet, and I didn't want the salty bite. Then, after trying sour cream and mascarpone, I decided that cream cheese was what it needed: the right amount of heft and tangy cream-cheesiness to potentially create the pumpkin pie dreams are made of.
Bingo! This will officially be the only pumpkin pie I (and maybe you) will ever make from now on. It's marvelous and traditional, and oh-so-wonderful. Happy Thanksgiving, friends. This year, love on your family, and be grateful for the days that — even with hardships — offer valuable lessons and now really good pie. Add whipping cream on top if you are feeling really blessed.
Pumpkin Pie
Makes one 9-inch deep-dish pumpkin pie
Prep time: 60 minutes (includes crust rest time)
Bake time: 55–60 minutes
Oven temperature: 350 degrees
The Crust
1 cup cold butter, cubed
2 cups flour
2 tablespoons sugar
Pinch of salt
⅓ cup ice water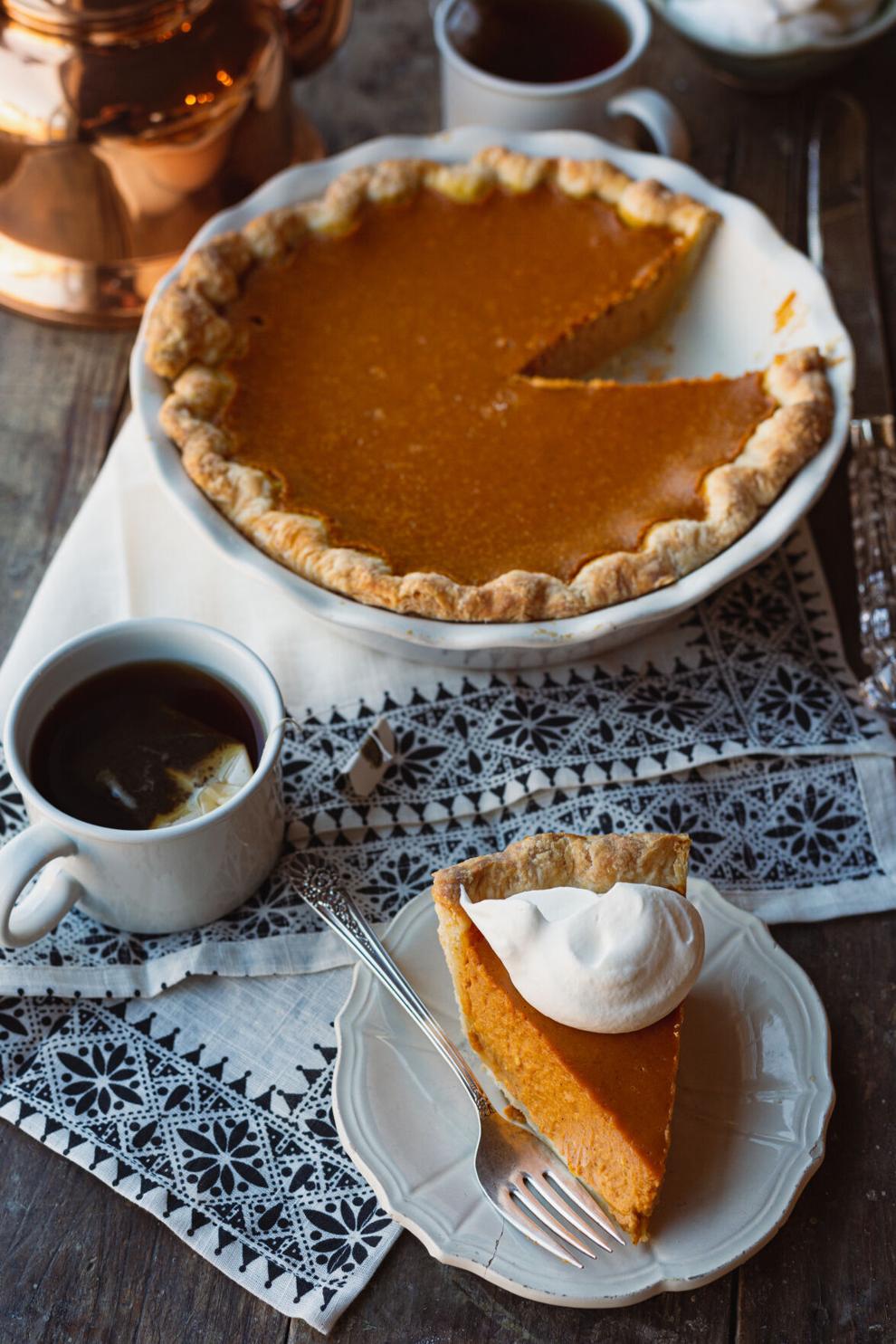 The Filling
8 ounces softened cream cheese
3 eggs (room temperature)
1¼ cups packed dark brown sugar
1¼ cups evaporated milk
1 teaspoon cinnamon
½ teaspoon pumpkin pie spice
1 tablespoon pure vanilla extract
1 15-ounce can pumpkin purée, or 2½ cups fresh roasted pumpkin
Pinch of salt
To prepare the crust:
In the work bowl of your stand mixer, or by hand, combine the butter, flour, sugar, and salt, then mix until the dough has the consistency of gravel.
Add the water, and mix until it forms a shaggy dough.
Form the shaggy dough into a disc. Place the disc into a plastic bag, or wrap in cling film, then refrigerate for at least 30 minutes. This dough freezes great or keeps three days in the fridge before rolling.
When you are ready to make the pie, remove from the fridge and leave 4–5 minutes on the countertop.
Roll the dough out to make a roughly 14- to 16-inch circle. Lay it into the deep-dish pie plate. If using a shallow pie plate, you will have enough for two crusts.
Trim the excess, and crimp the edges however you choose. Fill with the creamy pumpkin filling, and bake 55–60 minutes.
For the filling:
Combine the soft cream cheese with the eggs one at a time, mixing until smooth and creamy with no lumps.
Add the sugar and evaporated milk. Mix.
Add the remaining ingredients, then mix until completely combined.
Pour filling into prepared deep-dish pie plate with crust. Bake 55–60 minutes.
The pie will have a wobbly center when it's finished. Allow to set 2–4 hours before slicing. The wobble will completely set as the pie cools.