If you've lived in or spent a decent amount of time in Tacoma over the past several years, you might have noticed the landscape starting to transform. Construction has been rampant across the city, with major developments taking shape at Point Ruston, Proctor Station, and Point Defiance, to name a few. Property and home values also are up, and so is population. The City of Tacoma projects population to grow by 10,000 over the next several years, bringing the total to 220,000 by the year 2024. Tacoma and surrounding Pierce County are on the rise, and Seattle-area developers and business owners are taking notice. 
"The folks who come here from King County, they may be native to the Puget Sound, but I give tours at least twice a week to developers, investors, and business folks from Seattle who say, 'Wow, I haven't been to Tacoma in 20 years. I can't believe how attractive it has become!'" said Ricardo Noguera, community and economic development director for the City of Tacoma. "When they come here, they see the Foss Waterfront, they see Point Ruston, they see downtown Pacific Avenue, they see the Brewery District, and they're amazed." 
As prospective developers and investors continue to court the city, Seattle restaurant owners already have said "I do," diversifying Tacoma's restaurant scene with everything from a German-inspired pub and Mexican cantinas, to traditional American fare, and much, much more. 
But new restaurants are just the tip of the iceberg for Tacoma, said Noguera. The city is working diligently to grow Tacoma's appeal and attract a variety of new businesses to the area that can better support the city's existing — and growing — population. 
"We're creating an environment where people will want to live in Tacoma, as well as work," said Noguera. "As we continue to grow, you'll see more of moving toward an 18-hour community where people have all the amenities from 6 a.m. to midnight to keep them living, working, and playing in Tacoma." 
We talked to several Seattle-turned-South Sound restaurant owners to find out what brought them to the area, and why they're here to stay. 
---
Cooks Tavern and Brewers Row
Restaurant owner Peter Levy is a Northwest gem. He's held in high regard in Seattle for his collection of neighborhood restaurants, like 5 Spot in Queen Anne, The Hi-Life in Ballard, and TNT Taqueria in Wallingford. He's no highbrow foodie, but a guy who values comfort food with a twist.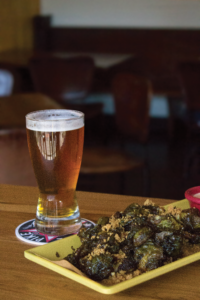 Over a year ago, he opened Cooks Tavern and its neighbor Brewers Row in North Tacoma. He also moved to the South Sound. After a long career in Seattle, Levy said it's easier to start a new restaurant in Tacoma.
"(There's) a receptive and very cooperative building department in the City of Tacoma that treats small businesses like humans instead of the enemy — which is Seattle's M.O.," he said.
He also explained that it's easier to get around in Tacoma as opposed to Seattle's congested streets, that there's a larger employee pool eager for work, and that the clientele is more polite.
"I just love it down here," he said. "It's just such a grounded town. A genuine town."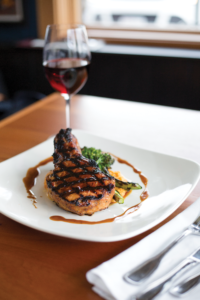 Like 5 Spot, Cooks Tavern has an ever-changing menu that takes guests around the globe. One month you can order the Havana Hash with mojo shredded pork, sofrito, red potatoes, and plantains. The next it's all about the beignets dusted with powdered sugar and served with raspberry jam in honor of New Orleans. At Cooks, it's hard to go wrong — especially for breakfast, which is served until 3 p.m.
"I just love it down here. It's just such a grounded town. A genuine town."
Brewers Row next door celebrates one of the world's most beloved combos: beer and tacos. You can order a plate of tacos featuring different meats that are all locally sourced. We recommend the house-made chorizo verde for an extra kick. Vegetarian or vegan? Brewers Row has you covered, with a filling of roasted sweet potatoes, fresno chiles, and kale. The restaurant also serves burritos, salads, and quesadillas. Try the tortilla soup. Its light broth with chunks of slow-cooked chicken is perfect on a rainy day.
And with 24 different (mostly local) draft beers on tap, there's a lot to taste at Brewers Row. If you still can't find your drink of choice, venture over to the cooler. Inside there are 65 cans and bottles to choose from.
What's next for this serial restaurateur? Levy said he can see himself opening more restaurants in Tacoma — although he's tight-lipped about the specifics.
"We are working on a very exciting project at this time that we are hoping will come to fruition," he said.
---
El Borracho
El Borracho opened in Tacoma in August, bringing its famed $4 "El Cheapo" margarita, a wide variety of tacos (including plenty of vegan options), and a whole lot of buzz from the community.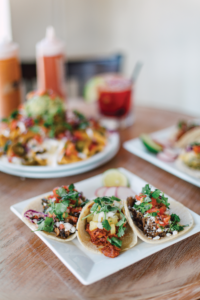 However, while the Mexican bar and restaurant has found a happy home along Tacoma's busy Sixth Avenue, the City of Destiny wasn't always the first choice for Seattle-based El Borracho's third location.
"We were moments away from signing a lease in South Lake Union," said El Borracho's "head honcho," Kittie Davidovich, who co-owns the restaurant with her partner, Adam Pomerleau. "We had beat out 10 other interested parties for the base of an Amazon skyscraper," she said, "and at the last moment, it was Adam actually who (said), 'I don't have a good feeling about it.'"
Davidovich and Pomerleau, who own two other El Borracho locations in Seattle, in Pike Place Market and Ballard, decided to follow their guts and declined the South Lake Union offer. They continued their search, but it wasn't until the duo stopped in Tacoma for dinner after a day at Mount Rainier that the South Sound city landed on their radar.
"I'm a vegan, and (Adam) is a classically trained chef, and one thing that we do enjoy together is Indian food," said Davidovich. The two ventured to Gateway to India on Sixth Avenue and were delighted by the neighborhood. "I was like, 'This is cool. Let's cruise up and down the street,'" said Davidovich. That's when they set their sights on a little yellow building with a "for lease" sign in the window. It was the former site of Marrow.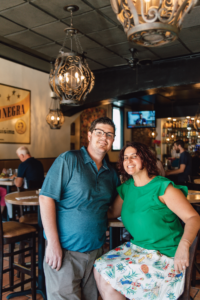 "That is the unicorn of the restaurant business," said Davidovich. "It's very unusual to move somewhere that has a Type 1 hood built out with a lot of the plumbing already." For Davidovich and Pomerleau, opening their third El Borracho location in Tacoma suddenly became an obvious decision.
"I can barely get (Adam) to come back to Seattle. He's like, 'I love it down here.' And so do I."
After signing the lease, Davidovich and Pomerleau spent the next several months prepping the space, hiring staff, and working with the city to pass inspections. El Borracho opened earlier this summer to a full restaurant and a line out of the door.
And it's no surprise why the lines continue to form. The atmosphere at El Borracho beckons patrons to come in and stay a while. Saltio tiles and Mexican folk art give the space an authentic feel, while the chatter of hungry lunch and dinner guests paired with the clinking of cocktail glasses and savory smell of tacos draws in passersby off the street.
There's a wide selection of tacos, burritos, and other Mexican favorites on the menu. Want to try all seven of El Borracho's classic tacos? Opt for the Whole Enchilada. It comes complete with all seven tacos and is served with a side of rice and beans. There's also an entire list of vegan offerings, which includes tacos, nachos, and three types of vegan burritos.
"We're so lucky and grateful and humbled by the response that we've gotten, and we're so happy to be part of the Tacoma community," said Davidovich. "I can barely get (Adam) to come back to Seattle," she added, laughing. "He's like, 'I love it down here.' And so do I."
---
Camp Bar
In the words of co-owner Patrick Haight, the Camp Bar on Tacoma Avenue is not "hip" or "trendy," but it's certainly Northwest. The walls are adorned with kitschy consignment-shop wildlife art, deer heads, and miscellaneous items that have been donated to the bar — a pair of muddy hiking boots and a vintage-style backpack from the '70s were brought in and hung up. Old footage of people camping, hiking, skiing, and dancing is mixed in with films like Land of the Lost and Gilligan's Island that play continuously on a projection screen on the wall. It's a cozy atmosphere, but also kind of laughable with the intentional "campy" décor. The otherwise-gaudy moose lamps are pretty lovable atop the tables and bar.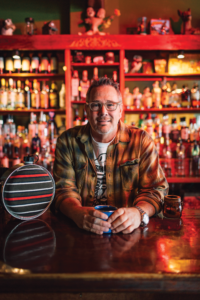 Camp Bar is arguably the exact opposite of former Seattle cocktail bar Tini Bigs and its sister bars, where Haight made a name for himself and worked for 17 years. Haight and co-owner Nuri Aydinel didn't want to open another craft cocktail bar in Seattle. Haight always has been drawn to dive bars and wanted to create a comfortable atmosphere.
"What brought me to Tacoma was the fact that it's got so much potential, and it's still kind of got a pioneering spirit," he said. "Whether it's the vendors or the city, everyone I've dealt with and everyone I've worked with opening the bar was super-friendly. You don't necessarily get that in Seattle. You sort of get lost in the shuffle."
"Whether it's the vendors or the city, everyone I've dealt with and everyone I've worked with opening the bar was super friendly. You don't necessarily get that in Seattle. You sort of get lost in the shuffle."
When he knew other Seattle restaurant owners — James Weimann of Rhein House and Peter Levy of Cooks Tavern — were migrating to Tacoma, it confirmed there was something happening in the area. Haight perused a couple Tacoma locations, but landed on the space previously occupied by the Acme Grub Cage Tavern. South Thirteenth Street feels a little sparse now, but Haight said a few apartment buildings are being built in the next couple years within two blocks of Camp Bar, and it's one of the few places that's open for food and beverages in a walkable distance.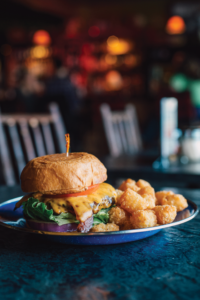 The menu has all the comfort-food items you'd expect from a dive bar and for prices that are reasonably low. Haight said people have to try the burgers made with 100-percent beef. The basic camp bar burger — ¼ pound of Angus beef, ketchup, mustard, lettuce, onion, and tomato — is $5. He added pizza to the menu — a one topping 12-inch is $5 on Sundays — and expanded the spirits and wine selection. Food sales have doubled since it opened in August as Camp Bar versus Acme Tavern, which could be in part due to the fact that he brought in a dedicated chef.
Haight is known for his inventive drinks, but he said he doesn't want an extensive cocktail list. He introduced a signature line of drinks, all of which have camp-inspired names and an unexpected mix of ingredients. The list includes the Snort'n Elk, which is a concoction of gunpowder green tea-infused whiskey, lemon juice, and Orgeat. Perhaps the most eyebrow-raising drink is the Raging Raccoon, with mezcal, lime, orange juice, and a Sal De Gusano rim, also known as "worm salt." The powder packs a bit of a punch, and is made with ground worms.
"Some people will absolutely seek it out for that reason; some people will be curious; and some will say, 'Absolutely not,'" he said. "So they can always order it without it."
Haight's favorite specialty drink is the Camp Bar Manhattan. It's made with Heritage Elk Rider Whiskey; fig preserves; and BroVo No. 4 Amaro, which was crafted by Haight for BroVo Spirits in Woodinville. The warm notes of Vietnamese cinnamon balanced with citrus flavors make it a great fall and winter libation.
---
WildFin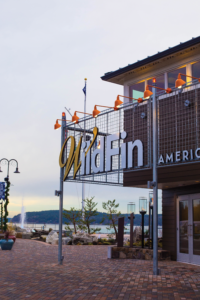 Hungry for the catch of the day? WildFin American Grill at Point Ruston doesn't disappoint. Serving seafood lovers since 2011, WildFin operates three locations across Western Washington, including its most recent home at Point Ruston.
After great success on the Eastside with its Issaquah and Renton locations, the founders of WildFin American Grill wanted to bring their restaurant concept to Tacoma. WildFin American Grill opened at Point Ruston last January, making it the first restaurant to open in the Point Ruston community.
"Tacoma's not just a great community, but a great place for restaurants."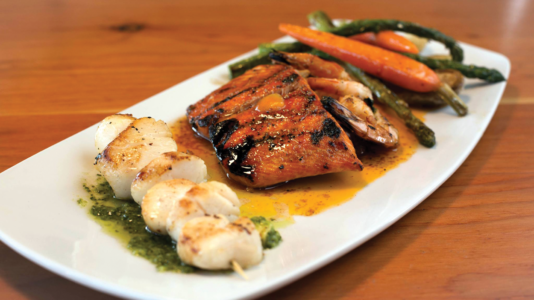 President and operating partner Attila Szabo explained, "Tacoma's not just a great community, but a great place for restaurants."
This unique and dramatic location, which overlooks Puget Sound, Vashon and Maury islands, and Mount Rainer, screams Pacific Northwest. The restaurant and setting are on the higher end of offerings at Point Ruston, but casual, affordable options also are available.
The menu features sustainably grown items, as well as many locally sourced options. And WildFin frequently switches up its menu based on seasonal items to keep dishes as fresh as possible.
From Alaskan snow crab-stuffed roasted cod to prawn and scallop scampi, the menu is full of items that will make you hungry just by reading it. Szabo said one of WildFin's most popular items is the calamari appetizer. "People have to have it when they come in," said Szabo.
In addition to its traditional sit-down restaurant, WildFin also features The Daily Catch — a walk-up window adjacent to the building that also is unique to the Point Ruston community. This seasonal option is a great choice for items like savory seafood chowder or fish and chips during the summer months.
Even if seafood isn't your preferred meal of choice, WildFin offers a broad menu with everyone in mind. Enjoy the mouth-watering peppercorn flat-iron steak or the house burger, which is sourced local from Double R Ranch. "There is a little something for everyone," Szabo said.
---
Top Pot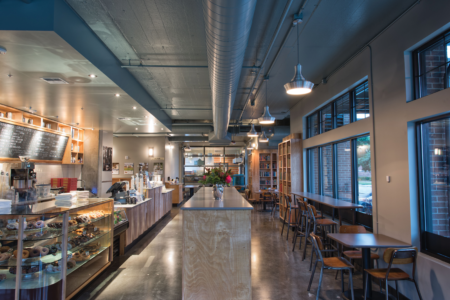 The popular Top Pot Hand-Forged Doughnuts & Coffee has come to the South Sound with two new locations: one in Tacoma's Proctor District and an even newer café in University Place.
Top Pot's Proctor Station location is one of more than 20 Top Pot locations across Western Washington and in Texas, but was the first location Top Pot opened in the South Sound. This location opened in early June and has been a setting where co-founders Michael and Mark Klebeck have wanted to expand to for a while. A second South Sound location also opened later this summer in University Place.
"The reception in Tacoma and University Place has been so incredibly strong that we see more opportunity in the coming years."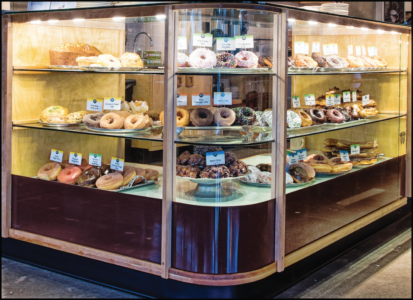 "Once we saw how others embraced our brand in communities such as Renton, Issaquah, Bellevue, Redmond, and Bothell, we thought that making a jump into Tacoma and parts of the South Sound was a realistic endeavor," said Mark. "The reception in Tacoma and University Place has been so incredibly strong that we see more opportunity in the coming years."
For the Klebeck brothers, the South Sound holds a special place in their heart. The two now live in Seattle, but the brothers grew up in Lakewood and said they still have South Sound roots.
"We have many ties to the community," Mark said. "There and lots of friends still living in the Tacoma area. Even though we moved to Seattle 30 years ago, we have always wanted to open one of our stores in the town we grew up in. Opening a Top Pot café in Tacoma is a proud accomplishment for us and a nice homecoming."
---
Casco Antiguo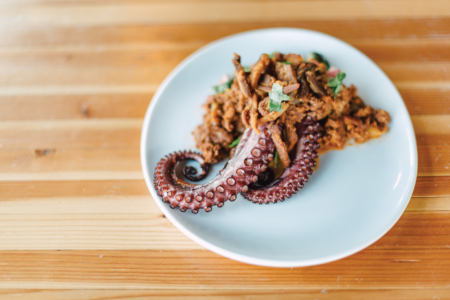 Seattleites know Casco Antiguo as a small brick-walled space down a charming alley in Pioneer Square. Last spring, the owners opened a second location, along the Foss Waterway in Tacoma. The picturesque restaurant features a wall of windows facing the marina for a quintessential view of the city's maritime charm. There's also an outdoor patio that becomes popular in the summer months.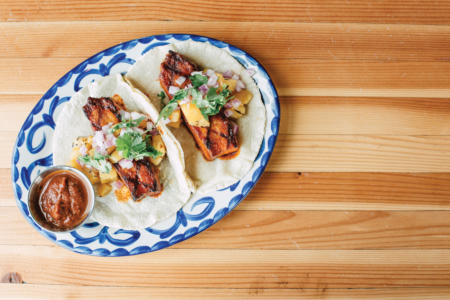 The restaurant probably is best known for its tacos served on handmade corn tortillas. Diners can choose from an array of meats, including roasted pork belly with pineapple in guajillo sauce, chili, and wine-braised chicken, and grilled sockeye salmon. If you're looking for something lighter, try the plantain empanada. The plantain flavor adds sweetness to the black beans and avocado crema with queso.
If you go for the tacos, you'll probably stay for the drinks. There are seven different margaritas to choose from, two of which are on tap, along with sangria and other cocktails. But don't be fooled — not all the drinks are fancy. Try the Mexican Knife Fight. It's a can of Tecate and a shot of tequila.
Editor's note: Since going to print, this restaurant has closed. 
---
Rhein Haus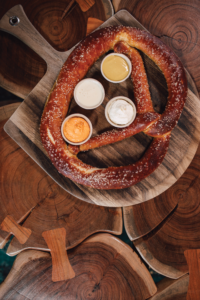 Tacoma is known for many of its eclectic eateries, which run the gamut from fresh seafood, to wood-fired pizza, to Vietnamese cuisine. However, earlier this year a group of Seattle restaurateurs shook things up by bringing its Seattle-based Bavarian-inspired beerhall to our streets.
Situated in a 13,000-square-foot space along "Auto Row" in Tacoma's Stadium District, this Rhein Haus is the second location in Washington. The restaurant is in a prime spot to deliver house-made brats, fresh doughy pretzels, and a carefully curated selection of German and Austrian lagers to the neighborhood. There are also the chain's four signature bocce courts as well as other games, like shuffleboard.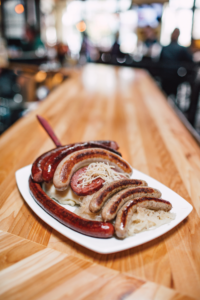 Rhein Haus' operating owner Rich Fox admits he hardly ever spent any amount of time in Tacoma until he and his business partners began looking at expanding their business.
"To go to a city that has as much going on, that has such a great population, and that has all the beauty that exists down there on the waterfront, it was really refreshing for us," Fox said. "Then, on top of that, people were saying, 'Finally, someone is actually realizing that there are people down here that want similar choices to what exists in Seattle.'"
After opening the Tacoma Rhein Haus in February, Fox said he saw an immediate difference between the two locations.
"I think the space in Seattle was more about entertainment. It is a great place to grab a beer," he said. "But in Tacoma, it was more about how it was a place that people could bring their family and sit down and have dinner together."
Fox is no newcomer to the restaurant game; he started working as a bartender in Seattle in 1997 and now owns several restaurants — including Macleod's Scottish Pub and Poquitos — and presides as president of the Seattle Restaurant Alliance. That might be why he said he feels like the restaurant business in Tacoma is reaching a turning point, which he interestingly compares to a recent trip to Great Wolf Lodge with his son.
"To go to a city that has as much going on, that has such a great population, and that has all the beauty that exists down there on the waterfront, it was really refreshing for us."
"There's this huge bucket of water in the waterpark," he said. "It slowly fills with water, and then there's just this point where it suddenly spills and rains down on everyone. I feel like things have been going into that bucket for a while with Tacoma, and I think it has reached that point where the sum of all of that has now tipped and people are being driven down there."
Even Rhein Haus employees were happy to pull up their Seattle roots and relocate to the more affordable, slightly slower-paced Tacoma, according to Fox.
Fox knows other Seattle-based businesses are following the lead set by him and his partners, but he also hopes the arrival of Rhein Haus will inspire Tacoma's own aspiring restauranteurs to settle in around town.
"When you have an anchor tenant like us that comes to the neighborhood, it hopefully gives local people in the community a chance to see that there's a rising tide — a food Renaissance — and they can start to dive into (restaurant ownership) with the security that they didn't have before."
---
Dick's Drive-in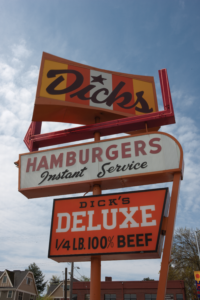 Burgers wrapped in metallic paper wrappers paired with hand-cut fries and a creamy shake have been Seattle's favorite since 1954, when Dick's Drive-In opened its first location in Wallingford.
The "instant service" model boomed, and Dick's expanded with five more Seattle locations before opening its first outside the Emerald City in 2011, in Edmonds. Washingtonians this spring went nuts over news of the burger chain opening a seventh location on the Eastside or South King County, casting more than 170,000 votes to bid for their preferred location, said Dick's executive vice president and CFO Jasmine Donovan. The south was the hands-down winner, she said, and Kent was chosen out of a handful of pitches from South King County city officials.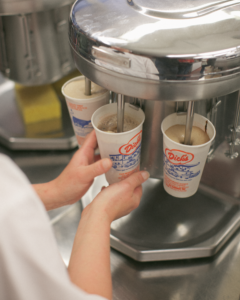 The new Dick's Drive-In in West Kent will be located just south of Highline Community College in Des Moines, serving the Kent, Des Moines, and Sea-Tac communities.
"It's just so exciting to open a new store and provide more jobs, access to our awesome scholarship program, (which is) another benefit, and be able to serve great cities."
"We're very excited," Donovan said. "It was so hard to choose just one spot. There was so much pride in all the cities, but this was a great site. It's just so exciting to open a new store and provide more jobs; access to our awesome scholarship program, (which is) another benefit; and be able to serve great cities."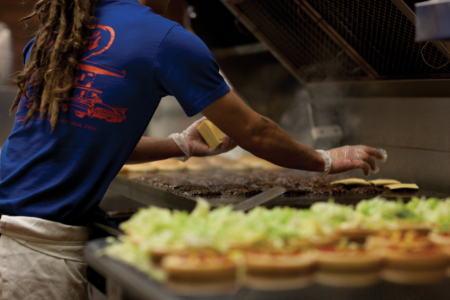 The new 5,000-square-foot space will have six service windows, two grills and fryers, and about 40 to 50 employees. Dick's offers 100 percent employer-paid health insurance, a scholarship program, childcare assistance, and paid volunteer time.
"My grandpa's philosophy was: Step one, make a profit," she said. "A business that doesn't make a profit isn't any good to anyone. Step two, invest in your employees because it's the best investment you'll ever make. And three, invest in the community. If your community is thriving, then your business is thriving."
Kent will be the first restaurant Dick's has opened without Donovan's grandfather and founder of Dick's Drive-In, Dick Spady, who passed away in early 2016 at 92 years old. The opening of the new restaurant is a bit emotional for the family in that respect, she said. But she recalled the lyrics of Mackelmore's new song "Glorious," which say, "I heard you die twice: Once when they bury you in the grave, and the second time is the last time that somebody mentions your name."
Because Dick's Drive-In is growing and thriving, she said, her grandpa's legacy will live on.
---
Other New Restaurants in the South Sound
From family-friendly taprooms to waterfront dining, farm-to-table experiences, dive bars, and much more, here's a snapshot of some of the new restaurants in the area that have recently opened or will open soon.
Slurp Ramen Noodles at Moshi Moshi
From the owners of Indo Asian Street Eatery in Tacoma comes Moshi Moshi, a new ramen bar slated to open in Stadium District this winter. Ramen will be the specialty, but guests also can expect to see a variety of small plates that draw inspiration from Japanese cuisine. Well-known chef Aaron Grissom will lead Moshi Moshi's kitchen staff, bringing with him years of experience and culinary expertise. — MG
Family-friendly Taproom in Tacoma
State Street Beer is a family-friendly taproom serving microbrews and an assortment of handcrafted flatbreads and small plates. Owner and manager Dusty Johnson opened the taproom in June. "We love the community and support that exists among the Sixth Avenue businesses," he said. "It seems like everyone wants everyone else to succeed, and that is incredibly encouraging." Check State Street's website for a look at its current tap list, as well as a sneak peek at the menu. — MG
Grab a Seat at Gig Harbor's Newest Table
This summer, former Starbucks chief operating officer and longtime Gig Harbor resident Troy Alstead announced he was bringing a new type of experience to Gig Harbor's restaurant scene. Opening in November, Table 47 will offer a dining experience that's focused on community and sustainability. "From my years of traveling the globe, I have always been struck by the common impact food and mealtime gathering have in connecting people," said Alstead. "I am excited to create a space for the South Sound community where people can relax (and) escape their daily routine." — MG
Fresh Take on Vietnamese Comes to Sixth Avenue
Tuan Nguyen is no stranger to Tacoma's restaurant scene. When he was in his 20s, the young restaurateur owned a Vietnamese restaurant in Tacoma's Lincoln District. "The restaurant did good," he said. "However, because I was so young at the time, I felt I needed a break." Years later, Ngyuen is back with a new Vietnamese concept in Tacoma's Sixth Avenue neighborhood. La Ca Bar will feature traditional dishes that are "authentic but different." Menu offerings include pho, grilled and spicy barbecue, shaken beef, and specialty traditional rolls, to name a few, and the restaurant features two floors to accommodate family-friendly dining downstairs and a bar for the 21+ crowd above. — MG
A Tipsy Nod to the Tiki Gods
This fall, Jason Alexander and Robyn Murphy, the duo behind the popular tiki-themed bar Tacoma Cabana, are bringing some more magic to Tacoma's cocktail scene with their latest concept, Devil's Reef. The new bar, Alexander said, will "dive into deeper and darker waters to a sunken nautical city with plenty of flotsam and jetsam." Slated to open in Tacoma's Opera Alley this November, Devil's Reef will feature a small but open space with plenty of seats at the bar, as well as a boutique collection of rotating rums. In addition to fresh food and drink menus, Alexander said there also will be some "secrets and surprises." — MG
Wood-fired Pizza Hits the Harbor
Millville Pizza Co. is now serving wood-fired pizzas in downtown Gig Harbor. Millville's got all the classic pies, as well as the The Skansie Shipyard (aka the option to build your own pizza). But pizzas aren't the only things heading into the oven; try the wood-fired chocolate chip and peanut butter cookies. — LF
Auburn Heats Things Up Cajun-Style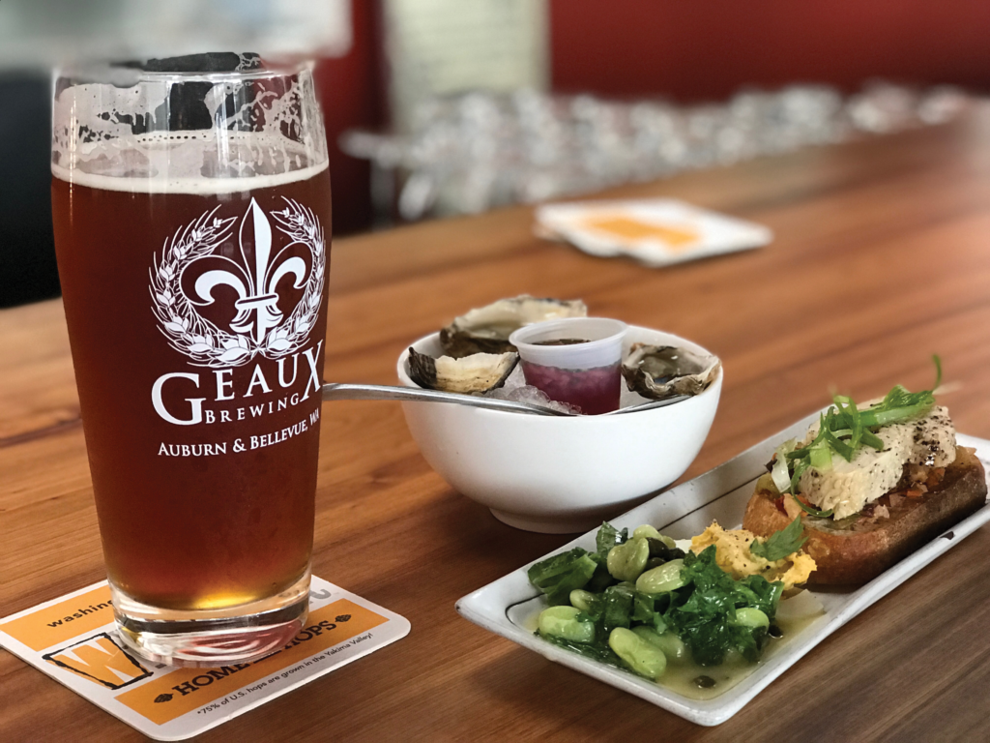 Owned and operated by Louisiana natives, Geaux Brewing serves cold beer and flavorful Louisiana fare. The company got its start in Bellevue and now has a second location in Auburn, serving classics like jambalaya, Geaux dumplings, and shrimp with grits. — LF
A Sweet Slice of Vietnam
Bambu, a Vietnamese dessert café, has much of the West Coast buzzing over its concoctions. Founded in San Jose, Bambu is now open in Tacoma's Lincoln District, serving Chè (a traditional Vietnamese sweet drink), boba milk teas, strong Vietnamese espressos, and exotic fruit smoothies. — LF
McMenamins Makes Its Move Into Downtown
Construction is finally underway on McMenamins Elk Lodge. In September, the company announced it had received sufficient commitments from investors to begin revamping the historic property. The Elks Lodge was built in 1915 and served as the center of the Tacoma Elks fraternal order until 1967. Since then, it has sat vacant. The McMenamin brothers plan to include a 45-guestroom hotel and three restaurants in the remodel. It is set to open in early 2019.
Rumors are still spinning around whether McMenamins will undertake Tacoma's Old City Hall. According to a representative from the company, the brothers remain committed to renovating the historic site. The City of Tacoma selected McMenamins to develop Old City Hall, but it is also entertaining bids from other developers. — LF
All You Can Eat In South Hill
The recent closure of Old Country Buffet in the South Hill Mall prompted locals to overwhelmingly suggest via social media that a Golden Corral should take Old Country Buffet's place. The 9,300-square-foot space will be extensively remodeled to accommodate the new buffet-style chain with its all-you-can-eat ethos. Slated to open next year, the South Hill location will bring the state total to three Golden Corrals, joining other locations in Marysville and Spokane. — JK
Barbecue Lands in Gig Harbor
Get ready, Gig Harbor: Authentic Austin-style barbeque is coming. Gary Parker, a Northwest transplant from Austin, Texas, has taken his lifelong love of tailgating and turned it into a business. BBQ2U will replace a former liquor store near Ace Hardware at 4814 Point Fosdick Drive N.W. in Gig Harbor. Parker estimates that BBQ2U will open before the end of the year. — JK
CHick-Fil-A Expands to Federal Way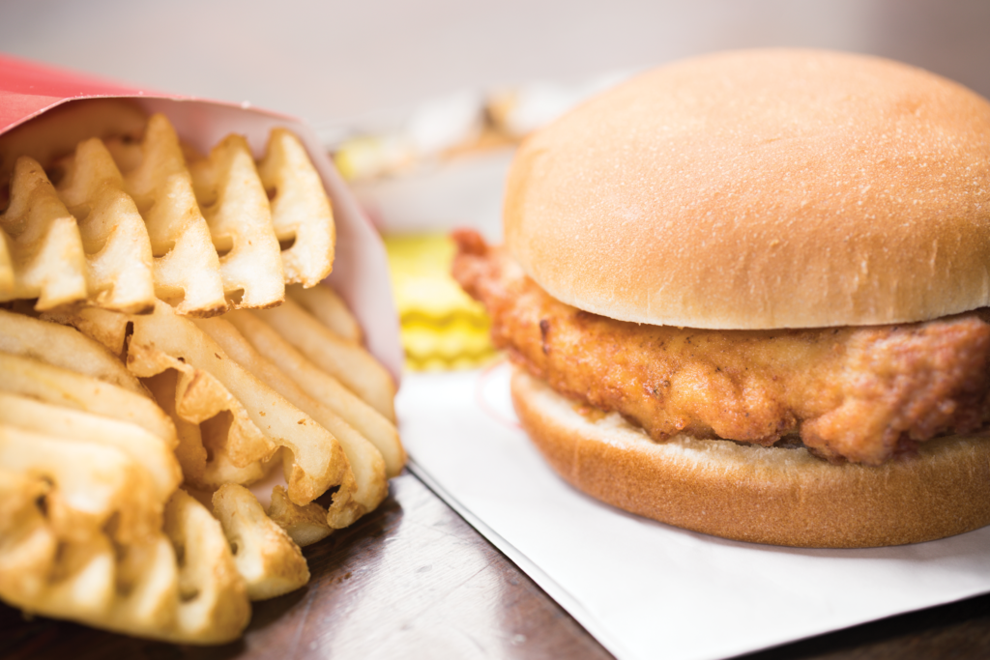 The "eat chicken, not beef" chain originated in Atlanta in 1967 and has slowly been creeping its way into the Pacific Northwest in recent years, with locations in Vancouver, Tacoma, Puyallup, Lynnwood, Bellevue, and Kirkland. With the addition of the Federal Way location — off 320th Street in Celebration Plaza — the national chain now has seven Washington locations with plans for more in 2018. The new location offers ample room for extended drive-thru lines during heavy lunch rushes, and a play place for customers dining in with kiddos. — JK
Breakfast for Dinner
If you're a fan of breakfast for dinner and dinner for breakfast, you're going to love the new Black Bear Diner in Puyallup (at South Hill's Sunrise Village) or Lakewood (at the Great American Casino). The lodge-like atmosphere, the hearty American fare, the newspaper-like menus, and the fuzzy black-bear mascot visiting each table make this rustic chain bear-y awesome. — JK
Kid-friendly Casks
The two dads who created Caskcades said they wanted to blend together their two favorite pastimes: drinking craft brews and playing retro arcade games. This soon-to-open downtown Puyallup taproom will have more than 40 taps for brews, wine, and even craft sodas for kids. The family-friendly taproom at 106 N. Meridian St. is slated to open before the end of the year. — JK
Good to the Last Drop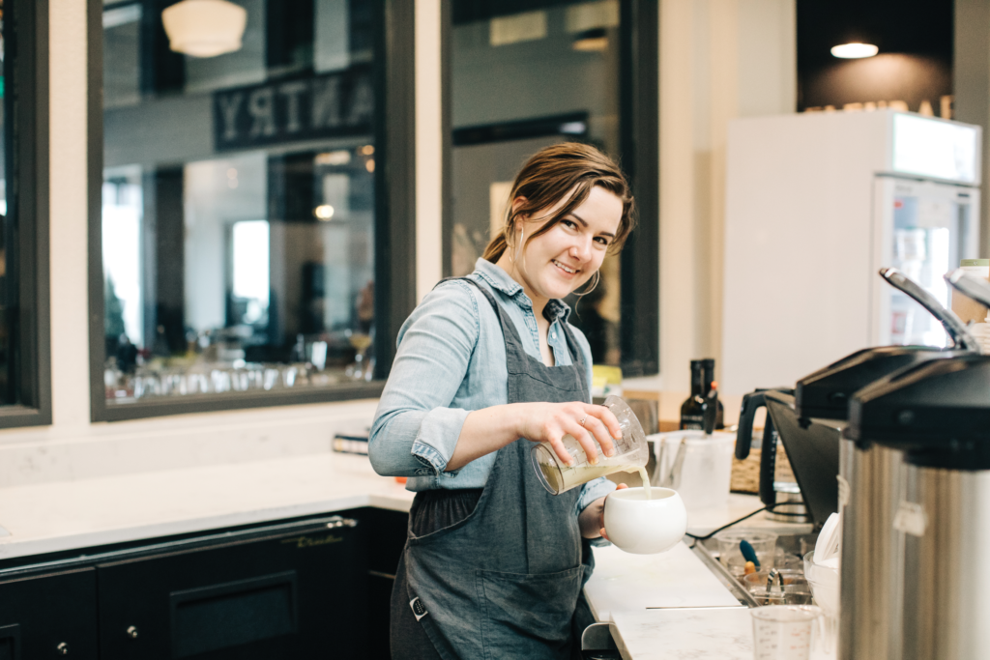 This might be the first "hipster" dining option that Parks and Recreation's resident carnivore, Ron Swanson, would actually approve of because it's basically juice for meat lovers. If you too are a fan of stock that is prepared by slow-simmering roasted animal bones (also known as bone broth), then you will love Olympia-based Broth Bar. Located at 222 Capitol Way N., this trendy spot is Broth Bar's second location, modeled after the owner's first store in Portland. — JK
Gyro Hero
Gyro Shack, a popular Idaho restaurant franchise, opened its first South Sound location this fall, bringing its "Real Greek, Real Fast" service to Lakewood. Gyro lovers can get their fill with gyros like the Original (gyro meat, tzatziki sauce, tomato, and, onion), or they can try one of the restaurant's more inventive offerings, like the Spicy Bacon Avocado (gyro meat, bacon, tzatziki sauce, tomato, onion, avocado, and spicy sauce). In addition to gyros, guests also can enjoy classics like hummus and pita, Greek salad, and baklava.  — MG
---
Craving Caffeine
By Shelby Moyer
There's no shortage of coffee shops in Tacoma, and several more recently have made their way onto the scene.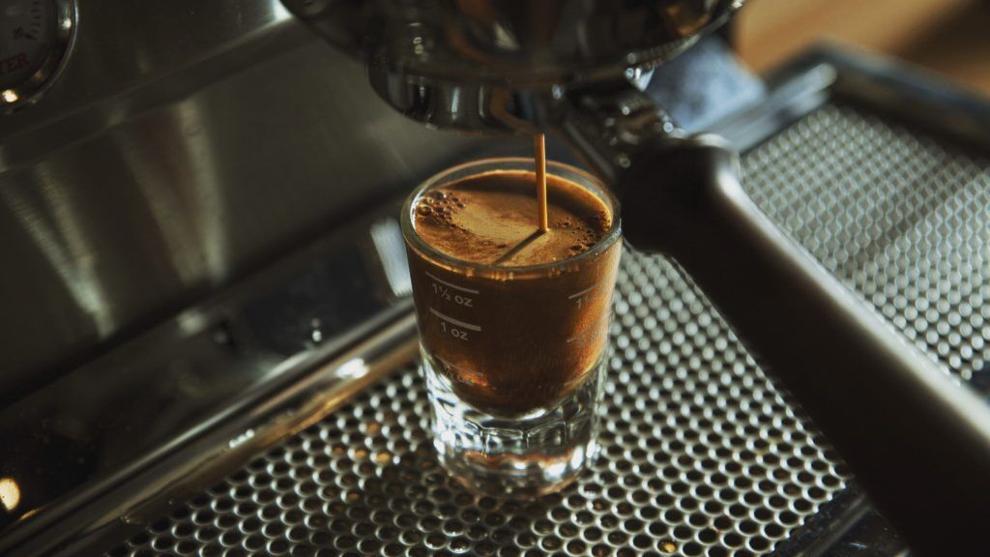 The coffee shop and roastery on Tacoma's Hilltop focuses on the unique flavors of the globally sourced coffee beans that are roasted in-house. Sit and sip a brew on location, or buy a bag of Manifesto's beans from local grocers. Try Manifesto's cold brew at the Red Hot and Edison City Alehouse.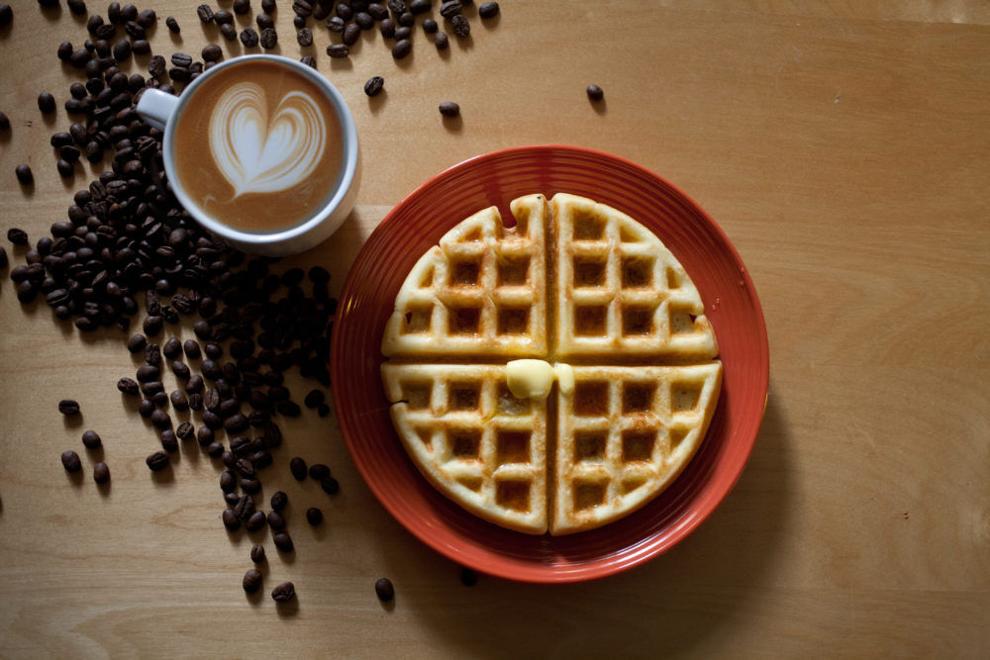 The espresso bar and café nestled into its space on Tacoma's Hilltop in March and offers breakfast and lunches for less than $6. Red Elm is owned by three sisters and serves Caravan Coffee.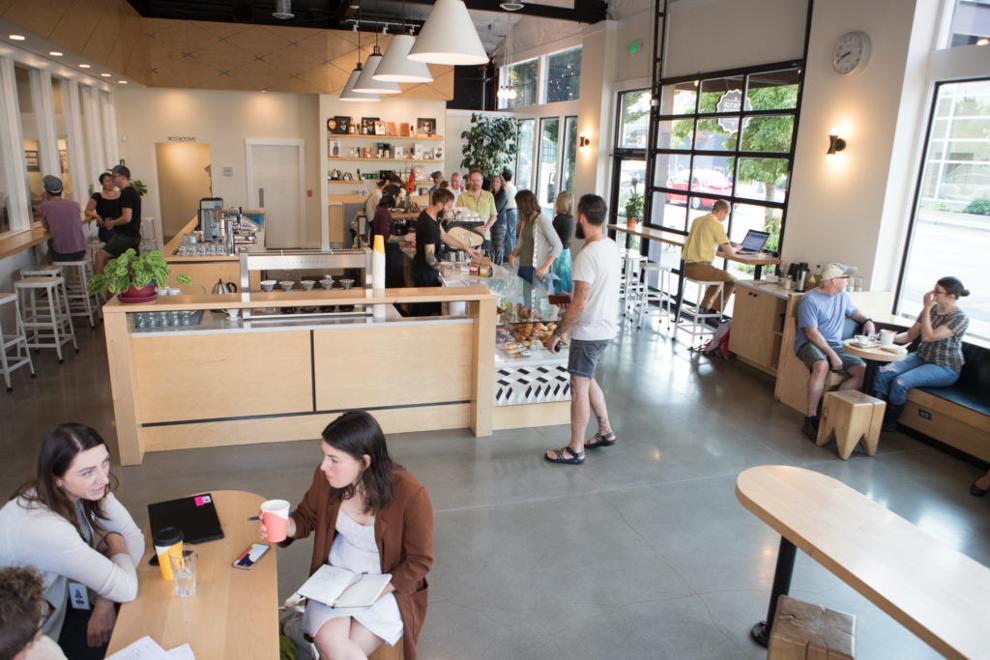 Tacomans can rejoice over the beloved Olympia Coffee Roasting Co. coming to the Proctor District. The popular Olympia café and roastery will move into the former Radio Shack space.
---
As Fresh As It Gets
By Shelby Moyer
Tacoma recently welcomed two new poke restaurants and a new sushi bar. If you're craving raw fish, look no further than these recently opened restaurants.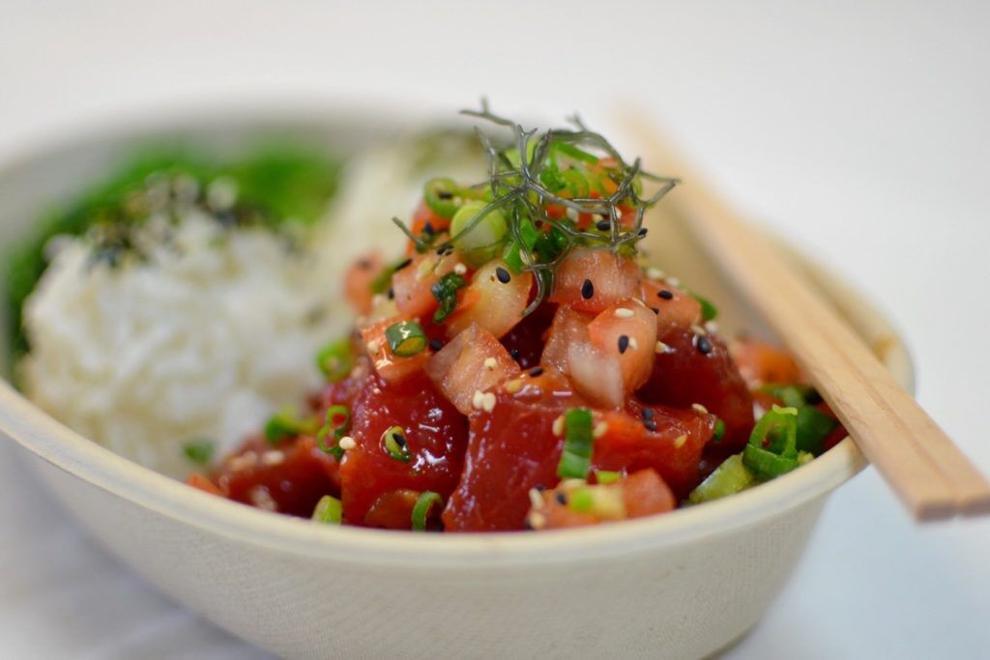 The Seattle-based restaurant made its migration to Tacoma. For an awe-inspiring take on poke, order the nachos. They deliver a delectable mountain of ahi tuna- or salmon-topped tortilla chips with shredded cheese, spicy aioli, lomi lomi, green onions, and cilantro. Skip the lines, and order online.
Raw-fish poke bowls have exploded, and Aloha Poke Shaved Ice in Fircrest is a recent addition to the masses. The casual 40-seat dining room offers reasonably priced dishes that allow you to build your own poke bowl. Yum!
For families with picky eaters, Sushido offers more than sushi, with menu items including teriyaki, Korean dishes, soup, and noodles. Feeling adventurous? The fire roll lives up to its name. It's a unique California roll that's served in flames. Find Sushido on South Mildred Street for seafood that won't break the bank.
---
Point Ruston Eats
By Sophia Sonovich
With panoramic views of Puget Sound and Mount Rainer, you might never want to leave the resort-inspired community of Point Ruston. Try these restaurants.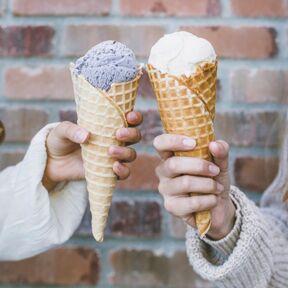 Family-owned Ice Cream Social is the perfect stop to grab a handmade scoop in a delicious cone that is crafted fresh daily. Ice Cream Social prides itself on using real food — never syrups or flavorings.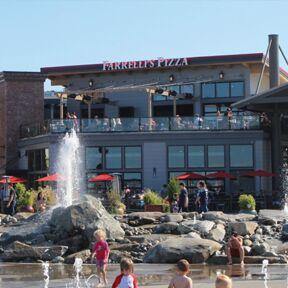 Dive into award-winning artisan pizza — with gluten-free options available — at Farrelli's largest location. Enjoy a perfect view of the water from its 21+-rooftop deck.
In case you missed it, check out page 50 for a full run-down on this Eastside-based seafood restaurant.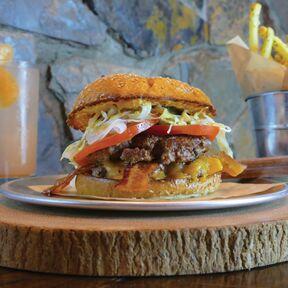 Choose from more than 110 types of whiskey at the bar while you enjoy a gourmet burger from the menu. Stack's will be expanding with four new locations in 2018, two of which will open in the South Sound, in Olympia and Lake Tapps.
The Blue Octopus Art Gallery and Champagne Bar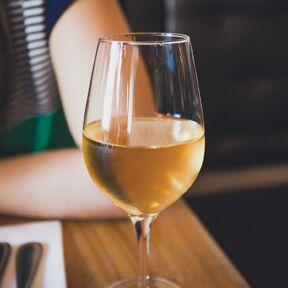 Pop in for a minute, or stay a while. This concept bar has art hanging from the walls and a variety of bubbly drinks to choose from.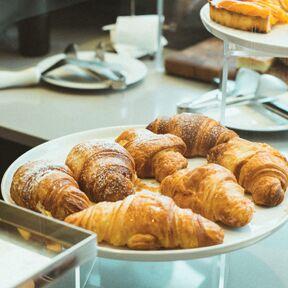 Enjoy decadent baked goods, coffee, and gelato in this little slice of Italy. This café offers much more beyond normal business hours; check out its website to sign up for a three-course date-night experience, and baking classes for your kiddos.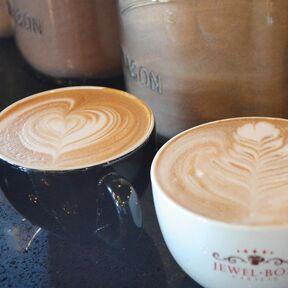 This spacious shabby-chic spot offers upscale lunch options at prices that won't break the bank. The menu is a treasure chest of its own, with special twists on classic café items.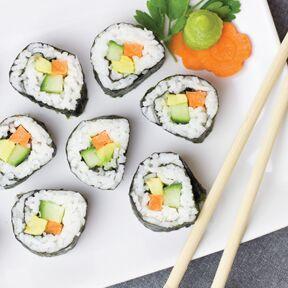 Calling all sushi lovers! Mio Sushi crafts tasty rolls. If you aren't a sushi fan, no need to fret — it also serves a variety of cooked dishes and options for kids.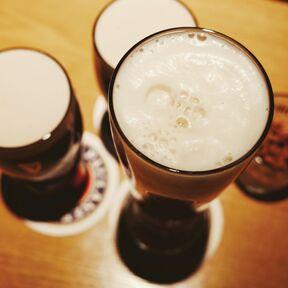 The family owned Two Town Pub & Café welcomes guests of all ages for wraps, steaks, and seafood, and also has a happy hour.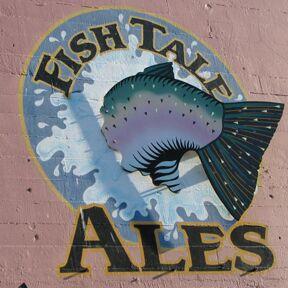 Keep your eye out for Fish Brewing Pub & Eatery, as it will be opening its doors at Point Ruston soon. The pub will feature the brewery's award-winning craft beers and ciders, including the new Point Ruston IPA.