Each year around Thanksgiving, Christmas, and New Year's, Harvey Hudson, a former bartender at the Sportsman Lounge in Bremerton, would notice his regular customers change their standard drink orders and ask for cocktails suffused with hot butter rum batter.
A rich and refrigerated nonalcoholic concoction of sugar, butter, spices (often nutmeg, cinnamon, and cloves), and sometimes molasses, hot butter rum batter was grainy and slightly mealy when scooped by the teaspoonful, but dissolved when dropped into hot rum, brandy, or cider. This esculent's lineage traced back to the 17th century, when Colonialists drank it for its taste and flavor, but also for what was believed to be elixir-like qualities that could remedy flus and colds.
During Hudson's time, it was a perfect happy hour potable that comfortingly blossomed and warmed like an internal hearth, thawing from the inside out the customers who consumed it — namely, shipyard workers who crowded into the Sportsman Lounge at 5 p.m. each weekday after spending long hours on the docks enduring chilling temperatures.
Still, Hudson believed the batter could be improved.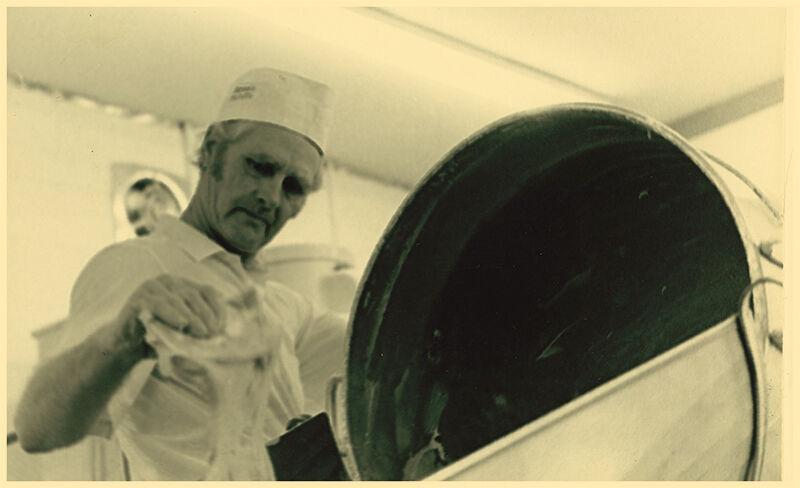 According to legend, one evening in 1952, he was at home in his kitchen when he decided to experiment with a new recipe, something he could add to the lounge's offerings.
Hudson didn't have any culinary experience, but he was ever resourceful when it came to creating new business opportunities for himself.
Born in 1916 in Pine, Idaho, a small town roughly 95 miles east of Boise and tucked into the Sawtooth National Forest's pleated foothills, Hudson married Mildred Cook in 1938 and the couple moved to Bremerton in 1942 to start a family, which grew to include two sons — Michael and Dennis — and two daughters, Lynn and Jill.
Hudson worked an assortment of jobs to support the household. He earned $75 per week as a silk spotter at Callow Cleaners. He opened Master Hatters, a millinery that made and mended hats. He tended bar at the Roundtable Club, Melody Lane, and the Sportsman Lounge. He sold ads for The Bremerton Sun.
But it was Hudson's decision to create his own DIY hot butter rum batter that would prove to be his most significant career move. When he first offered it to his customers, the raving response was immediate. How he improved the batter — what combination of spices, sugar, and butter he settled on — remained a cipher; his family claimed the secret ingredient was Hudson's own sweetness. Whatever the case, the recipe proved to be popular, and customers asked whether Hudson could make some extra batches of batter so they could buy it directly from him and take it home.
"When I was very little, I would watch him mix it on our kitchen counter and fill containers by hand," Jill Giddings, Hudson's youngest daughter, recalled. "He kept working on the combination of spices, butter, and sugar until he came up with something he liked. It was a little more flavorful, and people seemed to like it."
"
When I was very little, I would watch him mix it on our kitchen counter and fill containers by hand."
By 1960, the business was doing very well, and Hudson needed someplace other than his home kitchen or the bar to produce the batter. He struck a business deal with the operators of the local Darigold plant: He could produce the batter after hours when the plant wasn't in operation; in return, Darigold would distribute it to customers along its milk delivery routes and share the profits.
That worked for the next 12 years, until Hudson hired a contractor to build a custom production facility, and Hudson took over complete control of the manufacturing and distribution of Harvey's Butter Rum Batter.
Those 12-ounce iconic gold-and-black tubs with the brand's name in Olde English script, and lids that once depicted Hudson's face hovering above his own copyrighted image of a rabbit leaning against a lamp post (a reference to the 1950 movie starring Jimmy Stewart, whose character befriends an unseen and imaginary rabbit; Hudson was a huge fan of the film), would eventually populate the shelves of Albertsons, Safeway, QFC, and other grocery stores throughout Washington, Oregon, Northern California, and Colorado every fall and winter, often crowding out competitors such as Trader Vic's, Reser's, and Collins.
The seasonal business did well for Hudson, and it was an enterprise that brought the family closer together. Over the years, it was common to find Hudson's wife, children, and other relatives working alongside one another at the plant. By 2011, the year Hudson died at age 94, the company produced 100,000 containers.
But Hudson's death crystallized a facet of the business that his family always knew — the company's success and popularity were tied directly to its eponymous founder. Hudson, who outlived his wife, worked at the plant right up until his death. It would take someone with as much business savvy and energy to step up and continue the family business.
At first, Giddings and her siblings considered taking over, but realized they were either nearing retirement of their own or had their own busy lives.
The family decided to sell the business.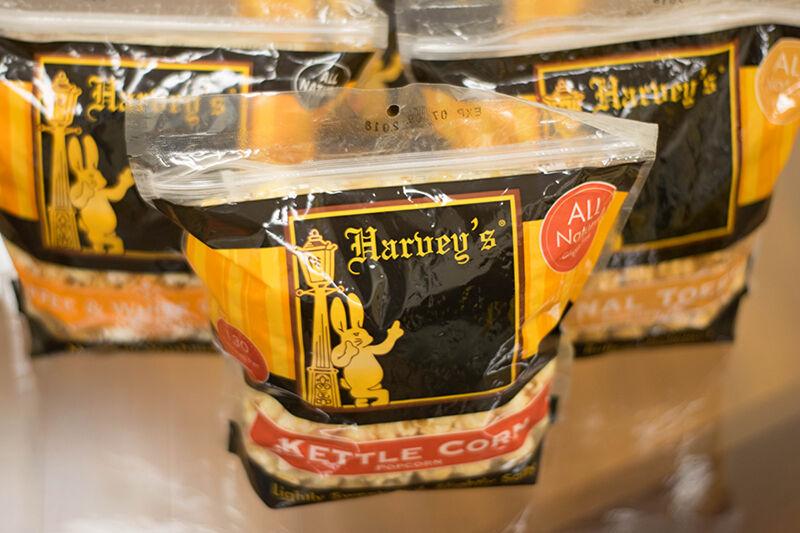 "It was extremely difficult because we knew it was Dad's baby," Giddings explained. "He was so proud of it. We just decided we couldn't do it justice. In order to really make it, the business needed somebody who understood more about retail and the development of a company."
Enter Stacy Ryan, a businesswoman who, along with her husband, Scott McBride, operated more than a dozen Hallmark Card stores in the Puget Sound region. Ryan wanted to bring her merchandising and customer service experience to a new line of business along with the help of her husband.
She was born and raised in Bremerton, and her grandmother and uncle formerly worked at the Darigold plant where Hudson originally produced his butter rum batter after hours. "I remember meeting him years and years ago," Ryan recalled in her office at the Bremerton plant, a plain brick building painted the same gold color as the butter rum tubs. "I didn't know him, but I remember my mom taking me up to the plant. They were getting ready to have a Christmas party or something, and they wanted to have hot butter rum."
"We really liked Stacy and Scott," Giddings said. "They were hometown people who had grown up with Harvey's in their lives. They were enthusiastic about the business, and we could see that they had a vision about how it should grow, how it could take off."
On Dec. 2, 2011, Hudson's children sold the business to Ryan.
"I remember thinking, 'Oh, my gosh. I just don't want to screw this up!'" Ryan said. "I mean, it has such a history. People know (the product), and they have a story. They remember Harvey's from family get-togethers. They talk about sneaking spoonfuls. They just know and love the flavor, the iconic look of the tubs. I thought, 'I don't want to do anything to take away from that.'"
In the 5½ years since Ryan purchased the company, the batter hasn't changed, but the business model has.
In 2012, the company offered two products (32-ounce and 11-ounce tubs of Harvey's Butter Rum Batter) and produced it between August and January.
Ryan wanted the business to operate year-round, so she introduced lines of butter rum hot chocolate and frappé mixes, as well as bottled drink syrup.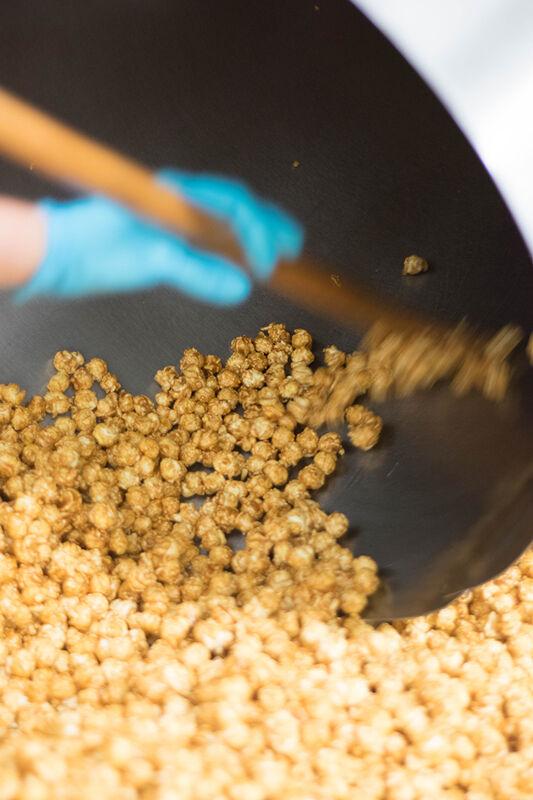 n 2014, Ryan purchased Little River Candy Company, a Wenatchee-based business that produced candy popcorn. Today, the Bremerton plant operates year-round and produces kettle corn, toffee and white cheddar popcorn, and butter rum toffee popcorn under the Harvey's brand and label.
Two years later, she acquired Sequim-based Casey's Kettle Corn, and moved its production to Bremerton. Most of the popcorn products are sold in True Value and Ace Hardware stores, as well as grocery stores throughout most of the Western United States.
The company also sells its products directly to consumers through its website.
Ryan also has worked to let people know the butter rum batter can be used for more than just to put a spicy kick into hot cocktails. The company produces a butter rum batter cheesecake that is sold exclusively at the Admiral Theatre in Bremerton. The batter can also be used to prepare glazed hams, Caribbean-style shrimp, baked beans, pork tenderloin, potato casserole, spinach salads, and crème brulee. Crazy Eric's Drive-In just down the street makes milkshakes using the batter.
The company has grown, but it's still very much a family-centered business with five employees. What appears to be a small operation inside a nondescript Bremerton building is in fact a production powerhouse. Last year, the company used about 50,000 pounds of butter, 70,000 pounds of sugar, and produced more than 40 tons of Harvey's Butter Rum Batter.
"If you laid out just the 11-ounce tubs we filled during the month of October, and put them side by side, they would (span) 6.7 miles."
Giddings said she is pleased her family sold Hudson's business to Ryan, who shares a lot of the same qualities as her father. "He was serious about business," Giddings explained. "He was extremely trusting. He had really high standards, and he conducted himself with great respect for others and the community." 
---
Entrepreneur Stacy Ryan went from operating a line of Hallmark Card stores to owning Harvey's Butter Rum Batter, a legacy business in Bremerton that dates back nearly 70 years. She shared some quick and practical tips for South Sound business professionals.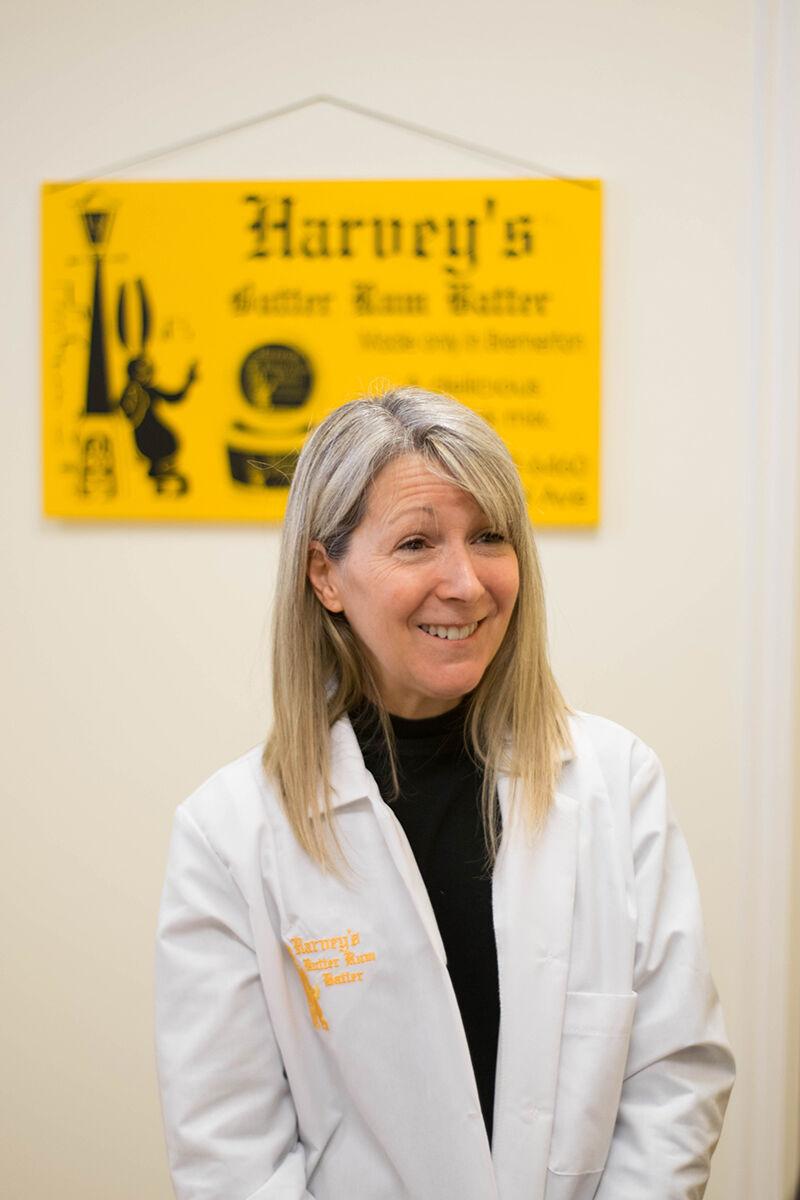 Q:What is the single best piece of business advice you would offer someone who wants to maintain and grow a legacy business?
A: I think it is extremely important when you have a legacy business to have similar core values.
Q: For people who are inspired to turn their home-made recipe into a thriving business, what are one or two key things they need to know?
A: It is a lot of work, so know that going in. Success comes when you step out of your comfort zone. The only thing that usually gets in your way is oftentimes yourself.
Q: What is one difference and one similarity between owning a Hallmark Card store and owning Harvey's Butter Rum Batter?
A: In whatever you do, you need to have a vision for that particular business, and you need to hold on to the core values that guide you. The biggest difference between the Hallmark shops and Harvey's is the card shops were retail and Harvey's is a wholesale business, so there is a very large distribution component to learn.
---
Harvey's Peanut Butter Balls
Harvey's and peanut butter make a great pairing. Top with rich dark chocolate and you have a delicious treat.
1/2 cup  Harvey's Butter Rum Batter slightly softened
1/2 cup + 2 Tbsp. crunchy style peanut butter
1 tsp. vanilla extract
1/4 cup graham cracker crumbs
1/2  lb. dark chocolate melt in double broiler, stirring until smooth
In medium size bowl, combine all ingredients except chocolate.

Mix by hand until completely combined. Mixture may seem a little dry, but heat from hands will help them stick together when rolling into balls.

Take small pieces of filling and roll into small balls. you should have enough for 28-30 bite size balls.

Dip balls into melted chocolate and place on Silpat or parchment to set. To fully set will take several hours or you can refrigerate to speed up the process.
Get more recipes at harveysbrb.com