It's 1980 and payday, and my dad just got home to my mom. After they paid all their bills and rent — $180 — they had about $6 left over. They walked a mile down the road to Shakey's Pizza to order a bar-made special for $6 — shrimp 'n black olive.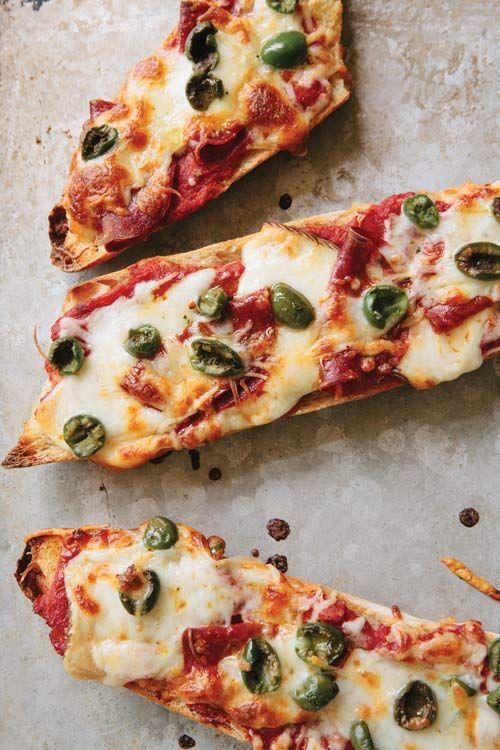 My mother would tell this story many times, particularly when she made us homemade pizza. That homemade dough stretched the entire surface of a baking sheet and was always topped with mozzarella, cheddar, plenty of browned hamburger, and loads of red sauce. Nothing tastes quite like Mom's pizza; it still feels like I'm a kid when she makes it to this day. Nothing is as comforting as Mom making dinner and listening to her stories about young love, being broke, my dad's early days as a cop.
No wonder when I make pizza at home, it's nostalgic and one of my favorite things to make. Now that I'm a mama, I want to share the experience with my son and my hubby. All you need is dough, sauce, and toppings and you're on your way to creating your own family memories and melty goodness.
For this particular day we opted to grab some tasty premade pizza dough from our local Trader Joe's. I think almost every grocer these days has refrigerated or frozen pizza dough you can grab on your way home from work and be eating pizzeria-style pizza as fast as you can preheat the oven! The sky is the limit when thinking up toppings; I have really been into Spanish flavors as of late, so our pizza night was like tapas on pizza crust!
This is a recipe without a recipe, the best kind, if you ask me. You only need to master the method. Stretch the dough onto an oiled and lightly cornmeal-coated baking sheet and top with sauce, veggies, cheese, and meats, then bake in a 425-degree oven until it's puffed and golden. Voilà!
Five Winning Combos
Pizza Thyme
Red sauce, caramelized mushrooms, fresh thyme, manchego cheese, and mozzarella
Tapa My Pizza
Spicy sausage, potato, caper berries, mozzarella, and caramelized lemon
Homemade Bar Made
Red sauce, shrimp, Parmesan, mozzarella, oil-cured black olives, and herbs de Provence
Vacation in Spain
Red sauce, Spanish uncured chorizo, Castelvetrano olives, and iberico cheese
Cheese Pleaser
Your favorite cheeses (lots), and red sauce — always a hit 
Neopolitan-Style Pizza Dough
If you're feeling sassy, here is my favorite classic Italian pizza dough recipe. I didn't invent this but have used it for years.
4 cups Italian 00 flour if you can find it (all-purpose flour also works)
3 teaspoons salt
2½ teaspoons instant yeast
2 cups tap water
Place ingredients in a stand mixer fitted with a dough hook. Mix until there is no flour left in the bowl. Cover with plastic wrap and allow it to proof on the counter for 12 hours. Turn dough out onto a floured surface and portion into three balls. Put dough balls into plastic bags or containers and allow to proof in the fridge for 24 hours. This is simple and takes time, but the flavor is incredible!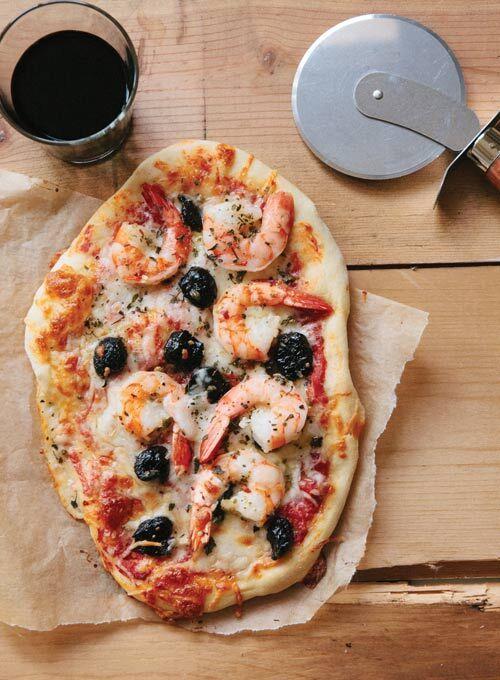 Quick Tips
Think outside the dough ball — use things like English muffins, tortillas, baguettes, and even frozen waffles! Let your heart run wild.
Invest in a pizza stone. This ensures that toothsome chew we all love at pizza parlors.
Try picking up a pizza peel or slab at a local kitchen store. These round wood paddles make transferring pizza easy onto a pizza stone inside the oven.
Sprinkle a little flour or cornmeal on the working surface; this will allow movement while stretching and shaping the dough. It easily gets sticky.
Work quickly; pizza dough absorbs liquid, so if you are quick to get your pie in the oven, you'll get better results.
Try a few varieties of cheese; a mixture of two or three cheeses really adds flavor and character to a pie.
Use precooked meat; pizza normally cooks faster than the time needed to cook raw meats through.
Use fresh herbs; ones with strong flavors like rosemary and thyme work best and mellow out in the oven. Keep herbs on their woody stems and simply remove the stem and discard before eating.
Buy your favorite sauces, dough, and ready-made toppings from the grocery store when you are pressed for time. And the best premade Alfredo sauces are in the cold section of the store near the fresh pasta.