COVID-19 isn't slowing down Crisp Greens and Crisp Meals on Tacoma's 6th Avenue. Because not only are the Crisp fans ordering take-out and delivery, they also are buying meal donations to show their appreciation for first responders and the medical community on the frontlines.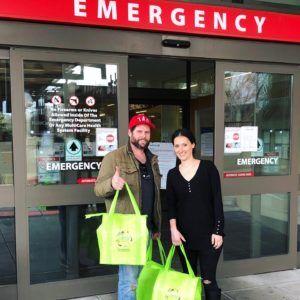 People are purchasing three meals for $21 (discounted from the usual $30) to donate. So far 450 meals have been purchased and delivered, said Corie Cameron of Crisp. They are delivering meals to medical professionals working the COVID-19 units at Tacoma General, St. Joseph Medical Center, Allenmore and more,
"Part of the issue for the nurses at Tacoma General is that their cafeteria closes at 2 p.m. so while they're working double shifts and crazy hours, they literally don't have any way to get access to food. I've really latched into making sure the nighttime people are fed, too," Cameron said. "Tomorrow we go to Tacoma Family Medicine for their COVID unit meeting."
"We are trying to include everyone!"
Cameron would like to do even more. She is on the hunt for a private investor who might consider matching the donations she receives from the community, or simply to help further fund the cause.
"So far, the reactions have been outstanding," Cameron said. "They're so overworked and happy to be eating healthy food. I've received nothing but ecstatic replies."
At this time, Crisp Greens and Crisp Meals  is open 10 a.m. to 7 p.m. Monday through Friday. Order online a meal for yourself and to donate to people who are fighting COVID-19.