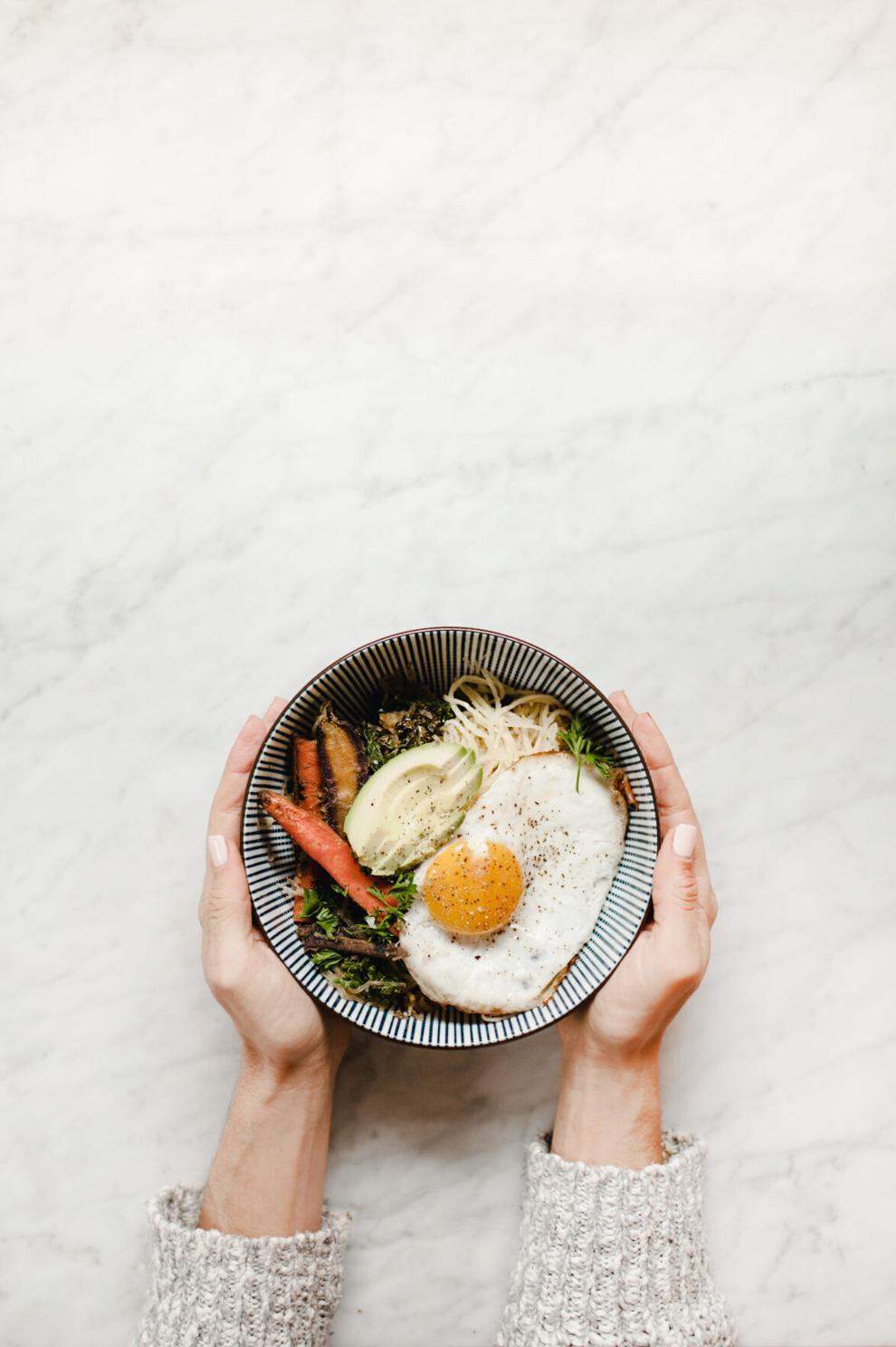 Chilly weather calls for warm rib-sticking breakfasts and brunches. I'm a smoothie devotee year-round, but every once in a while, I crave something richer and heartier for breakfast or lunch. That's where my Anytime Breakfast Bowl comes in handy. Made using spaghetti squash, carrots, kale, and eggs, it's a veggie-packed breakfast bowl that fills you up and satisfies.
When most people think of breakfast, it's either eggs or something sweet. But the truth is this: We all could stand to get a few more veggies into our bellies, and these breakfast bowls are a delicious way to do it. They're warm and filling, vegetable forward, and also conveniently make use of some common dinner leftovers.
I love to batch roast veggies, grill or bake something with protein, cook a grain, make a sauce on Sundays, and store all ingredients separately in the fridge for easy bowl-making throughout the week.
---
The Anytime Breakfast Bowl 
Makes 2–3 servings
I love topping my bowls with avocado, hot sauce, or pesto. You also can add extra grilled veggies, meat, or smoked salmon on top.
Ingredients
1 spaghetti squash
6 carrots, cut in half, lengthwise
3 kale leaves, stems removed and leaves torn
2 or 3 eggs
1 teaspoon sea salt
1 teaspoon pepper
Method
Preheat the oven to 400 degrees, and 
line a baking sheet with parchment paper.
Cut spaghetti squash in half, lengthwise. Scoop out the seeds and discard. Rub all sides of the squash with olive oil, and sprinkle the inside with sea salt and pepper. Place face down on the baking sheet, and bake for 35 to 40 minutes, until you can poke the skin easily with a fork. Let cool for a few minutes before scraping the flesh off the sides into strands that resemble noodles. If making ahead, store in the refrigerator until ready to use.
When ready to make your bowl, heat a large skillet over medium-high heat. Add carrots to cook first. Add spaghetti squash. Toward the end, add torn kale leaves until they wilt, and sprinkle everything with extra sea salt and pepper. Scoop into bowls to let rest. Add a bit more oil to the pan, and fry eggs to your liking. Place on top of the spaghetti squash, adding whatever other toppings or sauces you'd like, such as hot sauce, salsa, tahini, or pesto.
More Award-Winning Combos
 Roasted Brussels sprouts + roasted beets + roasted winter squash + quinoa + arugula + hummus

Roasted potatoes + sautéed mushrooms + pulled or grilled chicken + rice + spinach + pesto

 Roasted cauliflower + roasted carrot + roasted sweet potato + pickled veggies or sauerkraut + spinach + buckwheat + tahini sauce

 Roasted winter squash + sautéed green beans + kale + millet + peanut sauce