Fifty-five weeks ago the Instagram account for Red Elm Café (@redelmcafe) in Tacoma bore one of its first photos. The caption read "Signed a lease for 1112 MLK Jr Way, Tacoma! Hilltop, we are coming soon! #coffee #redelmcafe #smallbusiness#sisters #womenlead" The photo depicted two of the three sisters and cofounders, contracts in hand.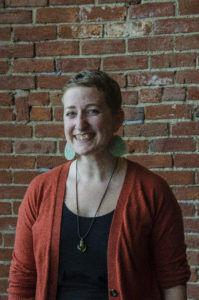 The sisters, Jennifer Richardson, Adina Joslyn, and Sarah Joslyn, have each lived in Tacoma's Hilltop neighborhood for years, having put down deep roots in the area. So it is no wonder they decided to open up shop in the community.
In the subsequent months, Instagram followers (mostly family and friends) were privy to behind the scenes glimpses as the business came together. Tee shirts ordered, a partnership struck with a coffee roaster, and art hung on the exposed brick walls. "I wasn't ever trying to advertise before we were open; I was just letting people know what we were up to," Sarah said of the business' early Instagram posts.
Today, as Red Elm enters its eighth week of business, construction photos have given way to snap shots of smiling customers and plates of waffles; business is booming according to Sarah and the partnership with her sisters is exactly what can be expected of doing business with one's siblings.
"It is great and it is awful," she said with a laugh. "It is hard, it is really hard, but we trust each other the most so it is like the best and worst simultaneously, because, family."
Family is exactly the vibe one gets from a visit to Red Elm, from the warm natural ambiance, to the sisters' back-and-forth repartee, to even the subtle logo design which has the sisters written all over it, literally.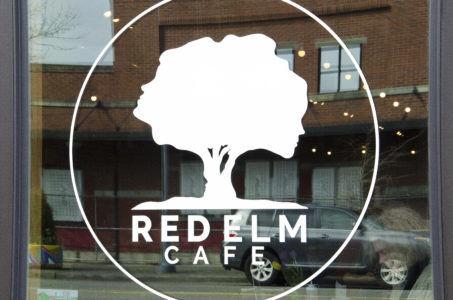 "As I drew it, I put our faces in the logo," Sarah said gesturing to the enormous picture window adorned with a large white tree. "So there's two of us (in the foliage) and then there's one actually in the trunk in the negative space … it is the tree of us."
Further perpetuating the family vibe, the sisters added a well-stocked children's area so parents can enjoy a cup of coffee with a friend while kids enjoy the play kitchen, toy dinosaurs, and wall-length chalk board as well as the eatery's waffle dogs.
"The favorite (of families) is the waffle dog," Sarah said. "It is just a corn dog, but it is bomb. It is the best corn dog you've ever had."
The sisters started out serving the dog with ketchup and mustard, but soon learned many customers preferred syrup instead so they give patrons an option. "I always tell people, if you get it for breakfast it is a sausage," Sarah said.
Sarah said her favorite menu item is the grilled cheese on sourdough with a cup of tomato soup but also recommends the cheddar bacon waffles and the turkey sausage breakfast sandwich with pepper jack cheese. And of course a cup of coffee from Portland-based Caravan Coffee.
For more information about Red Elm Café, including a full menu, visit them online.