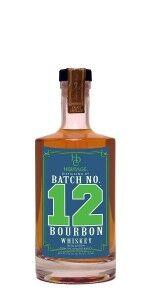 Heritage Distilling Company (HDC) is known throughout the Northwest as a premier and innovative distillery that produces high-quality alcohol. Exceeding these standards, HDC launched its latest line of premium on July 25.
Produced and bottled in Gig Harbor, the Batch No. 12 label includes a vodka distilled from corn, a bourbon whiskey and a rye whiskey. The new line debuts just in time for the beginning of Seattle Seahawks training camp. The 12th Man is eagerly awaiting kickoff for the regular NFL season, but for now, HDC's new line of spirits can stave off that thirst.
"Batch No. 12 will become the go-to choice for Pacific Northwest spirits fans seeking locally produced spirits to share with friends and family," said HDC's Co-Founder, CEO and Master Distiller Justin Stiefel. "The spirits we produce under the Batch No. 12 label are clean, pure and great for drinking straight or in any cocktail recipe."
In honor of the 12th man, preliminary labels will be blue and green; however, HDC will soon expand to purple/gold, crimson/gray, orange/black, green/yellow and black/red.
BATCH NO. 12 is now available at the Tahoma Market in Fife, Harbor Greens in Gig Harbor and select IGA stores. In addition, the new products will be available at the HDC tasting room in Gig Harbor.
Learn more about the line and other HDC products here.