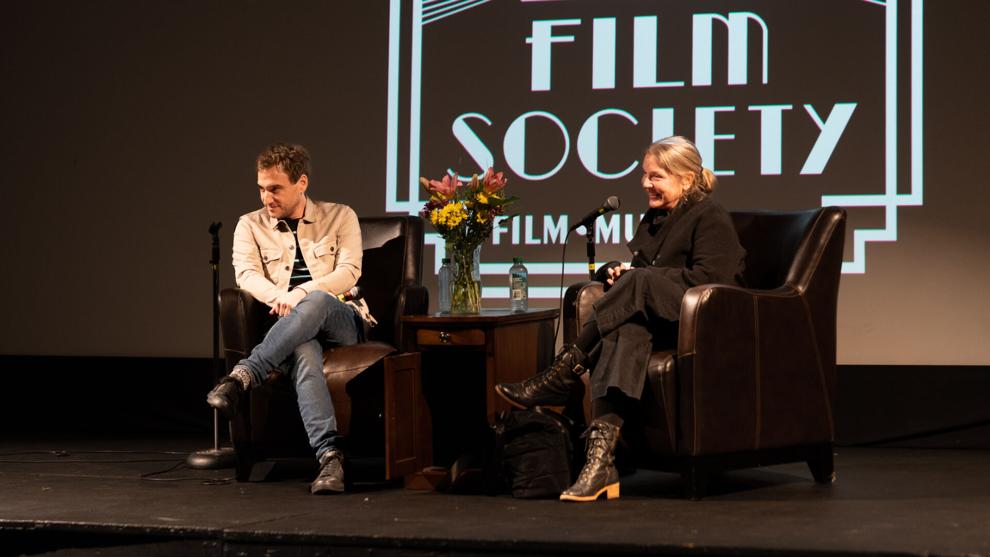 You never can confidently tell which decisions will prove life-changing and which will absorb into the forgotten past. When she took a role in David Lynch's secretive new pilot, Twin Peaks, at the end of the 1980s, Sheryl Lee had no reason to doubt the experience would be a career highlight. But she also had no reason to think it would become much more than that. When the Blue Velvet director cast her, based on a photo, in the part of Laura Palmer — the girl-next-door homecoming queen whose offscreen murder and slowly uncovered "double life" anchored the bulk of the show's archly soapy, interconnected storylines — she was scheduled for four days of shooting before calling it good. Given that Palmer was first introduced to viewers wrapped in plastic and definitely dead, Lee would be needed for only a handful of crucial-for-the-show but minor-for-the-actor tasks: posing for in-character photos, doing a few flashbacks, and then holding still as a corpse while being poked at on a morgue slab and at a cold beach, where her character's body was initially discovered. The Colorado-raised Lee was living in Seattle at the time she was cast, starring in local plays and studying acting under UW School of Drama professor Mark Jenkins. After finishing work on the Twin Peaks pilot, she went back to the life she'd been leading.
That wouldn't stick. The show was an immediate hit, and Lynch and co-creator Mark Frost decided to bring Lee back to play Palmer's cousin Maddy — her exact doppelgänger save for a thick head of wavy brunette hair and oft-worn bookish glasses — and again, in 2017, for a more stylistically austere revival series. No Twin Peaks property ceded as much screen time to Lee, though, as the 1992 prequel movie Twin Peaks: Fire Walk with Me. The film, which depicts Palmer's final days, has some of the deadpan humor that at times made Twin Peaks a charmingly oddball small-town comedy. Otherwise, it's more pronouncedly scary and sad, humanely giving dimension to a character that in another series would unceremoniously remain the voiceless cipher of the dead girl whose beauty and tormentedness in life were made equal. 
The toll sexual and physical abuse took on Palmer is portrayed in Fire Walk with Me with profound empathy; the seamy activities in which Palmer was involved before her death are understood more as attempts to seize some control over a frightening, chaotic life than on-screen luridness for the sake of it, regardless of how arrestingly stylized much of the film is. The movie flopped at the box office; critics, taken aback by the film's amplification of the series' hard-to-watch qualities, skewed harsh. But in the 30-and-counting years since its release, Fire Walk with Me has more commonly been heralded a masterpiece, the Lynch movie yet to receive its proper due.
Like how Lee's expectations for how Twin Peaks might change her career didn't hold, the audience selling out a showing of Fire Walk with Me at the Capitol Theater Saturday night spoke to the extent of the film's shift in reception. That change in tune manifested most noisily in a standing ovation for Lee, who appeared in head-to-toe-black on stage after the screening for a Q&A with the film critic and programmer Jesse Knight. (Lee didn't watch the movie with the audience, though: she estimates having seen Fire Walk with Me all the way through just three times.) Lee was moved to tears by the crowd's enthusiasm, and some audience members, who took turns asking questions after Knight offered his last, were emotional, too, one acknowledging how the film had helped them feel more comfortable talking about their own experiences with sexual violence and another how the show and movie — the latter of which they even wrote a class paper on — was consoling as they got through graduate school.
Many Twin Peaks fans would classify their relationship to the show and its auxiliary properties as "important"; Lee, who said she doesn't look at the series, the movie, and the revival as separate entities but of a piece, noted that her own isn't fixed. "It's a continual enfoldment," she said. "It keeps changing and growing and evolving — and teaching me." 
As Palmer, Lee is astonishing, seamlessly adjusting to Lynch's sometimes jerky movements from deadpan silliness into emotional intensity. (Her way of finding cohesion, as she tells it, was by finding the truth in every moment.) She turns in a vivid, heartbreaking performance, and audience members were quick to heap praise on her when they had the chance, with one man correctly concluding that in a just world, Lee would have been awarded an Oscar for her work in Fire Walk with Me. But though Lee was always politely gracious, modesty forbade justified compliments from getting the last word. She dutifully highlighted the work of the crew as well as cast members like Ray Wise and Grace Zabriskie, whose mastery of their craft remains as amazing to her now as she was when she was a young actress learning from them. 
"That character — that's not my doing," she said. "That's a group of incredible, collaborative artists in every single department that tell that story and created that character. I'm just a little part of it."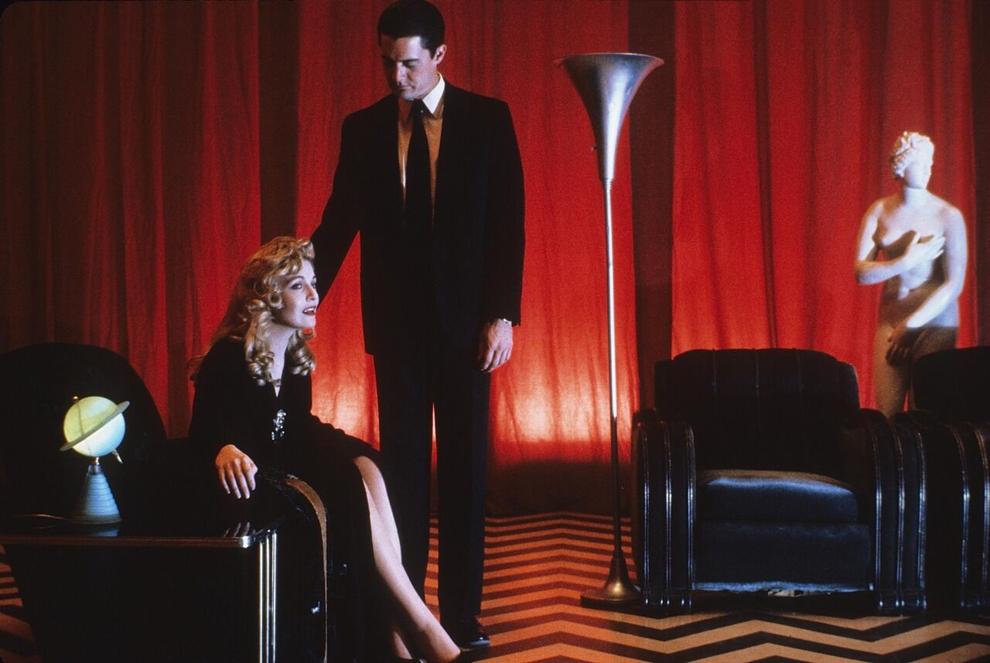 Only one person bore the physical and psychological brunt of the performance, though, and Lee said that she's still recovering from it in some ways. She credits Fire Walk with Me for being the project on which she realized how much she needed to hone personal best practices for separating herself from especially close-to-the-hip characters. 
"I think it was about two weeks after filming (where) I was standing in the grocery store, checking out in line," Lee remembered. "All of a sudden, I realized that I was having my own thoughts again. Because through that whole experience, Sheryl has to go 'over there' — my life, and my thoughts, and my wants, and my needs. They have to be set aside, especially in that kind of concentrated creative experience."
But though it could be difficult playing Laura Palmer, Lee would happily "dance" with Lynch — a director she credits with the uncanny ability to take actors to different "dimensions," and of also uplifting a strong sense of trust and a comprehensively collaborative spirit on the set — again if given the opportunity. 
Lee indulged more lighthearted audience questions as they came. As for Twin Peaks memorabilia, she doesn't have any. But if anyone comes across one of the 200 custom-made silver lighters she gifted for the Twin Peaks crew back in the day, let her know. (I like to imagine that something close to it was found in the "swag bag" offered at one point during the Q&A by an inquiring employee of Twede's Café, the North Bend restaurant that stood in for the show's Double R Diner.) As for her chilling knack for screaming on cue — and for finding ways to make each one offered on Twin Peaks and all its attendant works so specific — it's all about finding the truth in each. (And also mastering the kind of technique staving off vocal-cord damage.) And in an off-topic but welcome bit of trivia, one of the wildest things that happened to Lee on the set of the John Carpenter movie Vampires (1998) was when she had her vampire contacts in and, her vision overcast by the grayish lenses, nearly walked into a fire effect until someone stopped her. 
Twin Peaks' endurance largely can be credited to how many new things can be gleaned from every subsequent watch; Palmer's story, and the numerous other narratives snaking from it in the Twin Peaks universe, will probably never lose its seemingly limitless ability to enrapture. From all the frequently upsetting turmoil, Lee guided the audience toward the bleak silver lining as the takeaway to sit with. When thinking about Palmer, remember that she got her angel.