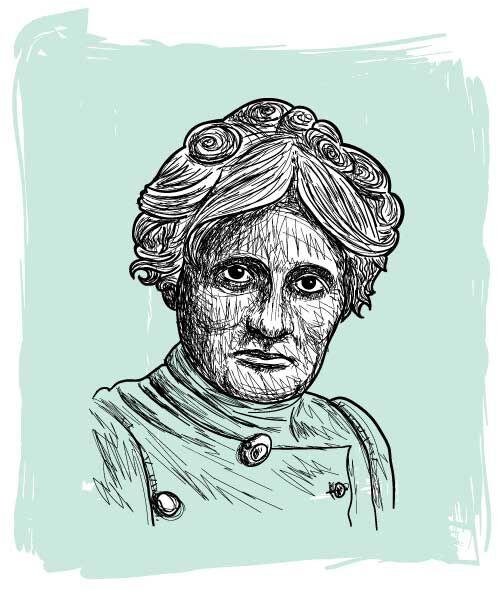 Fun Fact: The quaint town of Olalla is home to perhaps one of the most murderous sites in Washington. OK; so that's not a particularly "fun" fact, but it has helped put the tiny Kitsap Peninsula town on the map.
When true-crime author Gregg Olsen moved into the neighborhood nearly 20 years ago, he started getting knocks on his door telling him about a local story he should write.
Apparently little Olalla, better known today for its Bluegrass Festival, was once home to a doctor named Linda Burfield Hazzard. Totally ahead of her time, Dr. Hazzard was a career-driven, strong feminist. She believed fasting was the ultimate cure for just about any disease and even wrote a book about it in 1908 called Fasting for the Cure of Disease.
Unfortunately for her patients, many of them ended up fasting to death — an estimated 20 to 40. Nobody knows
for sure.
Hungry for more information about the stern-faced doctor, Olsen visited the land in the 1990s that Hazzard had called Wilderness Heights and locals called Starvation Heights.
There, he met then-owner Opal Jones. Jones let Olsen browse over newspaper clippings about the mysterious doctor charged with the manslaughter of a British heiress in 1912. "I got lucky. For one, Hazzard had appealed her case, so Olympia had the entire court transcript of the trial, and a letter from her time as the only woman at Walla Walla State Penitentiary," Olsen said.
Through his research and interviews with older Olalla citizens who had been children when Hazzard was in her heyday, Olsen learned the heiress was Claire Williamson. Claire and her younger sister, Dora, had set out to try out Hazzard's fasting and health institution. The wealthy and unmarried sisters, with plenty of time on their hands, wanted to better their health and had stumbled upon Hazzard's book.
In 1911, Claire and Dora arrived in the Seattle area to begin "treatment." The sisters refrained from telling family members where they were going so they didn't seem like hypochondriacs.
Treatments in the hands of Hazzard included little to no food; massages, which were described as wickedly hard blows to the forehead and back; and daily enemas with up to 12 quarts of water, all done in the name of good health. (Spoiler alert: The school where Hazzard earned her medical degree burned down, making it impossible to check whether she really was the licensed osteopath she claimed to be.)
Too frail to think straight, Claire wasted away in a small, top-floor bedroom of the Hazzard home, with a view of the dock that had brought her to Starvation Heights. Before her death, Hazzard convinced the malnourished Claire to revise her will to include a monthly stipend paid to Hazzard, and to grant guardianship and financial control over Dora.
Unbeknownst to Hazzard, Claire had one final moment of clarity and sent a cryptic plea for help to her former childhood nanny. The nanny arrived to find Claire dead, and Dora weighing about 50 pounds. The British government pushed prosecutors in Kitsap County to file charges. Many of Hazzard's patients stood by her side, and hundreds of women came to the courthouse to support her. Hazzard was convicted of manslaughter. She spent two years in prison and eventually was pardoned by the governor.
After her release, she and her husband Samuel Hazzard (who had a criminal record for bigamy and more) headed to New Zealand, where she continued to push her fasting beliefs, and people are said to have died.
She eventually made her way back to Olalla and finally built the huge sanitarium she had always dreamt of. She called it a "school of health" (she couldn't use the word "sanitarium" because her medical license was yanked, assuming she ever had one).
People continued to come and fast, but not as many as she had hoped. And then it burned to the ground in 1935. She practiced what she preached until the end — when she died in 1938 — while fasting.
So why didn't hungry people leave? Some of them tried.
"She had the power of charisma like politicians and celebrities," Olsen said. "And she was in a community of immigrants, and here she was confident in a treatment that she truly believed in. People were frightened of her."
Today, Olsen says Olalla locals have grown to "own" the terrible tale of Dr. Hazzard. And the old Hazzard house still stands on the land owned by the newest generation of Joneses. It's slowly in the process of being torn down, and inside the once-decadent turn-of-the-century home, wood beams are scattered and fallen, and an empty box of beer sits next to the fireplace, with odd etchings, which some say is "the gateway to hell." Also still in the house is the claw-foot tub Hazzard performed autopsies in. Sometimes she'd resort to lying an ironing board across the tub, because the bodies she was probing were too emaciated to reach in the depths of the tub. Of course her autopsies never revealed starvation as the cause of death — the doctor had a laundry list of other reasons for their passing.
Beside the house of horrors that is barely standing today, chickens roam outside on the property clucking for seed, flowers bloom, and happy gnomes adorn the yard. It seems like a happy place.
However, through the years several psychics have visited the property. And many report a common feeling — hunger pangs.
Read "Starvation Heights"
Check out Gregg Olsen's book Starvation Heights and head over to the Harbor History Museum from 5 p.m.-7 p.m. Oct. 28 for "Buried History: Wicked Cure," where Olsen and a team from the Washington State Paranormal Investigations and Research group will be discussing Hazzard and the "spell" she was able to cast over her patients.
Hungry
There once was a lady doctor named Hazzard, 
Whose patients ended up hungry and battered. 
I think her name was warning enough,
But some patients had to learn it wasn't a bluff. 
Two sisters in particular learned after a few,
That doctor Hazzard was actually cuckoo.
Hazzard was trying to steal jewels and wealth,
Starting first by robbing their health. 
Tomato broth and one orange a day,
The meal plan that keeps real doctors away.
Poor Claire never made it out alive, 
And lil' Dora was too frail to do the hand jive.
That crazy doctor maintained her stern face,
As the trial of the century took place.
Hazzard claimed she didn't murder Claire,
"She was sick before she got there."
Hazzard was exiled to the land of the kiwi
Always the rebel, she came back by 1920. 
Continuing her "cure" in the Olalla wilderness, 
Always looking for another foolish heiress. 
Click below to read more stories