Beginning around 27th Avenue Southeast in the north, South Hill extends to 47th Avenue Southeast in the south, where Puyallup gives way to unincorporated Pierce County, according to the City of Puyallup.
However, the boundaries of South Hill vary depending on whom you ask. While the city has its own definition of South Hill, the Puyallup tax base has been continually creeping up the hill. Moreover, Pierce County Public Works has its own boundaries, while some residents steadfastly refute the arbitrary boundaries, citing the historical definition of South Hill.
Jerry Bates is a member of the South Hill Historical Society as well as a longtime resident of South Hill.  He'll discuss his neighborhood's history with anyone who asks, boasting the neighborhood's claim to fame from 1853, when the Longmire-Biles wagon train crossed South Hill. He addresses his mail with a South Hill address and has a very clear definition of the boundaries of his neighborhood.
"When you say 'South Hill,' you definitely picture something in your mind," he said. "It's here; it is up on this hill."
Past
Early South Hill was wide open with scarcely populated farmland as far as the eye could see from the late 1880s, when the first families settled on the Hill, until roughly the early 1960s, when suburbanization took root in the region.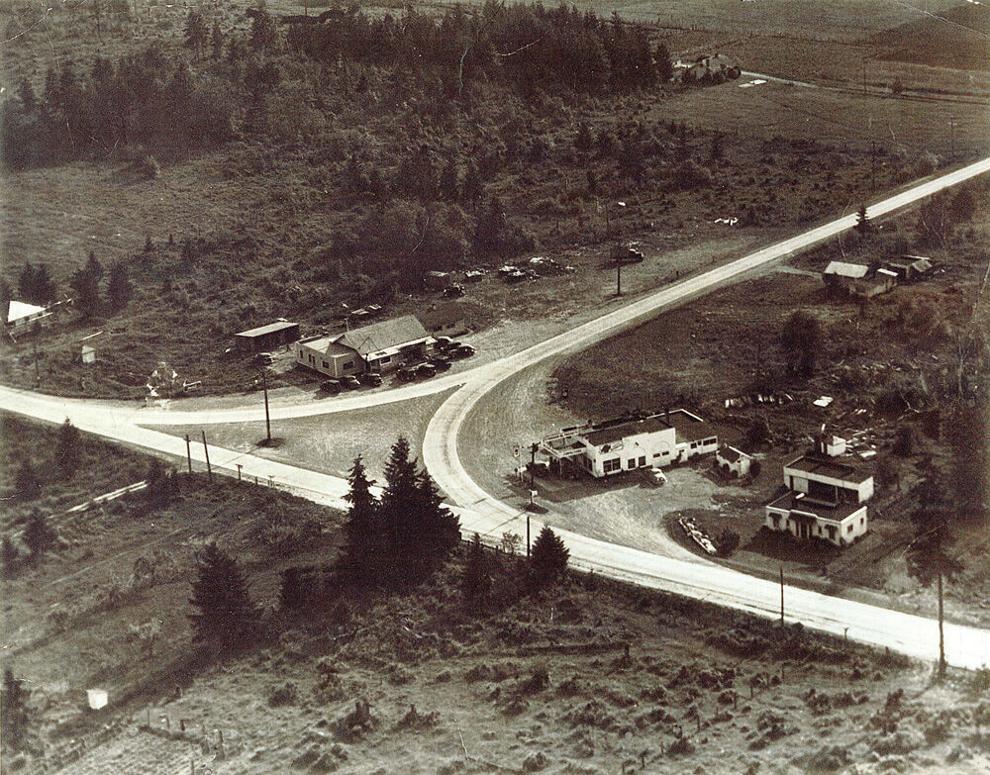 "Here is (a photograph from) 1940, an aerial view of Willows Corner, 112th and Meridian. South Hill Mall would be right here. That was the big central business core back in those days."
Land on the Hill was affordable in the first part of the 1900s, after logging companies came in and clear-cut the area, leaving what Bates calls a "barren wasteland" of stumps and torn-up earth from wagons and oxen carrying the lumber away.
The plummeting value of the land attracted some migrant families displaced by the Dust Bowl and allowed them to live off their own land. "They would get their milk cows, and they would subsist," Bates said. "They'd grow things, and they'd have their chicken shacks, and they'd build their houses."
To illustrate what the area looked like during the period, Bates pointed to a black-and-white photograph pinned to the South Hill Historical Society information board he displays at the Washington State Fair and other local events. "Here is (a photograph from) 1940, an aerial view of Willows Corner, 112th and Meridian," he said. "South Hill Mall would be right here. That was the big central business core back in those days."
The booming business core to which Bates referred was simply a gas station, a modest grocery store, and a tavern. Residents requiring anything more would need to journey to downtown Puyallup or possibly even Lakewood or Tacoma.
It wasn't until the age of suburbia, following World War II in the early 1960s, when more and more families—especially those with returning service members—began shifting away from congested urban centers like Tacoma and Seattle, looking for more livable space, cleaner air, and a greater proximity to nature.
South Hill's greatest population boom was catalyzed by the installation of State Route 512 in the 1970s, according to Bates. The 12.06-mile, state-maintained freeway — which begins in the east, just before Highway 167 ends, and runs west toward the Interstate 5 interchange in Tacoma near Joint Base Lewis-McChord — began as a country road until the state named it a secondary state highway the late 1930s. However, it wasn't until 1972 that SR 512 was converted from a two-lane road to a four-lane divided freeway.
Present
Based on data from the 2010 census, the U.S. Census Bureau estimates there are more than 40,000 individuals living in South Hill as of 2016, making it almost unrecognizable from its early days of scarcely populated wide open farmland. Like most of suburbia, the wagon trains and fields of hops have given way to countless fast-food eateries and department stores, and it shows no signs of slowing down.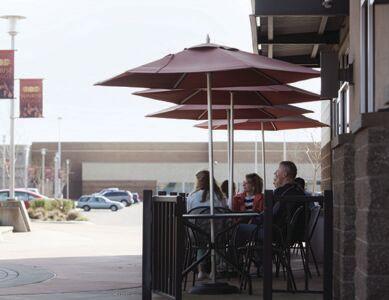 In anticipation of expected continued growth in the region, the Puget Sound Regional Council has designated two regional growth centers in the city of Puyallup. The first is the downtown area of Puyallup; the second is a portion of the South Hill neighborhood.
"These (regional growth centers) are basically more compact, commercial, and residential areas, where there is more intensive development and where we as a city anticipate most of our growth will happen over a period of time," said Katie Baker, senior long-range planner for the city of Puyallup.
In fact, approximately 85 percent of the South Hill area designated as a regional growth center is built out with 30 percent of land use dedicated for commercial purposes, which should come as no shock to anyone who has driven down Meridian.
Residential land use for the growth center falls far behind, at only 17 percent, tying with various industrial uses. Institutional, recreational, transportation, communication, and utility uses make up the difference. This begs the question: With only 15 percent of unoccupied land, where will this expected growth occur?
"Vertically," Baker said matter-of-factly. Earlier this year, the Puyallup City Council adopted the South Hill Neighborhood Plan, which, among other things, called for a lot of zoning changes, allowing developers to build structures five, seven, or even 10 stories high depending on certain building criteria for height bonuses as well as location within the South Hill neighborhood.
These zoning changes will not only attract new types of businesses requiring more upward clearance—like retirement communities and hotel chains—but it also will allow the growth center to accommodate the expected population influx with multistory, multiuse apartment buildings.
In the same vein, the city hopes to see more structure parking instead of the area's currently sprawling surface parking, which would free up space on parcels in order to pack in more homes and businesses.
With the balance of commercial versus residential shifting over the next two decades or more, Baker said, the city also hopes to see the South Hill growth center become a more walkable, pedestrian-friendly area.
"We hope that 20–30 years from now, it won't just be a big regional mall and then a lot of smaller strip malls around that," she said. "We know that Meridian is a huge barrier for people, but we hope to make sure we have a lot more complete sidewalks, particularly with access to the area's parks — especially Bradley Lake Park up there is a really popular—so that people who live in the area can get there safely and don't necessarily have to drive."
In the short time since the plan was adopted in February, the city has already seen proposals and interest from developers looking to build taller structures in the area.
"We've had pre-application (meeting with a developer) for a five-story senior housing facility in that area kind of kitty-corner from the YMCA, and then we've also had a pre-application for a hotel on the southwest corner near the mall, kind of across from Tacoma Boys," Baker said.
Future
With all growth comes the inevitable growing pains, which the city already is feeling in respect to citizen concerns.
"We hope that 20–30 years from now, it won't just be a big regional mall"
Bates, from the historical society, doesn't seem particularly excited about the change, but he's realistic about the city's vision for the future.
"I imagine it will look like Bellevue someday," he said of his neighborhood's future. "Back in the '70s, you'd go to Bellevue, and it was all strip malls. Now you go to Bellevue, and you're downtown somewhere … so I suppose it'll evolve in that direction."
"I know there is a lot of people who aren't totally happy with (the plan) at the end of the day," planner Baker said. "I do understand that, and I totally respect where they are coming from … but I hope people kind of just move ahead with an open mind, and hopefully 20 years from now, people will be generally satisfied with how the development is changing."