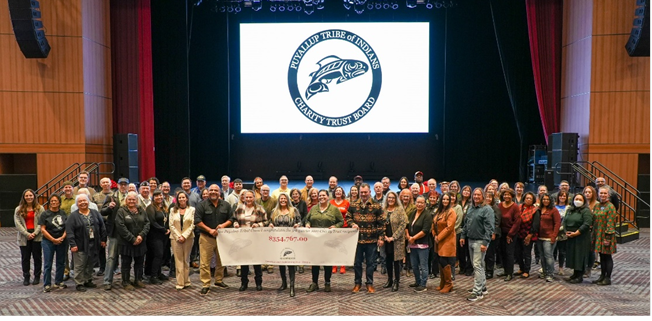 The Puyallup Tribe has awarded 42 local organizations a combined total of nearly $355,000 through the Tribe's Charity Trust Board. 
Representatives of more than 40 nonprofit and charitable organizations gathered last month at Tacoma's Emerald Queen Event Center, where members of the Puyallup Tribal Council greeted them and thanked them for their work.
The donations are funded from Emerald Queen Casino revenue as part of an agreement with the state of Washington that includes additional contributions for smoking cessation and problem gambling programs, and for impact costs paid to local governments for things like fire and police services.
The donations are for the third quarter of 2022.
The Puyallup Tribe has donated more than $17 million to hundreds of local organizations through its Charity Trust Board over the last decade.
Each quarter, qualifying organizations are encouraged to apply for the donation, with preference given to projects that demonstrate benefits or services to Natives as part of their service population. Click here to learn more about the Charity Trust Board and how to apply for a grant.