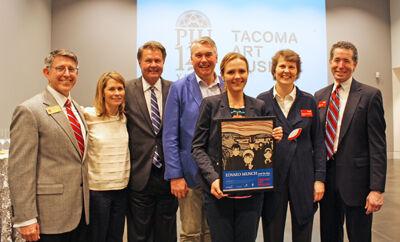 Norway's Minister of Culture, Linda Hofstad Helleland, and Norwegian Parliamentary Leader Trond Helleland stopped by Tacoma Art Museum for a reception and a tour of the exhibition Edvard Munch and the Sea on May 15. Known for his iconic piece The Scream, Munch is considered Norway's most famous artist and master printmaker. The exhibit also honors the 125th anniversary of Pacific Lutheran University, by celebrating the university's Norwegian roots.
PLU and its president Thomas W. Krise helped host the event at TAM. The museum's executive director Stephanie Stebich provided a tour of the exhibit to the dignitaries.
"[PLU] has been celebrating our Norwegian heritage for 125 years, and marking Norway's national holiday with a flag raising ceremony for the last 10 years," said Krise in a statement. "This year we are especially delighted that our community partner Tacoma Art Museum is joining in the recognition of the ties between the Puget Sound region and Norway."
The dignitaries were invited to the area by the Consul of Norway in Seattle to participate in the annual May Festival in Ballard which celebrate Norway's Constitution Day.
Photos by Amy Lin, courtesy Tacoma Art Museum