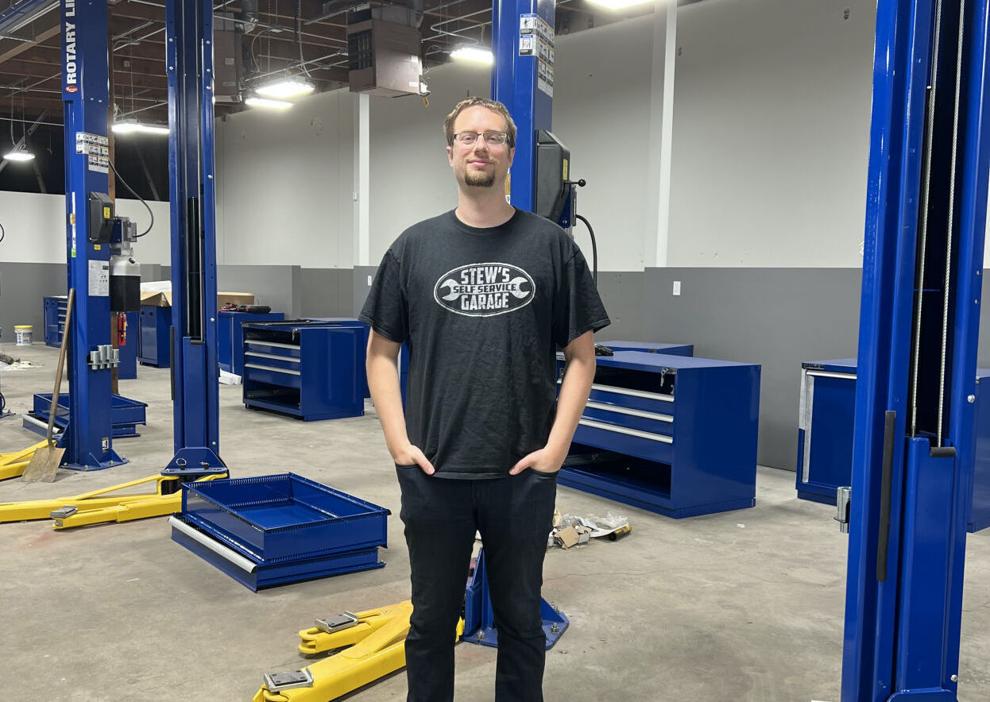 Stew Waliser is opening a South Sound garage for people who like working on their own vehicles, or who've always wanted to try, but don't have the special equipment, tools, or space to do so.
Stew's Self Service Garage opens Sept. 25 in Auburn, where do-it-yourselfers can rent one of 10 garage bays equipped with vehicle lifts and all the wrenches and other tools one could need. It will be Waliser's second self-service garage after Kirkland, which he opened in 2014 and has proved a hit among DIYers.
The new location is at 4715 Auburn Way N. Waliser had been looking for his next location for more than three years before coming across a longtime exhaust shop that he bought and completely remodeled.
"Every bay has a full toolset of hand tools, as well as air tools, and then on top of that we have a tool room where we provide numerous specialty tools," Waliser, founder, CEO and majority owner of the business, said in an interview. "Every bay, you have access to or you're utilizing upwards of $40,000 of tools and equipment during your rental."
The garages include one or two Stew's technicians with five to 10-plus years of professional automotive experience to ensure tools and equipment are being used safely and correctly, and to answer questions and provide guidance.
Between the two locations, Stew's has 11 employees, Waliser said.
Each service bay has a 400-plus-piece tool set, lifts, transmission jacks, engine hoists, brake bleeders, professional-grade spring compressors, fluid pumps, suspension tools, expert guidance, and more, according to a news release. The Auburn location is almost 8,000 square feet.
"The hardest part of the self-service garage model is educating people that a self-service garage exists," Waliser said in the release. "First, we must educate people that such a concept is available, and then we must convince them to try us out. Once they do, they're sold."
Rates to rent a bay for 30 minutes start at $20.
Everyone entering the garage area must sign a liability waiver before being permitted in the space. Children 13-15 are allowed with a waiver signed by their parent or guardian and must be accompanied by that parent or guardian at all times. Those ages 16-18 are not required to be supervised by their parent or guardian, but do need their signature, the release said.
Rates to rent a bay for 30 minutes start at $20. Stew's customers can save 50 percent or more depending on the job they are doing since traditional repair shops have hire hourly rates, the release said.
"Once we're up and running, we plan to offer a variety of classes targeted to women, parents and kids, and people who would like to learn more about caring for their vehicles," Waliser said in the release. "Lessons will focus on basic maintenance items such as oil changes, brake jobs, spark plugs, and inspections."
Waliser got the idea for his first garage when he was a freshman at Central Washington University in 2012. He was looking to replace the suspension on his truck, which he knew how to do, but could not find a place out of the weather to do it. With this new business premise, the student who once had visions of medical school put his love of cars and eye for business to work in a new direction.
Auburn won't be Waliser's last expansion. He's planning at least one more Stew's Self Service Garage in Puget Sound at some point after the current expansion is operating smoothly. His business partner is his mother, Shawn Waliser, who has a 25 percent ownership stake and operates as in a chief financial officer capacity, he said.
While doors to the Auburn shop officially open Sept. 25, Waliser plans an open house from 10 a.m.-2 p.m. Sept. 24 for anyone wanting to stop by and see what it's about.