In the 1970s, if you lived in Tacoma and wanted to do something fun outdoors with your family, you went on a hike at Point Defiance. While that is still a common pastime, much has changed at the park in the intervening years. In the past, you might have stumbled upon the cottage of the Three Bears, encountered Little Red Riding Hood and the interloping wolf, or happened upon the pumpkin of Peter Peter Pumpkin Eater. Unfortunately, little evidence of this remains at Point Defiance today.
These and other fiberglass characters and stucco structures were part of the privately owned Never Never Land trail and playground located at Point Defiance. Upon entering the park, families would pass under an archway of giant books, upon which was perched a larger-than-life Humpty Dumpty figure.
The creative force behind Never Never Land, Canadian native Alfred "Al" Pettersen, debuted the park July 4, 1964, at Point Defiance on land leased from the Metropolitan Park District of Tacoma, after first opening Wooded Wonderland at Beaver Lake Park in Victoria, B.C., two years earlier.
With the help of several locals ­— including Tacoma resident and investor John Hewitt Jr., Hungarian sculptor Elek Imredy, French designer Jean Jaques Andre, and local contractor David Reuter — Pettersen was able to bring to life characters like Little Boy Blue, Old Mother Hubbard, the Three Billy Goats Gruff, and more. The project was then replicated again in 1967 under the Never Never Land moniker at Ontario's Hill Island.
The attraction was an instant hit with people who drove from near and far to visit the 10-acre park with its 29 fairy-tale scenes. According to Metro Parks historian Claire Keller-Scholz, the attraction saw more than 90,000 visitors in the first year alone.
Many native Tacomans remember the heyday of the park fondly when looking back on it on social media and in posted reviews on travel sites like Roadside America.
"I visited Never Never Land many, many times as a child. It was one of the very few childhood memories I have," noted one Roadside America commenter. "I was sad to read that Never Never Land is pretty much gone. It will live on in my memory."
"That place was so adorable! My mom took me there in the 1970s (when I was very young)," raved another commenter, who also noted the vestiges of a small well and some painted trees are all that remain as evidence that Never Never Land ever existed at Point Defiance.
Even Metro Park spokesperson Nancy Johnson, whose children are now in their 30s, remembers the park warmly. "When (my kids) were up to ages 3 and 4, we would go out to Point Defiance Zoo, and then we would always stop and have our lunch and the kids would run through (the exhibit)," she said.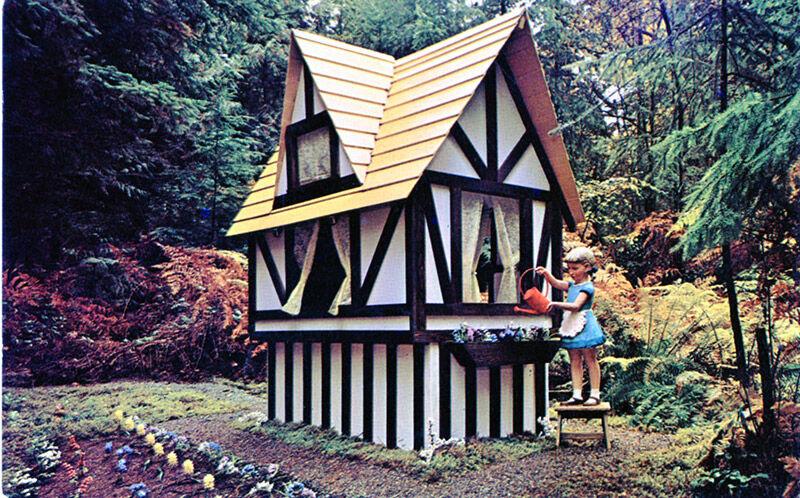 However, as time went on, the exhibits began to deteriorate along with interest in the fairy-tale park. Never Never Land remained in Pettersen's control until 1985, when he sold the attraction to Metro Parks. "There wasn't enough money you could have charged people to come in, and that's why the entrepreneur went out of business, sold it, and quit operations," said Johnson.
Metro Parks resumed operation during the 1986 season, charging admission to tour and view the fairy-tale scenes until 2001, when it removed the fence around the attraction, allowing visitors to come and go without a fee. The final structures were removed in 2010.
"Metro Parks tried to keep it alive, but the structures themselves were made out of stucco and fabricated in a way that it can't endure in a wet, damp forest environment," Johnson said. "When we finally had to take (the Old Lady Who Lived in a Shoe's) shoe out, it was so laden with black mold that it wasn't safe for staff to go into."
The only thing that is more talked about than the rich nostalgia is what happened to the exhibits themselves. Theories abound as to their whereabouts, but Johnson said there is no mystery. They were destroyed during an arson fire of the Point Defiance Pagoda in 2011.
"We had all the molds and figurines; they were stored in the bottom of the Pagoda. So, when the arson happened, there went all of those. They were melted into a mass of goo," she said.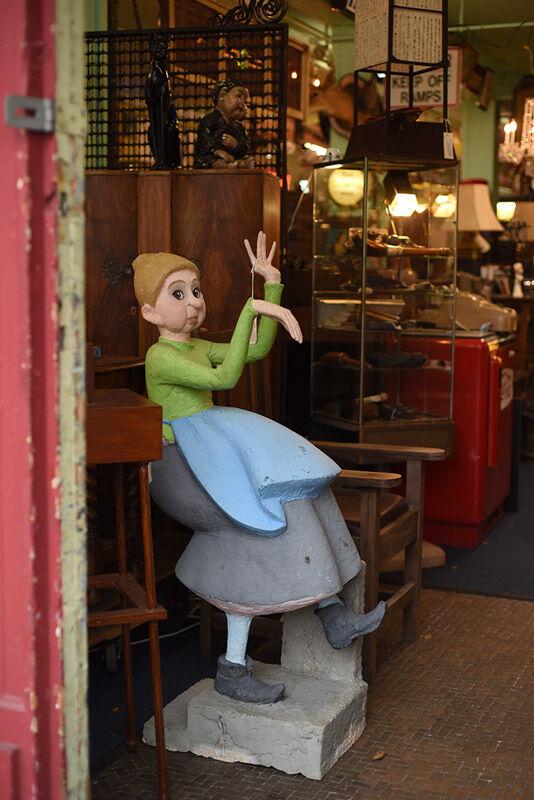 Many Tacomans believe pallets of the deteriorating fiberglass characters reside in the fabled Tacoma underground and occasionally appear at Broadway's Best antique store in downtown Tacoma. However, historian Keller-Scholz said the figures that make appearances from time to time have a different, yet linked, origin.
"The Ontario (Never Never Land) park survived only a few years," she said. "The figures from that park are the ones that periodically appear in antique stores and auctions, as they were brought back to the Northwest after the attraction folded in the late 1970s."
Johnson did say, however, that the iconic, grinning Humpty Dumpty lives on to this day. It was being stored in an alternate location when the fire that claimed the rest of the attraction occurred. However, Metro Parks currently does not have a plan to use it in the future.
"In terms of Humpty … I don't know what plans there are relative to him. But we are open to looking for solutions to things that help preserve and protect (our) heritage," Johnson said.