Invista Performance Solutions hosted their Supervisory Academy on Nov. 14 at Clover Park Technical College in Lakewood. More than 68 people attended from 27 organizations throughout the South Sound to sharpen their leadership and other business skills, including two editors from South Sound and South Sound Business.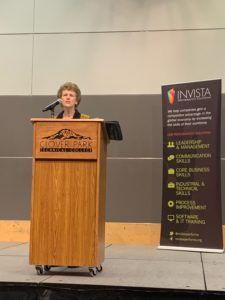 Dr. Michele Johnson, chancellor of the Pierce College District gave thought-provoking opening remarks during breakfast as well as Congressmen Denny Heck who gave a message of encouragement via video from the other Washington.
Leaders from throughout the South Sound took part in different courses hosted by Invista Performance Solutions coaches. Invista is a collaboration between both Pierce College campuses, Tacoma Community College, and Clover Park Technical College. Its purpose it to train people in the workforce with various courses including leadership, communication, team building, process improvement, workplace sensitivity, and more. They offer customized training, coaching, and consulting to area businesses and people looking to sharpen their skills.
For more information, visit invistaperforms.org.