Carl Petersen was feeling nostalgic as he toyed with a bag of marbles, thinking about his grandfather — whom he'd inherited them from — and his brother's sudden death.
Petersen had moved to Los Angeles to pursue an acting career after graduating from Pacific Lutheran University in 2004 and was feeling stonewalled by audition rejections and decided to take his career into his own hands, wearing every hat necessary — from writing, producing, and acting — to produce short films.
Two years ago, he and his family moved to Tacoma, and, while staring at that bag of marbles, he was reminded of fond memories of his brother.
"My brother was a really important part of my life," Petersen said. "I needed to funnel all these overwhelming emotions I was experiencing after losing him. He was my best man. I wanted to make something in honor of the life he lived, in my own way. This project also spoke to my interests, my need to create, and to make the most of this life that I've been given."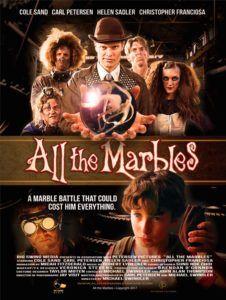 That moment inspired
, a live-action short film that garnered the attention of 24 film festivals and received seven major awards. Petersen wrote, produced, and acted in the film, and it was directed by Michael Swingler. The fictitious plot takes place in a steampunk world where marbles are "as precious as gold," and a young underdog, Jamison, battles a villainous bully named Wolf, played by Petersen, to win back his most precious marble.
Petersen said the film has the potential to be nominated for an Oscar. Locals have an opportunity to screen it this Saturday in Tacoma.
The family-friendly film is centered around anti-bullying and standing up for what's right, but Petersen also wanted to pay homage to the game of marbles he and his siblings played when they were young.
"I wanted to bring back a game that's more of a classic game that kids could play that's not electronics and all that stuff that people appreciate but can get in the way of kids developing their imagination. I think part of it is me being an old man," he joked. "I'm 35 years old, and am thinking, 'Oh when I was a kid,' but I think there's something to be said for real play, as opposed to watching a screen."
The film was a true passion project made possible by roughly 200 to 250 donors that contributed to the film's budget and a sizable cast and crew that believed in the project and worked for lower fees or for free. It's a high-quality film made with an independent film budget, Petersen said, and the aim was to infuse a little more magic into storytelling for children — an element he thinks has been lost lately.
The Oscars are announcing its shortlist for nominations in the beginning of December. When working in Los Angeles, Petersen sometimes did catering gigs during the star-studded event. He said it would be surreal to attend as the talent.
"It's almost something I would have trouble fathoming," he said. "But it would be incredible. I've dreamed about receiving an Oscar and making a speech and going to the awards ceremony and getting all dressed up ever since I was a kid."
"And the whole underdog element," he added. "Also, what makes it special is the underdog story. I've always seen myself as the underdog trying to break into the industry and having to make my own opportunities."
The All the Marbles screening is at 9:30 a.m., Saturday, Dec. 2 at The Grand Cinema on 606 Fawcett Ave in Tacoma. It's pajama friendly with popcorn provided and, of course, marbles from MegaFun USA to take home. A Q&A with the filmmaker will follow the screening.