An unplanned guinea pig pregnancy became the comedic focal point of my holiday season.
A young romance was brewing in my Olympia apartment, and I was none the wiser. I was convinced that my guinea pig, Wally, had been dismissed as unworthy by our newly acquired female guinea pig, Spindle. He followed her around like a lovesick teenager, but she seemed to thwart his every advance with an insulted squeal and sassy buck.
After we adopted Spindle, my stepsister's tri-colored guinea pig, Wally was instantly smitten. I had asked my sister to keep Spindle, dreading the thought of separating them, and decided it was worth the risk of her potentially getting pregnant. But I really wasn't that concerned. A month or two went by and it felt official that Spindle just wasn't that into him.
Hindsight, though, is 20-20 and I know how completely idiotic it was to think that wouldn't happen. The look on my veterinarian's face confirmed my stupidity when I took the ever-widening Spindle into the vet for a pregnancy test.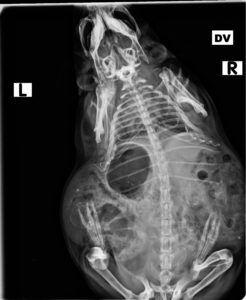 The vet turned off the lights in our exam room and pulled up X-rays of her swelling belly. Four curving spines — no larger than elbow pasta — were muddled and barely visible in the black and white image. In about two weeks' time, this furry family of two would become a family of six. Comically, this was also where the evolving drama of my guinea pig's pregnancy began.
Apparently, according several veterinarians I talked to, after six months of age, a female pig's pelvis begins to close, making it difficult for "older" guinea pigs to give birth naturally. If complications occur, she would need a C-section. What kind of evolutionary joke is that, right? Guinea pigs can live up to 10 years, but their ideal birth window is from four to six months old? At 1 ½ years old we had a high-risk, pregnant pig on our hands. Mother Nature has a funny way of curbing populations.
In a half-panic, I went home and made a dozen phone calls to vet clinics asking: Can anyone on your staff perform a C-section on a guinea pig?
The utter confusion of nearly every veterinarian was palpable through the immediate silence on the other end of the phone line. Some hesitantly said they could, in an emergency, but a couple responded with a kind of confidence that put me at ease: "Yes, we can." The only problem was that they were two hours away, north of Seattle. I started to think about how I was going to drive a laboring guinea pig through Seattle rush-hour traffic to have an emergency C-section. Maybe I could get a police escort?
Like a dutiful spouse, I was ready to leave at any moment's notice with a little packed bag and plaid carrier situated near the front door, in case she started to have complications. One vet told me I could schedule a C-section, but it was at the risk of her piglets, and they likely wouldn't survive if they weren't fully developed. At a meager 59-73-day gestation period, every day mattered for her babies.
So, I waited, in angst, worried to leave her alone, worried to go to work, or to sleep.
Thankfully my sister who's a nearby stay-at home mom, offered to take in my mommy-to-be and watch over her.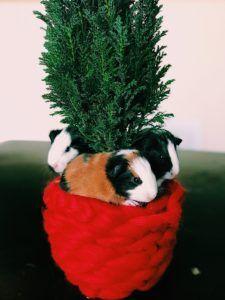 We waited as the days ticked by and her birth window came and went without a peep. I started to worry, and started thinking, "Do guinea pigs ever need to be induced? You know, like human mothers?"
And then it happened! At 8:55 p.m. on Friday, Dec. 9, my sister called me, her voice slightly elevated, "She's giving birth!"
My husband and I leaped out of bed (yes, we go to bed embarrassingly early even on Fridays), threw on our jackets, and drove a little too fast up I-5 to my sister's house. By the time we got there, two little piglets were cozied up to Spindle as her back heaved through her third delivery. The three of us surrounded her on my sister's bed and stroked her face and back, cooing words of encouragement to keep pushing. She was struggling. The first two came out in seconds, but she labored on for about 10 minutes with the third. He didn't make it.
Our shoulders sank a little as we watched her clean him off. But only minutes later she was seized by the fourth delivery. Determined to help the last baby live, we helped break the sack away from its tiny face as soon as he started to peek out. His body finally came out and my sister sprung to action, rubbing his body to help him breathe.
By 9:50 p.m. Spindle had three healthy babies who were already hopping around. Her multi-colored beauties are an adorable blend of her and Wally.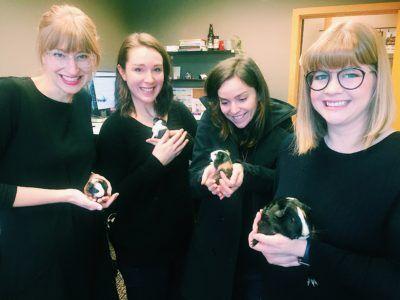 I brought Spindle and her babies into our South Sound magazine office before the holidays because this drama had become an everyday talking point, hoping to guilt my co-workers into adopting them.
Spindle and Wally are now strictly just friends in neighboring but separate living quarters, despite his protest. They each run around the apartment separately, but visit each other like Romeo and Juliet through the narrow wires of each other's homes. They touch noses through the bars, and Wally dutifully sprawls next to Spindle and the babies. I know what's really on his mind, but it's still sweet to watch.
It's been a couple weeks since the birth, and our rambunctious little family is the highlight of our evenings. As I'm writing this, the babies are snuggled up in a pig pile next to their loving mamma. My husband and I are keeping one of the males, so Wally has a friend, and unfortunately, Spindle is going back to my stepsister with her female baby. We're looking for a loving home for the last baby. Ahem, South Sound staff.
But I can now add guinea pig birthing coach and caretaker to my list of expert skills, and if you're ever in my situation, I can certainly dole out some advice.