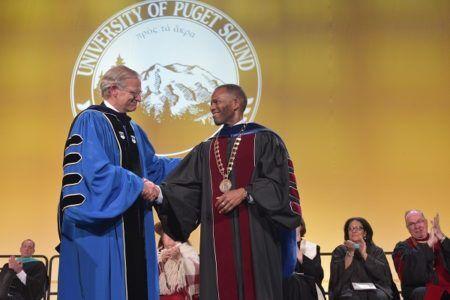 Isiaah Crawford was the first in his family to graduate from college. His grandmother, mother, and aunt paved the way for him to have every opportunity to go to school and excel. When he took the podium as the new president of the University of Puget Sound last Friday, he had tears in his eyes.
An acclaimed scholar, teacher, and college administrator, Cawford has found comfort and value in higher education. But, he suffered great personal losses along the way. According to Arches, the university's alumni magazine, he lost both his mother and grandmother not long before he graduated.
When he stood on stage in front of the university's staff, students, and community leaders at the inauguration, his voice quivered as he thanked his lifelong advocate in the audience, his aunt.
"(My aunt) as much as anyone, perhaps more than anyone else, is the reason I stand before you here today. Thank you for being here today," he said to her. "Today and always, I love you so very much."
After flashing his big smile and regaining a more serious composure, Crawford gave his speech. Full of gratitude and humility, his address had one clear message: let's celebrated our differences.
"Our college campuses must be places where ideas and ideologies are tested. Where challenges of difference are met with civility and respect. And where we live, work, and learn along-side those who may both inspire and confound us," he said.
Here are the other moments that shined during his speech. For more, see our Q&A with the new president.
On UPS: It's a college that has traditions but isn't traditional. That's academically rigorous and challenging, but also warm and welcoming. A place and a people who stand up for what they believe in, whose commitment to the pursuit of knowledge and to using that knowledge to make the world a better place, is palpable.
On Liberal Arts: Our colleges are intersections always at the forefront of change. This is the role of the liberal arts today. To be in, of, and for a rapidly changing world.
On Today's Challenges: Make no mistake. The times that we are in are like no other. The foundations of a liberal arts education —  civil discourse, freedom of expression, respect for the other, the pursuit of truth and knowledge — all of our efforts to advance and propel the human race and civilization forward, all seem to be in jeopardy. But we will not be deterred.
On Role Models: My heroes, my inspirations, would make for a lively gathering. John F. Kennedy and Eleanor Roosevelt, Martin Luther King Jr. and the great writer Oscar Wilde. And truth be told, I see value in adding comedian Chris Rock for a bit of relevant commentary.
On Race: When I joyfully accepted the presidency of Puget Sound, the college put out a press release that referred to me as a distinguished scholar, teacher, and college administrator with advanced degrees in leadership in the field of psychology. I was flattered. The headlines the next day read "Puget Sound hires first black president." Make of that what you will, but suffice to say that no one in America, not even our most recent former president of the United States, has found a way to speak to the issue of race.
On Solutions: College campuses are ideal settings to create spaces for dialogue. To hold difficult conversations on the most challenging topics of our time. It is painful, messy, and brave dialogue that our country so desperately needs in order for all of our people to bring forward their full and best selves.