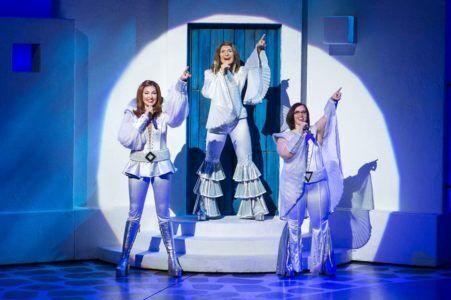 Here's the thing. I love ABBA. When life is getting me down, I turn to the catchy tunes of this Swedish pop group for relief. On the way to work when NPR is loaded with sad news, I switch the radio over to "Dancing Queen." Another bad phone call, and "Fernando" starts blaring. Heck, I've hummed the tune of "Super Trouper" so many times on deadline that even my editor will chime in sometimes.
Call me corny or musically out-of-touch, but ABBA puts me in a better mood. And the only thing greater than singing my heart out to "Waterloo" by myself in the car, is going to see the pros do it justice in Mamma Mia.
The musical is currently on its farewell tour with the Broadway production at the Paramount Theatre in Seattle through April 2. Lucky for me, I got to see it opening night.
I know what you're picturing. The sequin belts, the platform boots, the colorful bell-bottoms, and shimmery ruffles. And I'm here to say, it's all there, folks. The show meets all your flamboyant, over-the-top, 1970s expectations with flair.
It's wonderfully performed by the Broadway cast who can hit the notes, nail the choreography, and get the theater erupting with laughter. While it has its heartfelt moments, Mamma Mia is a downright, feel good show.
It's unapologetically upbeat and undeniably entertaining. While the audience was overwhelmingly women, everyone there was getting a kick out of it. That's right, I saw you bearded, Northwest men bobbing your heads along to "Honey, Honey." It's OK, I was, too.
And we all know why. It's fun! And yes, I'm going there —  it lights up the world even for just a few brief hours. If you need a pick-me-up, or a cheerful night out, Mamma Mia is calling.