Many women who have helped to shape Pacific Northwest history have been erased from it. In an effort to remedy this erasure, Legacy Washington is creating an exhibit to commemorate 20 trailblazing women from Washington who brought positive change to the state, nation, and beyond.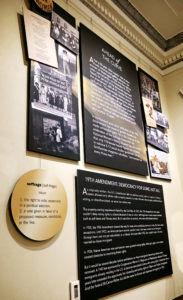 The exhibit coincides with the 100-year anniversary of women's right to vote. Entitled
, the exhibit draws attention to the fact that Washington women won the right to vote in 1910 — 10 years before the 19th Amendment passed. The project also will showcase women who have kept Washington ahead of the curve with online profiles, lesson plans, and a student contest along with the exhibit, according to Legacy Washington's website.
Legacy Washington is an educational program spearheaded by Secretary of State Kim Wyman, created to document stories in state history by working with the Washington State Library, Washington State Archives, and heritage organizations.
Ahead of the Curve will include significant politicians such as Josephine Corliss Preston, the first women elected into office in Washington who was responsible for modernizing our state's education system, and former governor Christine Gregoire, the state's first female deputy attorney general, among others. It will also include activists like Elsie Parrish, the Wenatchee chambermaid whose lawsuit regarding fair pay made its way to the Supreme Court, clearing a legal path for policies like a federal minimum wage and Social Security.
The new exhibit will be on display all year in the Secretary of State's Office in the Legislative Building in Olympia.